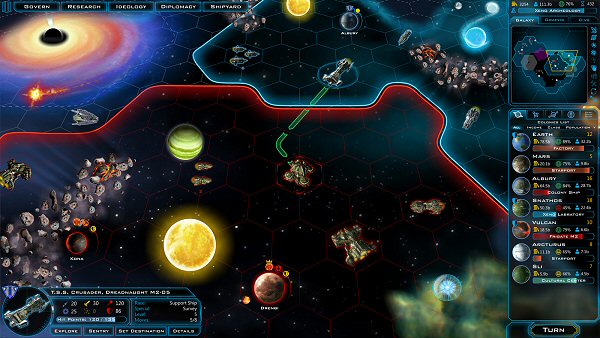 A couple of months ago, Stardock announced that they are developing Galactic Civilizations 3. Its predecessor from 2006, Galactic Civilizations 2, is a great space 4X strategy game, and in my opinion one of the best ever produced.
So, but, what is already known about GalCiv's third installment? And, more importantly, what do we don't know, and want to know?
We know that the map will be divided in hexagons this time, instead of squares. The game will be turn-based as before but there will be multiplayer now (online and hotseat). It will be released exclusively for 64-bit PCs and we should expect better graphics overall. There will be new aliens and a campaign, which begins 10 years after the events of Galactic Civilizations II: Twilight of the Arnor (GalCiv2's last expansion pack).
With respect to the release date the devs say that they're still in "internal alpha testing" and that they expect to enter closed alpha early 2014 with a public beta "soon to follow".
We also know that the game's final price will be $49,99, and that Stardock has already opened pre-orders. A "Founder's Edition" for $39,99 and a "Founder's Elite Edition" for $99,99. The regular pre-order gives beta access while the Elite edition also gives alpha access and all DLCs and expansions packs to be released. So, we also know that they plan to develop expansions for GalCiv3.
Now, what do we want to know? Well, in this rubric you guys run the show. I'm sure there are lots of GalCiv fans out there and many others who already heard about this game. So, if you have a question that you would like to ask the GalCiv3 devs, just leave a comment below and I'll make sure to send it to them. Can't promise to send every question you guys put below but I'll make sure I'll send them the most I can.
\Edit (clarification): The plan is to collect your questions, send them to Stardock, and then write an article with their answers.
Subscribe RSS
57 Comments
Related Articles:
Post category:
Games Under Development
,
Interviews