Excitement is in the air. It's been over 10 years since the release of the last Age of Wonders game, and now, the wait is nearly over. I've spent some time with a preview build of Age of Wonders 3, and I've now got a pretty good idea of what you should expect when it releases on March 31, 2014.
A brief overview
Like its predecessors, Age of Wonders 3 is a turn-based fantasy 4X strategy game with a robust tactical combat system. Age of Wonders 3 features 6 character classes, 6 races, 3 modes of play (campaign, scenario, random map), and multiplayer both online and locally via hotseat. I don't tend to play 4X strategy games for their multiplayer mode, so I won't be mentioning much more about that in this preview.
Choose your own adventure
Whether you prefer a more controlled campaign experience, a slightly less structured scenario, or the mystery and replayability of a randomly generated map, Age of Wonders 3 has you covered.
There are two campaigns in the game and they are played from two opposing sides. One places you into the role of Sundren, a high elf princess who is looking to stop the Commonwealth. The other places you into the shoes of Edward, a human dreadnought who hopes to help the Commonwealth expand. Thus, on the surface at least, we are viewing a classic conflict of technology vs. nature in these campaigns. At the start of each scenario in the campaign you are greeted by several pieces of nice artwork along with full, high quality voice-over and text which helps bridge the gap between scenarios and introduce plot elements.
If campaigns aren't your thing, but you still like a structured deliberate design, several standalone scenarios are also included. The preview build had two of them. One, called Mirror Pact, is a 4 player 2 vs 2 scenario with allied victory enabled. The most interesting part of this scenario is that certain cities, generally two that are on opposite sides of the map from one another, are "twin cities" and are linked together. This means that when you colonize one, the other is destroyed. This creates a rather interesting race to see which side can capture certain cities first. The other scenario I had access to is called Blightmouth Crater, and it features an interesting race for a central city. That city is the only place on the map able to resist the effects of blight that is soon to spread across the land. In that sense, it seems to be a more frantic map with a visible time limit before "bad stuff" happens. I imagine we will also see other scenarios in the final version as well.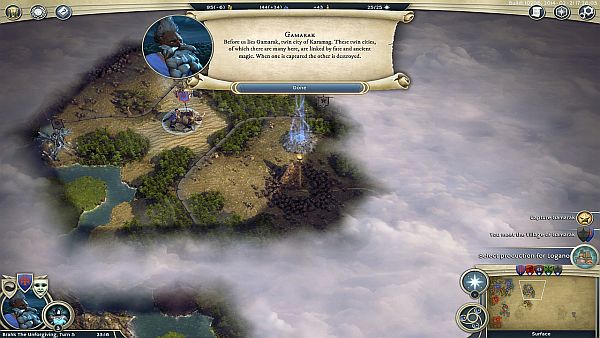 What most 4X gamers enjoy, and where the replayability really lives, is in the random maps. From what I've seen, these don't disappoint when they come to options. I played a random map and was able to adjust a vast variety of settings. Aside from the basic difficulty, map size, etc., you can also get really granular with the game's landscape and overall feel. Don't like the underground map beneath the map? No problem, you can disable it. You can also start with more units, have a map full of mountains or islands, tons of monsters, or resource scarcity for example. In addition, you can enforce teams and allied victory from the start, if desired.
Leading an empire
My first impression is that your choice of leader is the most important choice you'll make in the entire game. Your leader determines what spells and abilities you'll have access to based on your class and specializations, and these are going to be the driving force behind how you play a particular game. As in most 4X games, your empire relies on the research decisions you make, and in Age of Wonders 3 your available options are almost entirely based off of these choices.
There are six classes available including Arch Druid, Dreadnought, Rogue, Sorcerer, Theocrat, and Warlord. I was able to spend at least some time with each of these classes during my preview. As this choice primarily determines you spells and abilities, I'll mention more about them a bit later.
You'll also pick a race and sex for your character, as well as design their appearance using a relatively robust RPG-esque system that allows you to choose facial hair, hairstyle, tattoos, clothing, accessories, etc. for your leader.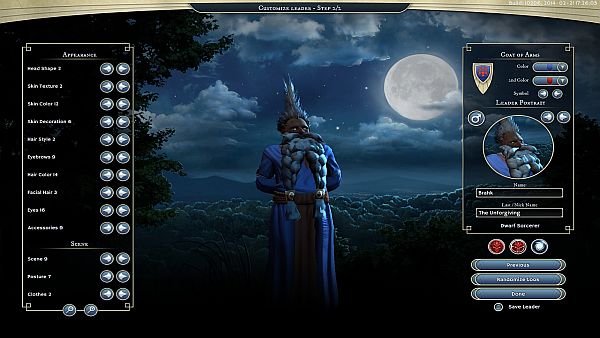 Race is of less significance compared to class in my opinion. Race determines your starting city race and which 9 or so unique racial units you'll have access to as you progress. I didn't notice any empire wide bonuses or significant mechanic changes between them. Each race's units do have some built-in resistances and other abilities due to their race, and these primarily consist of resistances against certain damage types and movement bonuses in certain terrain. Ultimately, the race units aren't mirror images of each other, they are all uniquely designed after all, but I found them to be similar enough that the choice of race wasn't that important to me. In addition, I found the higher level class specific units, monsters, and summons to be much more useful by mid to late game, and these are available regardless of race.
Trick of the trade – research as a weapon
Although you are a powerful leader capable of casting mighty spells, you'll find yourself researching much more than spells. Though there are certainly a lot of spells to go around, you will also be researching empire upgrades, which essentially unlock new abilities and capabilities for your empire without the casting cost and upkeep a spell or enchantment brings to the table.
Spells come in multiple varieties, such as combat direct damage spells, combat buffs, strategic map direct damage spells, global enchantments, city enchantments, unit enchantments, summons, and so on. For me, the most interesting spells tend to be the powerful enchantments and summons. In my first game I summoned the Horned God, a powerful ally for my druid. In my second, I was a powerful Warlord unleashing the Global Assault enchantment, a spell that instantly upgraded all my units to max level. Even my new recruits were max level as long as I maintained its upkeep cost. Spells like this are game changers. Another example is the Juggernaut class' Great Mobilization, a global enchantment that increases the speed and effectiveness of all their powerful war machinery. Every class has at least 1 or 2 spells like these, and I can see these being a goal for a lot of players to strive for each game.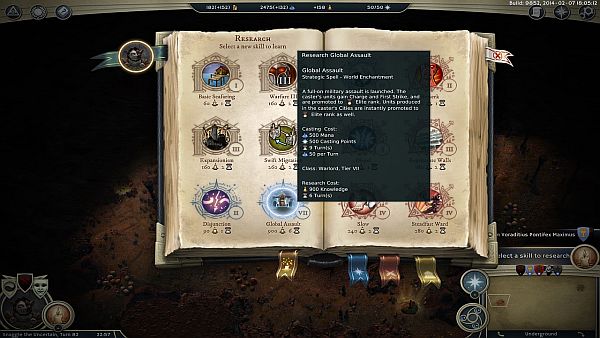 I could go on and on about the spells, but I must not forget to mention the Empire Upgrades. These upgrades are immediately activated once research is completed, and they can be just as powerful as many of the spells available to you. My sorcerer for instance has unlocked "School of Teleportation", an upgrade that gave all my support class units the ability to teleport around on the battlefield, as well as a resistance to projectile weapons. My Warlord on the other hand was able to unlock Thoroughbred Mounts, an upgrade that made all his cavalry units superior to those of the competition by making them much more difficult to kill. The best part about these is there was no upkeep cost or casting time required.
Extending your domain
Cities in Age of Wonders 3 project an area of influence referred to as their domain. The size of a city's domain is dependent on the city size. A city's size will increase over time based on its population growth. The size of each city's domain is important because any explored and undefended resource nodes which fall within this area will provide a bonus to the city. The basic resources you'll be working with are gold, production, morale, mana, knowledge, spell casting points, population, and happiness. There are also more exotic locations, like Ancient Ruins, Tombs, Spider Queen Shrines, and Blood Altars. These tend to offer some unique rewards, like artifacts for your heroes, special abilities for a limited time, and additional units, though usually these involve a challenging battle as well.
In Age of Wonders 3, nearly every resource node, even the basic farms and gold mines, are defended by independent units. In order to claim these resources, you will both need to have it within your domain and also defeat any guardians it may have. Not every single item on the map is guarded, as I did find some free piles of gold and mana from time to time, but those rewards tend to be the exception rather than the rule. Although you will have to fight over most of the locations you'll want to bring into your domain, unlike some other games in the genre, you won't then have to build anything to claim the resource. The resources themselves already contains the building and bonuses, so you'll instantly have access to its benefits once the capture conditions I mentioned are met.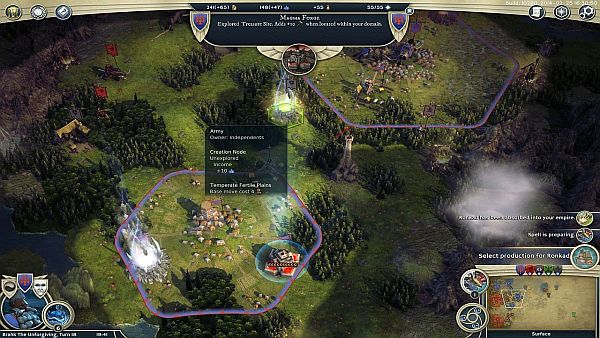 In order to claim these nodes, you'll be battling independent units, and often you'll be doing so against the odds. This is because these nodes can contain special battle effects, effects unique to the tactical map it uses, and these more often than not place the defending units at an advantage. In addition, all defending units move first whenever a battle takes place, so as the aggressor you are at somewhat of a disadvantage.
The world does not just consist of neutral monsters and other leaders. As you explore, you are also bound to run into some of the neutral independent empires, city-states more or less, and you'll be making decisions about how to go about living with them and hopefully bringing them into your empire. When initially encountered, your choices tend to be rather limited. You can ask to open your borders to each other, or you can declare war against them. Declaring war is the easier way in many cases, but is not necessarily the best way. For one, your empire will become more evil if you take actions like these, and then you'll have to offset these with other good acts if you don't want morale to suffer amongst any good units you are using. If you don't care about being evil, then this becomes less of an issue. The other reason this may not be best is because if you can show a little patience, they may be willing to join you for free and will even throw in some rewards to sweeten the deal. It seems sometimes they need a little help from their friends, and if you extend a hand to help them with their quest, you can assimilate them into your empire peacefully.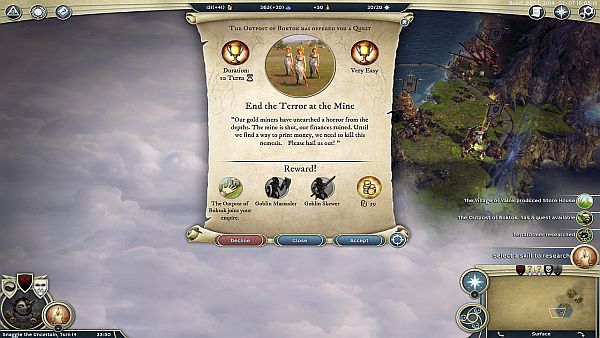 Conquering thine enemies
Age of Wonders 3 does not use an initiative system for its units. The defender always goes first, moving all of his units, and then the attacker goes and moves all of his, and this cycle continues until the battle is over.
Tactical combat is really the key element of Age of Wonders 3. While you can certainly auto calculate some sure-fire victories, the tougher fights are going to be based on your battlefield tactical prowess as a player. My experience across a few scenarios is that tactical choices have a huge impact on whether you win or lose in this one.
The first thing to realize before even entering tactical combat is that an individual combat can include up to 7 armies if they are in the correct adjacent hexes. If you aren't careful, you can find yourself against much larger odds than you expected. Each army is limited to 6 units only, so bringing an extra stack of 6 units to help you siege an enemy is a worthwhile idea.
Your leader is a powerful asset in tactical combat. While your leader can still contribute to battles they aren't participating in, spell casting costs are doubled in this situation. As your leader has a finite amount of mana available per turn to spend on spells, this can vastly reduce the amount of spells you can use if your leader sits at home. I've also had some success building a front line warrior leader, but this is a riskier proposition than in some games as damage can be delivered to you very quickly.
One big reason for the high damage outputs is that each unit has what equates to 3 action points each turn. Aside from some particular attacks and weapons, most units can attack once per action point they have remaining. This means they can attack 3 times potentially in one round. At first glance this seems very powerful, and it is, but there are some caveats. First, moving more than a space or two costs you an action point. Second, moving even further can cost you a second. Third, all units can counterattack melee attacks as long as they have action points remaining, so when you go to smack an enemy a couple of times, they may smack you right back a couple of times.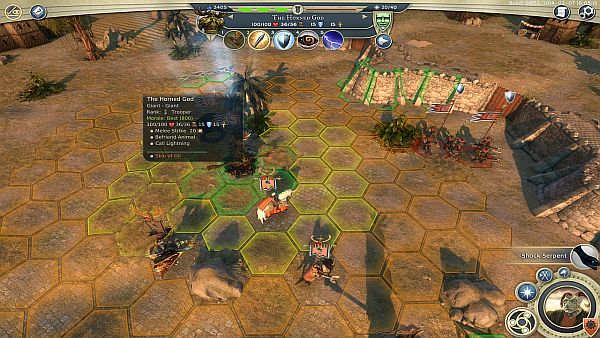 Ranged units can bypass the counterattacks, but they have some issues of their own. They are prone to line of sight and range damage reductions. They also generally can't use their ranged weapon if an enemy is within melee range. If however you can keep them slightly behind the front line, and you can get them close enough without using any action points to do 3 full damage attacks in a turn, ranged units can dish out a substantial amount of damage. This includes casters, archers, and muskets.
The units themselves are aesthetically pleasing. Many of the units are made of up multiple individual figures that die off as the unit takes damage, but it is important to note that this does not affect a unit's combat effectiveness. A unit does not have reduced capabilities based on its available health or the fact that 3 out of 4 of the visible members of the unit have died. This means a unit with 1 health remaining is going to output just as much damage as one with a full 50 health. This ultimately leads to an emphasis on finishing off units rather than spreading damage around.
There are two other combat mechanics worth mentioning. The first is essentially attacks of opportunity. Whenever a unit tries to disengage from an enemy, or a unit tries to walk past an enemy, the enemy will receive a free attack against the unit that is moving. The other situation that can occur is a flanking attack. A flanking attack occurs whenever a unit is facing a different direction from an attacker. The first attack from the attacker receives a damage bonus, and no counterattack, but any additional attacks will be subject to counterattacks and will deliver normal damage.
Not all That glitters…
Let it be known that I've only played 15 or so hours of Age of Wonders 3 thus far, and those hours were spent in a preview build. It's going to take me many hours of play in the release version before I can pass any sort of judgment on Age of Wonders 3. The hours I've spent thus far have been very entertaining as I explored the plethora of options, spells, and combat mechanics Triumph Studios have delivered. The diversity of spells and upgrades each class brings to the table is certainly quite impressive.
Still, 4X strategy games are perhaps the most difficult of all genres for game developers. A 4X game is made up of multiple parts, and while a great number of the parts and pieces I experienced in Age of Wonders 3 felt polished and well designed, it is worth mentioning that I had a few issues with the preview build that I am really hoping to see fixed by release. Of these, my biggest concern right now is with the AI. I found the AI, at King difficulty (one step below the highest), to be a tad easy for my liking. I didn't see them expanding their empire on the random map in a timely fashion. For example, lightly guarded resource nodes in range of their capital hadn't been cleared even though a starting army would have been able to do so. I also found the AI (both independent an AI leaders) to be very easy to fool and outmaneuver in tactical combat to the point that I was able to defeat armies 2 to 3 times my size. Siege defense in particular was an area I found the AI quite rough. I'm hoping that AI polishing is a top priority by release, and based on the care that I see in other aspects of the game, I'm going to remain optimistic that we won't see these problems at release.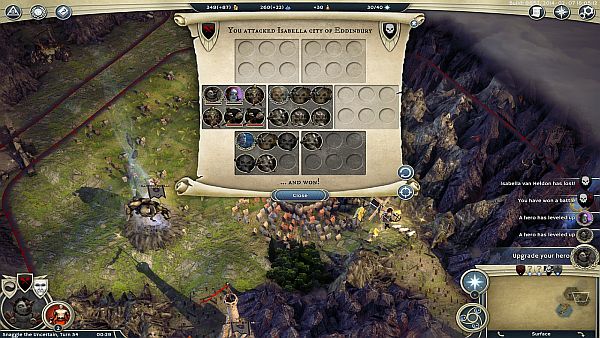 One missed opportunity, in my opinion, is that Age of Wonders 3 doesn't feature any alternate victory conditions. Other than conquering all the enemies, or conquering all the enemies with your allies, you've got no other real avenue to ending the game. In addition, I didn't seem to have access to a spell to reveal the map despite exhausting every single research option in one game. This made tracking down the enemy throne city, which was underground within a vast network of narrow passageways and waterways, a rather tedious task. I'm hoping they add something in to make this process easier, or perhaps provide a way to ask enemies to surrender to you when they are greatly outnumbered. If not, I can see myself exiting games prematurely once victory is a foregone conclusion.
It's almost here
Age of Wonders 3 releases on March 31st and I'm excited to see how things will turn out. I haven't had a chance to fully explore all of the classes yet, and since they feel so diverse, I am certainly anxious to do so. Check back for our full review after I've thoroughly explored the release version.
Subscribe RSS
40 Comments
Related Articles:
Post category:
Game Previews