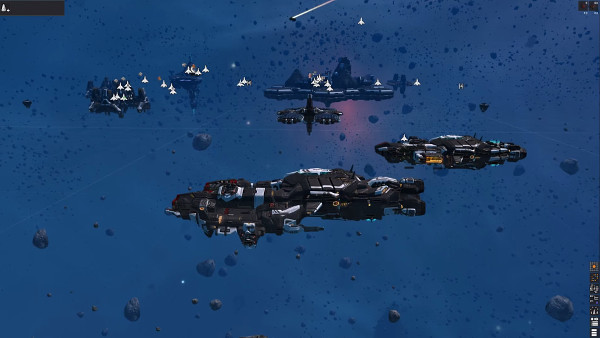 After three or so years in development, Deep Space Settlement, a real-time space 4X game (or 4X RTS) by Escape Velocity Studios, has opened pre-orders for anyone willing to support the indie game's development as it enters into full production.
Word by the devs:
The game has been in pre-production since 2011 and will hit the First Playable milestone by the end of the year. By pre-ordering now you will get exclusive access to this very first milestone release and will be a privileged early backer and supporter of the development team. We will listen to your first-hand feedback and you will help shaping the awesome 4X RTS game Deep Space Settlement thrives to be. -Stéphanie Rancourt (Escape Velocity Studios)
The pre-order costs $50, which looks kinda steep at first glance for a pre-order without immediate access to the game, or at least not until the end of the year anyway. But, Stéphanie explains that she needs to work full time on the game now for what she now asks for your support in return for the opportunity to play the game earlier and help define the game with your feedback.
The game has been completely self-funded until now, at first with personal savings and later through side contract jobs. Now, full time dedication to the project would require your support and we feel the game is close enough to a solid first playable release.
The devs don't deny the possibility for the game to get cheaper with time though, in case you were wondering. "I agree that it would make sense to lower the price, as we get closer towards the final release. So, yeah it's not determined yet, but very likely.", says Mathias Koehler (DSS Artist) in the game's forums.
It's always nice to see another Stellar Indie Venture blossom. But, while the devs are close to reaching a first playable version, there's still a lot ahead for them up until release. And as to when the game will actually be released, Stéphanie says that:
We strongly believe that in order to make Deep Space Settlement one of the best 4X RTS game out there we need to take the necessary time to nurture the game in all its glory. Setting us hard deadlines would compromise the quality of DSS. Please understand that we are a small team of passionate and dedicated indie game developers who will do whatever it takes to put an awesome game in your hands. By pre-ordering the game you will contribute to this goal and we can't express our gratitude enough. Thank you!
They have also opened a Steam Greenlight page, where they ask for your vote to help them get to the Steam store.
Subscribe RSS
57 Comments
Related Articles:
Post category:
News & Announcements