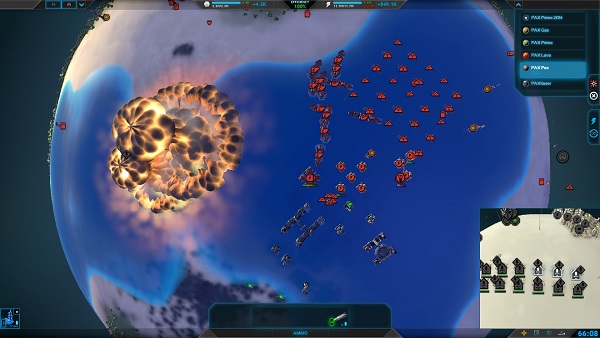 Last week, on September 5th 2014, Planetary Annihilation was officially released, after being in Early Access for about a year, and two years after Uber Entertainment's successful Kickstarter. Planetary Annihilation is the spiritual successor to Total Annihilation and many of the developers that worked on TA are part of the team for this new sci-fi real-time strategy game.
The basic concept is a traditional RTS but instead of going more tactical and small-scale unit combat, PA focuses on mass production and commanding large armies on several planets. You can check out our preview if you want to know more details about the game's basics.
Game Basics
The basic concept is the streaming economy. Unlike most traditional RTS where the full cost of an item is charged upon queuing (or at the start of production), the player's factories will draw a certain number of metal per second producing the item over a fixed period of time for the item's total cost. This process can be sped up with Fabricators (or Fabs, which are basically constructors/worker units) which also adds to the cost per second.
The second part of the game's economy is energy, each Fab or factory consumes energy, as does several unit abilities (like bombers consume energy to produce the bombs they drop). It should be noted the player can set factories to repeat build and set up a build order of several units, effectively creating a constant stream of units to be used for war. In a typical game the player will have several if not dozens of such production facilities (or have a tonne of Fabs speeding up the few they do have), being able to manage the streaming economy is key to winning the game.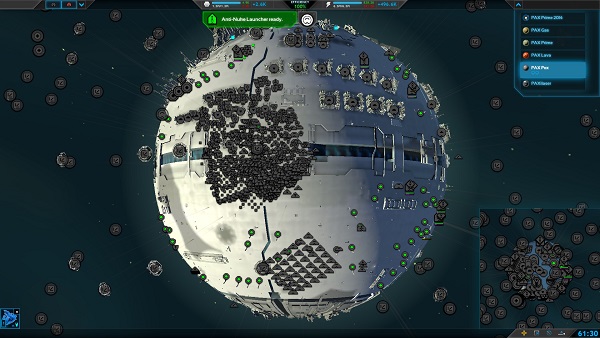 Combat is less micro-intensive than some of the more recent RTS titles. Units do not have special abilities usually, and can be set up on patrols or path loops. Generally speaking the player will choose what he will be building and decide where to send them, so having the right unit mix, knowing where to strike and knowing when to pull out is critical. Falling behind can be very deadly in this game. In addition, to win a match one only needs to kill the opponent's commander. This means an assassination style strategy could work, while leaving your commander out in the open can sign an early defeat.
The last key part is that the game is played across several planets and moons; these can include gas giants that act like massive resource boosts or even the dreaded metal planet that when fully seized can be used as a planet killer. Additionally, any planet that is small enough can be turned into a weapon itself, since nothing tells your enemy you hate them then tossing a moon onto their main planet. The player can also set up 1-planet maps if they prefer.
The game has no distinct factions, except for specific commanders which are more cosmetic than anything. The Galactic War does limit the player's build options, which creates distinction between factions but these are more from having building options locked than actual differences in units. In multiplayer and skirmish everyone is the same, the diversity comes from having a huge selection of units and structures you can build meaning you will usually focus on different units in each game.
What has been Added and Changed
The side-cam view has been implemented. This is a boxed screen which the player can operate the camera on, in effect it acts like a minimap but it's actually a second screen and may tax many GPUs. The advantage is that the player can operate this view to any perspective they wish. In addition, the game got graphical upgrades, mostly in post-processing effects and texture maps. The most noteworthy is the addition of particle effects and lighting. The UI was significantly cleaned up and easier to navigate, and many units were added, significantly raising the diversity of units. Overall, the game is very polished.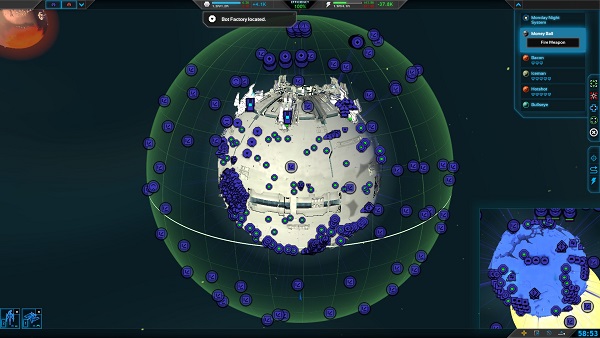 The largest addition is Galactic War, a single-player meta-game that pits different commanders on a galaxy map of sorts. You select your point of attack, fight on the skirmish map, rinse and repeat. Each system explored gives the player an upgrade, and the player can only equip a limited number of them. These offer bonuses, extras like an AI controlled sub-commander, or unlocks build options. Unlike the skirmish and multiplayer games the player does not have access to all their units and buildings, and these upgrades are needed to unlock these options. The objective is simple, eliminate your opponents completely.
First Impressions
Overall, Planetary Annihilation succeeds at what it intends and is quite fun actually. Massive macro (focused more on base building and mass production of armies) intensive RTS are less common lately. The game is fairly stable and I have only experienced one hard crash in the time I played. The biggest technical issue is that there's no limits on units, especially on large maps your PC will grind to a halt and even on smaller maps a long game will tax even the most top-of-line PC.
However, this said I personally do prefer the trend RTT (real-time tactical) titles have taken lately. This doesn't mean I don't enjoy a good massive-scale mass-economy RTS, but overall it makes the gameplay and tactics feel distant; but this is merely personal taste. In the end it depends what you are looking for in an RTS. If you like producing massive armies and seeing massive scale combat, than Planetary Annihilation is for you, but if you are more interested in plotting ambushes and micromanaging your units into clever assaults, then you may be a little disappointed. Though effective micro play can still pay-off a lot in PA and an expert player will know how to do so effectively, it is just not the main focus of the title.
The AI is competent and can easily destroy an unprepared player. The AIs also seem to be given a random personality, causing the AI to fixate on a given strategy making it feel human-like. However, this does act against the AI as well as it will sometimes fixate on a completely defeatist strategy, and though less experienced players tend to make mistakes like these, a more experienced player knows how to switch up its strategy. I have seen the AI obsesses on building units that the map does not support properly, or even completely ignore the space layer as one can take over all the other planets easily (even on maps one should not ignore the space layer on). This does not happen often, but it will happen a few times. Considering on some maps, some strategies are paramount and the AI can painfully shoot itself in the foot.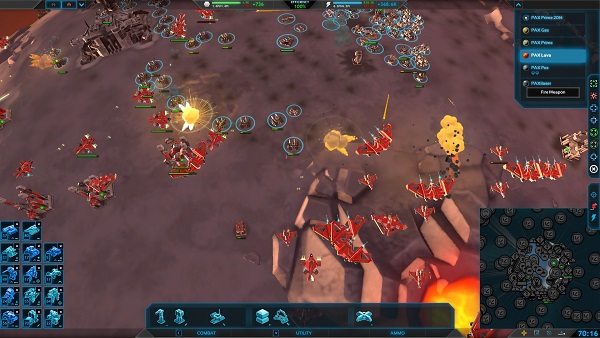 The game also feels that it was made for multiplayer; the skirmish mode is nice but obviously easy to add (since it is just a multiplayer game with no other human player). Galactic War does feel tacked on. It is just a set of pre-generated random skirmish maps and a tech/upgrade system to give a sense of reward and to diversify the factions. Also, though I do understand the design choice to have a large selection of units but no difference between 'factions', it leaves me a little disappointed. Many of the pleasures of a strategy game are trying different factions, as they tend to play very differently and operate very differently at their core. Most of my favorite RTS always had distinct and very unique factions; in this regard PA is a bit of a letdown.
Overall, the game is enjoyable but will cater more to a certain type of RTS player: those that care more about macro-play but are not interested in micro or unit level tactics, and those that care about multiplayer more. This doesn't mean a single-player minded player can't have fun since the Skirmish AI is usually competent and can surprise you, however with no campaign and Galactic War feeling a little tacked on does leave the game lacking in this field.
Planetary Annihilation is currently available at their official store and on Steam and the Humble Store for $29.99 and the Digital Deluxe Commander Bundle for $49.99 (Steam and the Uber Store only). The game is available for Windows (both 32 and 64-bit supported), and is also available for Mac and Linux (64-bit only for both). Warning: the 32-bit support for Windows is unstable, people using a 32-bit OS will experience problems running the game. It is highly recommended to use 64-bit only.
Stay tuned as we will have a complete review of the game in the coming weeks.
Subscribe RSS
39 Comments
Related Articles:
Post category:
Game First Impressions
,
Game Previews