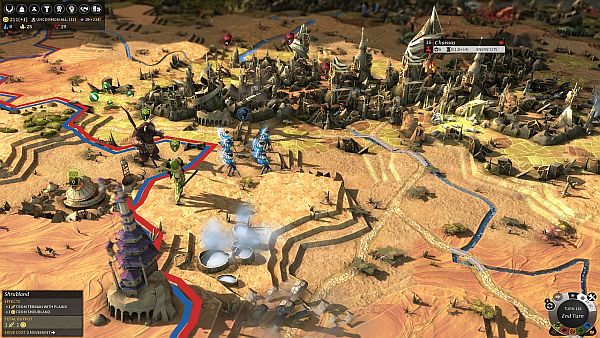 When Amplitude Studios returned to the 4X table this year with fantasy game Endless Legend, I wasn't sure what to expect. Their prior 4X game, Endless Space, had left me immensely frustrated. The game was decent, but it was too simple and ultimately felt uninspired. I was especially disappointed because I felt like this was a company with the potential to offer so much more. The problem was they'd played it safe. Across not one, but two reviews, I flat out told them that their game failed to innovate. Endless Legend was a game I almost skipped. I almost missed one of the most innovative 4X games ever produced.
Some words of caution
Endless Legend has taken what worked in prior games and has twisted and evolved them into something more exotic. This has allowed them to introduce completely new elements to the genre without creating a game that is difficult to understand for experienced 4X fans. What's important to understand is that they have diverged to forge their own path, and in that divergence, some well-known elements were lost in the process. Some of the core tenets of 4X design have been changed or omitted completely. Knowledge of these facts will ultimately help you understand whether or not this game is for you. While I'll reference these throughout the review, I do want to point out a couple of the biggest deviations right away.
There's virtually no spell casting in this game. It is practically unheard of for a 4X fantasy game, or any fantasy game for that matter, to not include large amounts of spell flinging. Amplitude Studios has done it though. Aside from one faction, which only has a few tactical and strategic spells, spells are a non-factor.
Another aspect that is sure to turn some off is the combat system. Endless Legend includes tactical combat, but it doesn't allow you full control. While you do make some decisions, combat can also feel chaotic. If you can't or won't accept this, you're going to have to auto-resolve, spectate, or skip this game entirely.
Building your own experience
Endless Legend delivers the options you'd expect to see in a 4X game. You can also further tune things within the advanced options. For my review, I set most of these to random or left them on their defaults, but the options are there for those who wish to tailor their experience to their liking. Whether your desire is to make tougher minor factions or adjust the temperature of the world itself, Amplitude has provided an option for it.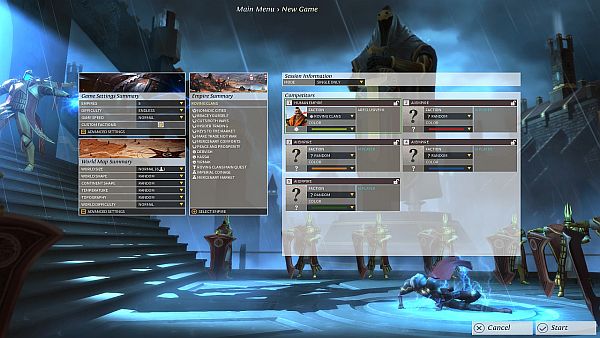 "What is essential in war is victory"
Endless Legend contains 8 victory conditions and you can turn these on or off if you desire. As one would expect, there are several military related victory conditions that involve conquering your opponents, capturing their capitals, and expanding across the map. A fourth condition, score, is not really a victory condition but more of an end-game condition to determine a winner if a time limit is set.
For those that prefer peace to warfare, there are a few other options. Science is a viable alternative, with completion of several top level technologies offering up a win. For those who enjoy the economic side of things, earning enough money, called dust in the Endless universe, is yet another path. If negotiation is more your style, diplomatic points can also be a path to victory and can be earned through the issuance of constant compliments, negotiation of trades, and diplomatic agreements.
The final victory condition, the wonder victory condition, is contingent upon completion of a faction specific quest line. This is perhaps the most intriguing and most difficult to achieve. These tie closely into the factions and lore itself which I'll discuss later.
A world to settle, a world to conquer
Endless Legend can provide some very diverse worlds when using the random generator settings. In some games, I would find myself on an island by myself, free to spread and explore with only minor factions to fear. In others, we all lived on one gigantic landmass. Sometimes you start in the desert, while other times you may start in the arctic, forests, or plains. Depending on your faction and its need for specific resources, you may or may not benefit from these specific starting conditions.
While world generation worked well overall, it does have potential issues. Starting positions can vary wildly. When founding a new city, it becomes important to find a 3×3 spot that offers a good tile yield. This is because your city will primarily rely on these resources at the start to do anything it wants to do. In some games, I would start right near 3 fantastic anomaly tiles that offer high tile yield bonuses. In others, I'd start with next to nothing anywhere nearby. You can explore for a better spot before settling, but if you spend more than a turn or two traveling you are already falling behind your settled opponents. In single-player you can simply start a new game until you are happy, but in multiplayer this could be an issue.
One other world related issue I experienced was AI players appearing near me very early on. Despite playing with 5 players on a 6 player map and choosing a "spread" setting for empire spawn, I barely had any time to expand before bumping elbows with my opponents. I suspect this was not a fault in the game settings, but rather a side effect of a relatively small map combined with a high level AI capable of extremely rapid expansion. Increasing the world size or reducing AI difficulty would likely resolve this problem should it be an issue for anyone else.
A smorgasbord of factions
Endless Legend will be known for a lot of things, and one of these is most certainly going to be its unique and diverse factions. Gameplay wise, the 8 included factions are diverse enough that I don't envy those that had to balance them for multiplayer. Some of the differences are minor, for instance which starting technologies they possess, but other differences are true game changers that can't be ignored if you hope to succeed.
Certain aspects of the game can be completely gated off, and new aspects can be opened, based purely on your choice of faction. The differences between factions are in fact too numerous to mention and keep this review at a reasonable length.
Still, these are the most diverse factions I recall in a 4X game, so it would be unfair to not mention at least some of them. Imagine having the ability to ignore food completely, cast tactical spells, teleport between cities instantly, force enemies into diplomatic agreements, create a super city of religious converts, move cities on the backs of giant beetles, or consume citizens to boost morale. All of these things and many more are possible depending on your choice of faction. Of the 8 factions, only one really felt a bit too vanilla for me, and that was the Wild Walkers. Not ineffective mind you, but rather not as interesting to play or interact with.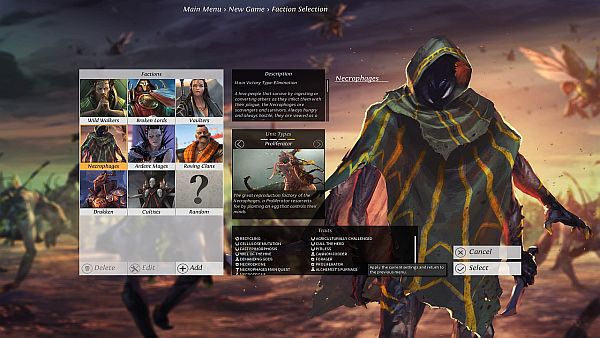 If having 8 diverse factions isn't enough for you, Amplitude has also included the option to custom create your own. You can select from a wide array of positive and negative modifiers that help you create a relatively balanced faction. At a glance, it looked like not all of these abilities are valued in what I would call a balanced manner, but I feel that at that point the onus is on the player to not cheat themselves out of a challenging experience.
A sandbox story
Never before in a 4X sandbox game has a story been told in such a compelling manner as it is in Endless Legend. Each faction has a wonderful intro video that introduces you to their wants and desires. This is only the beginning though.
Earlier, I mentioned the wonder victory condition and that they tie into the factions themselves. This is the second part of what makes these factions so compelling from a storytelling perspective. Aside from the intro video, which for many games would be where the lore ends, every faction also has an epic quest line to complete should you choose to do so. This quest line will take you from game beginning to end, complete with victory via the wonder victory condition if followed to completion. This quest begins right away, as soon as you found your first city, and this leaves you no time to lose the sense of immersion the intro video instilled within you.
The beautiful thing is that these quests also sneakily act as a tutorial of sorts. They provide initial goals which are something you can achieve and focus on right at the start of the game during a period that is often slow and somewhat scripted in 4X games. While these quests are in no way mandatory, they offer rewards and bonuses for doing things you really ought to be doing anyway.
So why then have I not followed any of them to their end and achieved the wonder victory? Well, as you achieve more of the faction quests, they become increasingly harder to achieve. In my games at higher difficulty, the AI was often a significant threat, and if an easier path to victory appeared, I was too weak minded not to take it. I know that someday I will strive to advance in each faction's quest line until I accomplish their mission. I am too invested in the factions themselves to leave them forever unfinished, and that in itself speaks volumes about the game's lore.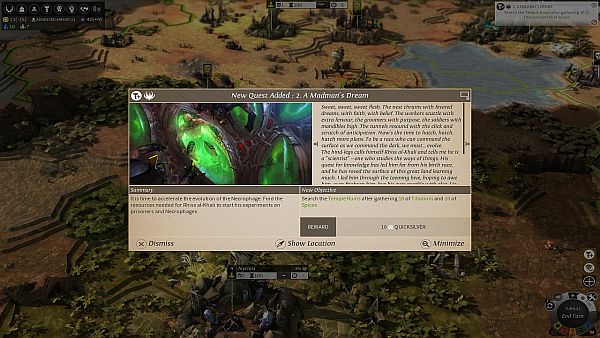 Regions and resources
One area Endless Legend brings innovation to the genre is in the map system which is made up of regions of various shapes and sizes. Regions define borders and consolidate all of the resources and minor villages in an easy to understand way. Each region can only ever contain a single city, and that city will have access to all of the resources within the region. It is important to note that some resources won't be recognized by an uneducated society, so technological advancement later in the game will reveal additional resources.
For some players that like to create a lot of cities the region system may provide an unsatisfactory experience. Though I don't feel this way myself, those of you who enjoy that aspect of 4X games will need to proceed cautiously with this one. Overall, I feel it works well and keeps the number of cities to a manageable level.
One benefit of regions is they provide their city with access to all of the discovered resources within them. Specific technologies are still required to learn how to extract them, but once discovered it is as simple as queuing up the appropriate building in the city's construction queue. It's a simple system that eliminates the outposts and radius based influence systems featured in some other games. While this sounds like an unnecessary simplification, I don't feel the game suffers because of it.
Resources come in two varieties, strategic and luxury. Strategic goods are used to construct specific buildings, and more commonly, to equip your units with better weapons and armor. While age specific iron or dust equipment is automatically unlocked as you progress your technology, the items you can research which require strategic goods such as titanium or palladium are clearly superior.
If you're into developing addictive habits that are expensive and hard to break, you'll really enjoy the luxury goods. There are a wide variety of these available, and each offers the opportunity to activate an empire wide temporary bonus if enough are obtained. By using up a specific amount of these goods, you can activate bonuses which reduce upkeep costs, increase city morale, increase research, increase food production, and so on.
Far from negligible bonuses, these goods are so useful that you may find yourself relying on them to keep your empire afloat at times. Like any good drug, these goods can become addictive. You'll start trading for them. You'll start paying exorbitant prices on the market for them. As your empire grows, so too does the cost to activate these temporary boosts. It's a slippery slope, and when the turn hits that an effect expires and your upkeep costs are back to full, you may find yourself wondering how to keep your empire's now negative income afloat.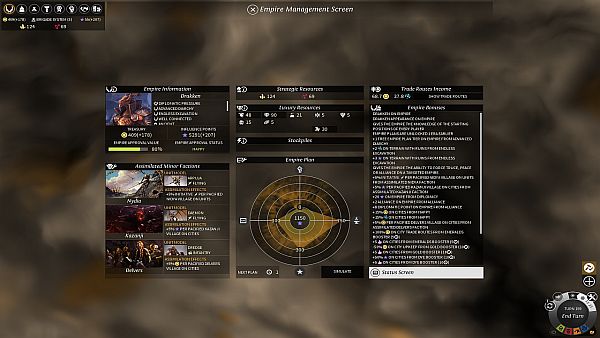 Minor factions
Minor factions are one of the hottest commodities a region has to offer. Minor faction villages are random and can belong to one of many different races. They can be dealt with in a few ways including destruction, bribery, and by completing a quest for them. The Cultists have a fourth option, they can convert the village to their faith using influence points. Regardless of how you choose to deal with minor factions, once pacified these factions add an additional worker to the city in their region. This is excellent as adding 1, 2, or even 3 workers, depending on how many villages are in your region, provides a significant output boost to your city. Some heroes can even amplify these effects further.
Beyond simply pacifying these factions, you can also assimilate them directly into your empire. To do so, you must pay a cost in influence points. Initially, you can only assimilate one minor faction. As your technology increases, should you choose to research it, you can also assimilate 1 or 2 additional factions. Assimilation offers two distinct bonuses. One is that they provide a permanent empire wide bonus that scales based on the number of pacified villages you have of that race.
For example, if you have control of 3 Nydia villages, and have assimilated them, you will receive a 15% (5% x 3) bonus to initiative on all of your units. The second reason is that you then have access to that assimilated race's unit. This provides a potential 5th, 6th, or 7th unit type to your existing 4 faction based options. Some of these units have powerful effects and can supplement or even surpass your own empire units in effectiveness. These units can be updated with new weapons and armor in the same manner as your own faction units. Depending on your needs, and the number of villages you possess, your decision on who to assimilate can vary wildly from game to game.
Governing an empire
Endless Legend has redefined what it means to run an empire. There are a lot of facets of empire development a 4X player has to consider. Technology, diplomacy, and military are the most frequently included. Endless Legend includes and adjust these, but also takes things a bit further with the introduction of empire plans and a free market.
Research and technology
In my preview article, I discussed how the tech tree functions and how its free form nature and era system offer an interesting twist. Rather than rehash that here, I'll instead comment on some specific aspects of the design.
Unique technologies, those specific to a certain faction, are the biggest potential source of diversity. This is one area that I found Endless Legend is lacking a bit. Some factions have more unique technologies than others, but for the most part you are going to have exclusive access to only a couple of technologies. Some factions, the Necrophages for example, only have 1 unique tech to research. This leaves each faction feeling relatively samey, at least when it comes to your research options.
While typically I'd take great issue with the lack of unique faction techs available for study, Endless Legend has managed to mitigate this issue in a couple of ways. Firstly, each faction feels different right from the start due to the variety of abilities they are automatically equipped with. This means not having more unique techs to research further into the game is not as big of an issue as it would otherwise be. Secondly, the faction quests themselves often unlock new unique techs that are unavailable anywhere else. In addition, some neutral quests available from shrines and ruins can also unlock advanced technological developments which are also unavailable via traditional research.
There are quite a few shared technologies to research in the game. While some of these are simply upgraded versions of prior technologies, there are still many technologies that unlock new functionality to consider. For example there are techs that unlock shipyards, diplomatic agreements, marketplace access, trade roads, and faction assimilation. Ultimately, I felt like the importance of each technology was contingent upon my faction choice, my city locations, and my current political standing with the other factions. While I'd like to have seen even more diverse technologies on offer, I am pleased to say that my selections never felt entirely scripted from game to game.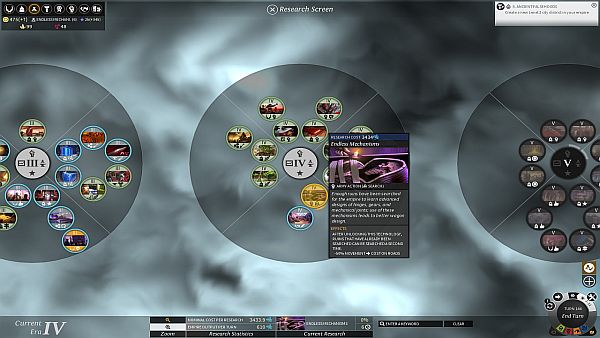 Diplomatic matters
Endless Legend's diplomacy system is not its greatest strength. It's average. Average isn't a bad word in most cases, but in a game that is otherwise so innovative, it isn't a good one either. The options for peace, alliances, closing borders, trading tech and resources, and forming trade routes are all present and function correctly. To form many of these agreements, you must first unlock the appropriate technology. I'm not a big fan of requiring tech to negotiate, especially in a fantasy based 4X game, but this is hardly the first time I've seen this done.
Diplomacy feels a bit more like a transaction than an actual diplomatic meeting. This is despite some well executed efforts to retain the immersion that are you participating in an actual negotiation. For their part, Amplitude took some criticisms to heart and added animated 2D leaders to negotiate with. The leaders themselves will also occasionally openly request negotiations with the player, and sometimes will even just make a comment to let you know how they are feeling. Unfortunately, this dialog isn't really faction specific, so in an effort to create immersion they instead sometimes break it when inappropriate comments are made by certain factions.
Perhaps the biggest reason diplomacy feels like a marketplace is because of the abstract nature of the influence resource's involvement. Without enough influence points, it is impossible to negotiate even simple things like a declaration of war. We could, with some stretch of our imagination, try to state this represents how willing our faction's populace is to embrace a war. I feel like this would be more of a empire morale issue though, and morale oddly isn't affected at all by war. So while I can appreciate the many uses and decisions to be made around the influence resource, I can also see some people having an issue with the reasoning behind it's necessity for certain actions such as diplomacy.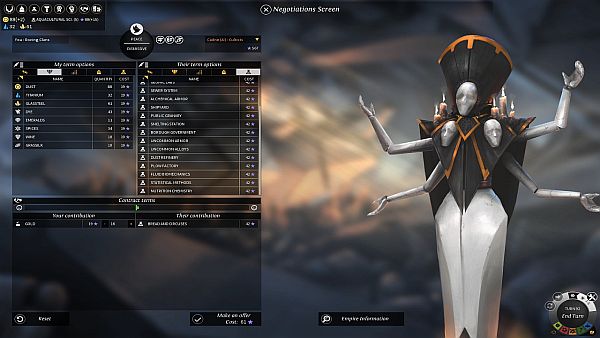 Tactical combat, sort of
With their first game, Amplitude attempted to turn 4X space combat on its head with a faster, less involved, and more cinematic experience. In theory, this approach had some potential, but ultimately the end product left me feeling unsatisfied and disinterested. In Endless Legend, Amplitude has once again gone their own unique way. There are those who still aren't going to like their unique approach, but I can't say I'm one of them anymore.
Combat in Endless Legend is more involved than it first appears. To begin with, let's discuss the battlefields themselves. To determine what the battlefield will look like, all one needs to do is look at the world map. Wherever an encounter occurs, that is where the battle will actually take place. You'll find no random combat map generator here. This means in combat that your city on the hill is actually on the hill. That one unit wide choke point you had to enter is still going to be the only way in when combat breaks out. The examples could go on and on, but the bottom line is that where the battlefield takes place is a significant factor in a way not often present in this genre.
The battlefield itself is larger than you might expect and this has some far reaching implications in regards to how many units may actually be participating in combat. Units from a relatively large area around the battle itself can be pulled into a fight as reinforcements. You may go in expecting limited opposition only to find that their much larger army from the nearby city is also going to be joining the fight. This goes both ways. Your army that you were rushing back to the city to defend it may not quite have made it, but if you're close enough, your efforts may not have been in vain. Reinforcements may be coming, but they don't join immediately, and this is key to why this system works so well. It takes several combat rounds before they arrive, and this allows the initial parties involved in battle time to exchange a few blows. It just makes sense.
Beyond terrain and battlefields, Endless Legend's combat is a simple affair at its core. First, the player will select where on the battlefield they want their units to begin. Next, they select the default action of each unit, be it to attack, defend, or stand their ground. Then, they have the chance to assign specific orders. They can select a tile to move to, an enemy to attack, or if they are a support unit, an ally to buff up or heal. They start the round and the units move based on their initiative order, and units either move to perform their assigned function or perform their default function if for some reason they can't do their assigned task. Then the round ends and the player assigns orders once again. This repeats until a number of rounds have passed or until one side runs out of units.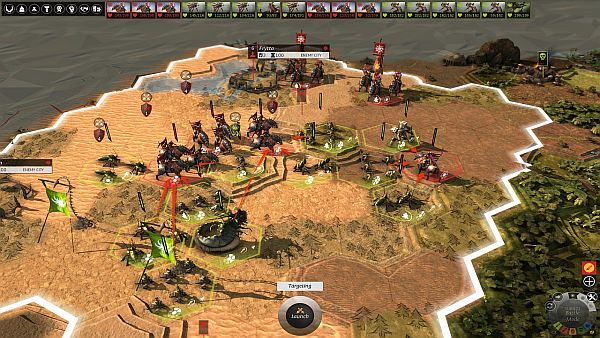 One might expect combat to feel like a completely soulless endeavor based on its simplicity, but they'd be wrong. Aside from the terrain modifiers and battlefield considerations already mentioned, unit abilities and customizations elevate Endless Legend's combat to a higher level. Every unit has at least one unique ability, and these abilities often dictate the type of strategy a player must pursue if they wish to be successful. Some units punish enemies who put their troops in a single file line. Other units can counter-attack repeatedly, increasing their deadliness by defying the standard rule that a unit can only attack or counter-attack a total of one time per round. Some units can heal, some can give defensive buffs, some can spawn new units out of the remains of others, and so on. Additional abilities can be unlocked depending on the type of weapons and armor being used, and throughout the game these can be upgraded. Equipment often allows you to tailor units to either be more defensive, with sword and shield, or more offensive, with two handed weapons flung over their shoulder.
I feel like Endless Legend's combat accomplishes its goal. It streamlines combat and makes battles involving many units take place within a shortened time span, thus allowing the player to spend more time playing and less time moving individual units around. In the process, some control is certainly lost, and players need to know going in that combat is going to have its frustrating moments. Units will sometimes approach enemies in a way that diminishes their effectiveness, for example by attacking from one side versus another where they may have the opportunity to also hit an additional unit. A unit whose target has been killed will automatically choose another target, and it may choose a target at full health rather than one you had multiple units ganging up on that can't counter attack. A support unit may decide to basically waste its turn if its initial target dies before its turn comes up. These are the necessary evils of the system. While I have no doubt Amplitude will be working to improve these AI controlled behaviors, it is important to realize that there is a price a to pay.
Plans and markets
While innovation is often about revitalizing time tested solutions, it can also be about the introduction of brand new systems. Empire plans are a great example of just such a system. Empire plans are essentially empire wide bonuses you can provide to your faction for a set number of turns. At the start of the game, your empire always starts off with zero bonuses and your marker is centered on a grid that spreads out in 4 directions. These directions are themed around Military, Economy and Population, Empire and Expansion, and Science and Industry. At set intervals, you will be allowed to pay influence points to adjust and lock in a new plan. These plans eventually expire, and you'll have to pay again to renew or adjust them.
Empire plans are well designed and provide bonuses that scale in multiple ways. One way in which it scales is that as you push for additional bonuses in a direction the cost increases at an exponential rate. This means you can get the basic bonuses in each direction relatively inexpensively, but the higher tier bonuses are much more expensive. The other way it scales is that bonuses become progressively more expensive as your empire grows. Since these bonuses provide bonuses across your empire, it makes sense that it is more difficult to maintain such powerful perks when your empire consists of many separate regions. The system itself feels seamlessly integrated and provides some interesting decisions without adding a lot of unnecessary overhead or bookkeeping. It also provides yet another use for influence points.
Endless Legend also has a free market that offers a solid alternative to diplomatic trade. This is where you can buy goods from your fellow players, engage mercenaries for hire, and hire new heroes into your empire. Not only can you buy, but you can sell as well. You can sell goods, heroes, or even units if you desire dust more than anything else. One faction, the Roving Clans, gets to take a cut from every transaction that takes place on the market, and if desired can even ban specific factions from using the market at all.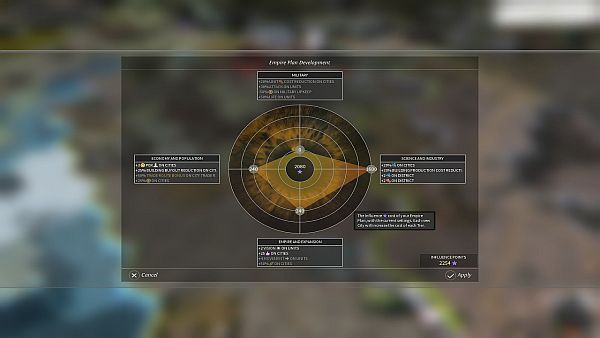 An AI will never be human
Endless Legend's AI is a big fat cheater. At least when it is at higher difficulties capable of actually challenging a decent 4X player. This doesn't bother me as long as the AI can present a challenge and generally follows the same rules. I know for some that facing an AI that receives artificial boosts in production and growth is an issue, so I want to be upfront about this. It cheats, but it also challenges.
This doesn't mean that I'm giving the AI a free pass. It's important that the AI knows how to play the game, makes the player respond to difficult situations, and poses an actual threat to the player's chance at victory. In Endless Legend, the AI, at its highest difficulties, is very difficult to compete with. I defeated it on the "serious" setting on my first attempt. Feeling confident, I proceeded directly to the highest option, "endless". I promptly lost 3 straight games before admitting defeat and retreating down a notch to "impossible". After losing 1 game on "impossible", I was able to win the following game by rushing the AI with the Necrophages faction. It's been quite awhile since I've found a 4X AI I can't destroy on a whim.
I think you can better understand the AI if I describe my specific experiences with it. I learned in my defeats that the AI's advantages in some areas are not to be trifled with. On "endless" difficulty, the AI typically won by way of a scientific victory long before I could ever dream of doing so. This was rather uninteresting after a few losses, so I turned it off hoping this would be my ticket to victory. I lost the following "endless" game due to the AI conquering all 5 of my regions one after the other. We had scuffled a bit on the border as I struggled not to be boxed in by their settlements, and this eventually led them to declare war and march their superior army in until I was eradicated.
The following game was played on impossible, and here I was able to eventually eliminate my closest rivals. Unfortunately, an entire second continent was populated by the remaining faction. So I did what any good leader would do. I sailed my formidable army across the sea to march towards their capital. Little did I know how massive their military force would be. I retreated quickly after giving all I had to call a truce, and then I suffered the sad fate of a an economic loss reaped by the AI's powerful economic engine.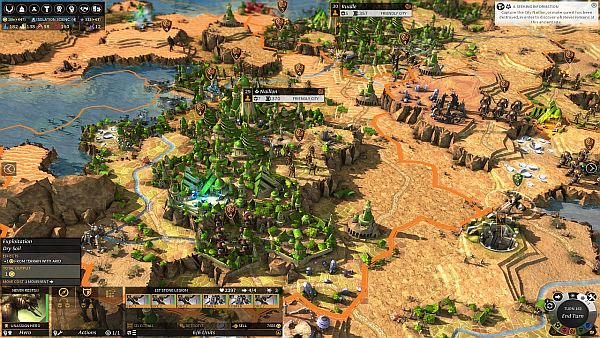 I was able to defeat the AI in the last game I played, on "impossible" difficulty, using the cheapest rush tactics I could manage. I captured all three remaining enemy capitals in under 80 turns even as my empire collapsed under the weight of abysmal morale. A bit of a Pyrrhic victory, but a victory nonetheless.
While I am undoubtedly pleased at the AI's ability to compete, it still has some rough edges that need to be smoothed. The AI seemingly has a love affair with only one of its 4 faction units, and from game start to finish it will build and upgrade only this one unit design. To be fair, the AI will also build and upgrade minor faction units it assimilates as well. Despite this, the AI armies are a bit boring to deal with since they lack variety and diversification. It is worth noting here that the very latest patch notes do indicate that this issue has since been resolved, but I can't confirm this as of yet.
The AI also makes some odd trades at times and will value small amounts of luxury goods as much as massive quantities of strategic goods and dust. The AI turns also seemed to get very long during the mid to late stages of the game, though I willingly admit this could be as much an issue with my aging PC as the game itself.
Other issues and concerns
With so many diverse factions that all play so differently, issues with game balance were simply inevitable. For instance, the Drakken seemed particularly cheap and overpowered in my play with them. I was able to force alliances with opponents, approach their capital, declare war, take their capital, and then force them back into an alliance due to my special faction abilities. This certainly cost a lot of influence, but beyond running out of that the AI could literally do nothing to stop me. In contrast, the Wild Walkers felt really boring to play and lacked any hallmark ability that made them feel interesting. The most recent faction and the one suggested by fans, the Cultists, are perhaps the most unique but also the most frustrating to play. In theory one mega city sounds interesting, but in reality your minor village converts can be easily killed off by your opponents. You do get free units, but they can't be redesigned or upgraded, forever remaining weak and useless against the AI. Add to this that the Cultists can't build cities to claim regions and prevent the AI from re-settling, and you'll often find yourself in an endless war of conquering and re-conquering with little gain.
The tutorial offers only a rudimentary knowledge of the game. Basic systems like the market place and trade routes aren't explained, and forget about learning how faction specific abilities work. For seasoned 4X veterans, these items can be figured out, but Endless Legend is going to be more difficult for a new player to understand than it needs to be. While a combat tutorial also exists, actual combat modifiers and systems are never really explained. The advantages of remaining in a forest or attacking from a high elevation are present, but I couldn't tell you what they are. The first time you attack an enemy city, you'll be shocked at how much damage the defenders can absorb and wonder why their health just isn't decreasing. After thinking maybe you've hit a bug, you'll eventually discover the fortification system, essentially a second health bar you have to deal with. The first time you are tasked with upgrading a city/district to level 2, you're going to wonder what the game is talking about. The confusion and frustration these things can cause will certainly hurt the overall experience. It is a shame that more care wasn't put in to explaining the game's complexities.
Final Thoughts
While the game is certainly not perfect, the pros far outweight the cons. Endless Legend has revitalized a genre that desperately needed it. As a long time 4X strategy gamer, I often feel I have seen it all. It seems with each new release that I always look back on the games of years long past and wonder where all the originality has gone. Apparently it's gone to France. Amplitude Studios is leading us down a new path. If you can put aside your notion of what a 4X game has to be, you may find that this is a path you'll enjoy taking.
| | |
| --- | --- |
| | Great |
The Good:
– Innovates with new ideas and twists on old ones
– Most diverse factions in the genre
– Tells a story without needing a structured campaign
– AI factions can actually pose a legitimate threat
– Multiple victory conditions
The Bad:
– Diverse nature of the factions necessitates further balancing
– The combat AI's decisions can be frustrating to watch
– Many unexplained mechanics not covered by the tutorial or tooltips
Keith Turner, also known as aReclusiveMind here on SpaceSector, has been an avid gamer ever since he first laid his hands on a Commodore 128 in the mid 1980s. He enjoys multiple computer game genres, but his primary interests are in deep strategy games, 4x games, rpgs, and action rpgs. He enjoys writing and hopes to contribute with additional reviews, previews, and informative AARs to the community. See all Keith's posts here.
Subscribe RSS
48 Comments
Related Articles:
Post category:
Game Reviews