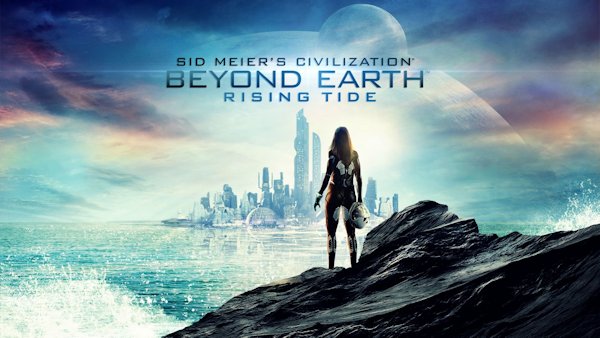 Firaxis and 2K Games have announced an expansion for Civilization: Beyond Earth, titled Rising Tide. The expansion is said to focus on bringing a new dimension to play by allowing the player to colonise on water by building aquatic cities. In an announcement video (below), the developers mention that the expansion will also contain several changes to the core game, this includes supporting hybrid affinities with unique units and upgrades (see features list at the end), as well as the diplomacy system being overhauled.
"We've also overhauled the diplomacy system; we've taken the old diplomacy system out and put a brand new diplomacy system in. This has implications for many parts of the game: the AI, how your personality progresses over the course of the game, lots of changes related to diplomacy in Rising Tide." –Will Miller, Co-Lead Designer for Beyond Earth
They also mention that aquatic cities will have differences in their mechanics from their land-based cousins, though no detail has been given on what these differences are. Naturally, new aquatic units and aquatic creatures are getting added to the game.
"We are also adding some new features that we think really changes how the game plays. As the title suggests one of the big features we're adding is the ability to play on the water. Water gameplay is a huge focus for Rising Tide. This includes settling on the water, a slew of new aquatic units, new aquatic aliens, and really differentiated gameplay on the water." –Will Miller
The game will also contain a new artifact system as players can combine these for more powerful bonuses. While the original biomes (along with the two new ones introduced) will offer some mechanical differences, and not just be aesthetically different, again no detail on this has been shared.
"What we wanted to do is change slightly how the game plays per biome so that the selection of the biome is actually a very important decision that you would make at the beginning of the game." –Will Miller
The expansion should also offer 4 new factions that have a different outlook on the new world than the original factions, one of which is actually from a generational ship. The common theme of these new factions is strict survival. Unlike the original sponsors who still had a shed of optimism left, these factions were left to fend for themselves, making their journey to the stars a far harsher one. Firaxis has started revealing the new factions one by one, as it did for the original release.
The developers hope the expansion will help Beyond Earth differentiate itself from the historically-themed Civilization series.
"We're really trying to redefine what Beyond Earth is and ground it in what it ought to be, which isn't just 'Civ in space' but 'Civilization of the future.'" –David McDonough, Co-Lead Designer for Beyond Earth for PCWorld
Here's the announcement video where these topics were discussed:
The developers say the new diplomacy system should bring the personality of each leader to the player as the system, they hope, should be far more transparent than the original system. This time, the leaders have a set of traits that should better define their personality, goals, and diplomatic actions. Each leader has a unique trait, and as the game progresses these traits can expand and even be changed if the circumstances warrant it. This will affect the leader's goals and the way it deals with other factions. These traits will also confer bonuses and will determine what sort of actions the leader favours from other factions. These traits should play a major role in the new diplomacy system:
"This is a new diplomacy system, not just a couple of new options. Every leader is going to have a small set of traits and these traits can both evolve or be changed throughout the course of an individual game."

"If I'm interacting with a leader that has a trait that favors people who engage in trading, and they see me trading, their respect for me is going to grow. That's going to open up newer or better options with that leader. Conversely if they see that I'm not trading, they're not going to respect me." –Andrew Frederiksen, Lead Producer at Firaxis Games for PCWorld.
The expansion will come with a patch that will offer some changes to the core game, but most of the new mechanics and improvements are likely to be available only to those with the expansion. There was no mention on what the changes to the core game are, or how big the patch will be.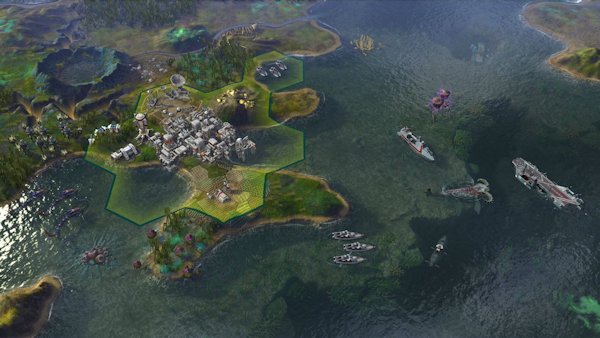 Key features of Rising Tide include: (source: official announcement)
Building floating settlements and accessing natural resources hidden beneath the seas of the alien planet, while alien beasts with unique abilities inhabit the water and challenge players in distinctive ways;
Shaping the diplomatic landscape by upgrading traits, changing diplomatic relationships, and leveraging the benefits of your allies, all with political capital;
Unlocking a dynamic set of Diplomatic Traits while activating different combinations in response to the changing world;
Playing as one of four new factions, including the Al Falah, a group of nomad explorers descended from wealthy and resilient Middle Eastern states;
Investing in multiple Affinities to unlock hybrid Affinity units and upgrades for the first time;
Collecting and combining alien relics via a new Artifact System that unlocks powerful benefits;
Exploring one of two new biomes, Primordial world, an untamed biome rife with volcanic activity and indicative of a chaotic landscape still forming in the new world.
Civilization: Beyond Earth – Rising Tide is slated to come out this fall (end Q3, early Q4) for $29.99 USD. We will bring you more on this expansion as more information becomes available.
Though Beyond Earth was a "solid" game from a technical standpoint, it was far from what many of us expected, and far below the standard Firaxis set for itself with past titles. SpaceSector rarely gives up on a title, and even in our review we saw the possibility that this game can be significantly improved. Only time will tell if Rising Tide will bring Beyond Earth on par with what we expected from this franchise.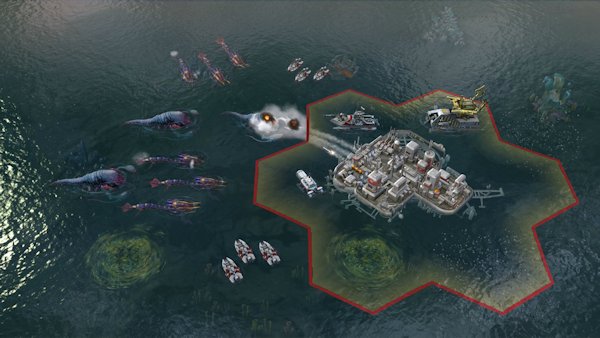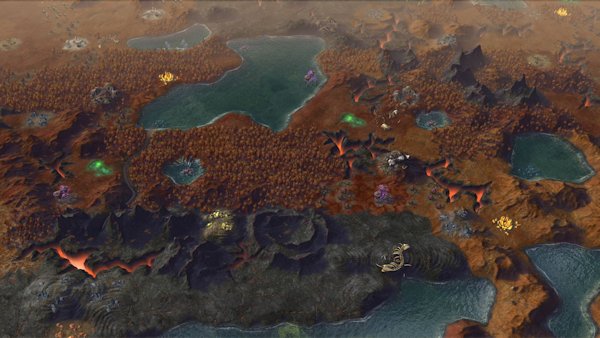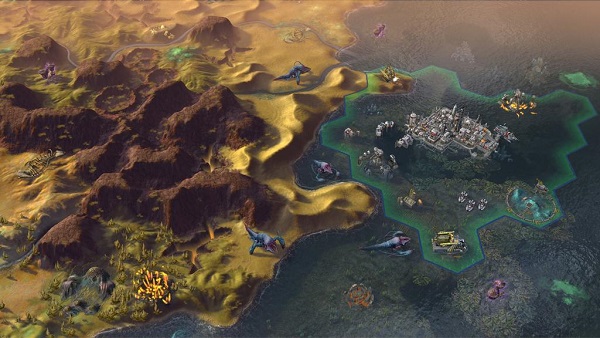 Subscribe RSS
17 Comments
Related Articles:
Post category:
News & Announcements