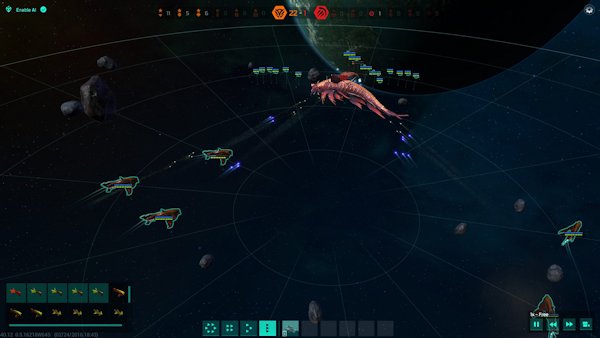 WG Labs (Wargaming.net publisher brand name) released NGD Studios developed Master of Orion: Conquer the Stars in Early Access on February 26, 2016. The game is a turn-based space 4X game with real-time tactical combat. The game will feature diplomacy, espionage, and several news mechanics like minor races and more victory conditions. It should be noted many of these things are not in the Early Access yet.
Aside from the tactical combat being in real-time and the introduction of star-lanes (referred to as Warp Points in the game's lore) the game does try to recapture some of the essence of the original MOO games, using MOO 2 as its main source of inspiration. You can read the interview with Chris Keeling here to know a little more about the decisions made in developing the game.
As with any Early Access title it's hard to form a solid opinion as the product is still in development, things can as easily go south as they can significantly improve. Sometimes a single element can hurt a game more than one could imagine, while the change to make things far better may be smaller than some may think. With all this said, I do think Master of Orion is off to a good start.
There are some issues but hopefully these will be addressed. Naturally, star-lanes and real-time tactical combat will disappoint a number of people. I don't aim to argue which is better. I'll only focus on the fact if they're properly implemented or not. It's not my goal to try to convince anyone to change their personal preferences, "to each their own," as they say.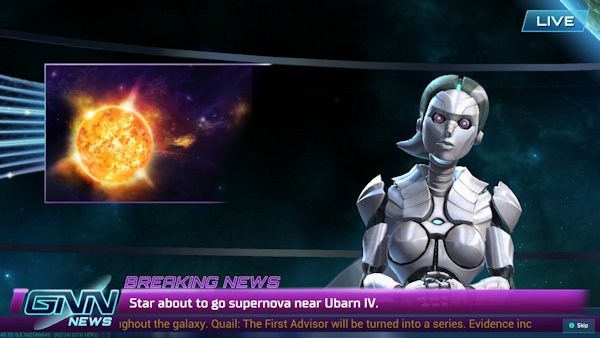 State of the Game
The game is surprisingly polished. I experienced no crash or game breaking bug (or anything I would call a bug either), and I only heard of a few reports on these. This doesn't mean there are no rough corners: AI is still infantile to say the least, tactical combat still needs a lot of work, the ship designer is still unpolished, and many text errors are present in the tooltips.
One can easily play a full game with the core features present. Tactical combat actually works and is cinematic, though player control seems limited at the moment. The AI seems to be able to play the game in the early phase. Though the AI struggles once you hit the mid game and it becomes a complete pushover afterwards, which sparks the bulk of the criticisms against the AI.
Also, this should be obvious to anyone that watched the videos and looked at the images, the game does look gorgeous and the production values are high. This has to be one of the highest production values 4X game I've played in for a while. Say what you will that visuals are not important for a good game; they do help and does add to the immersion.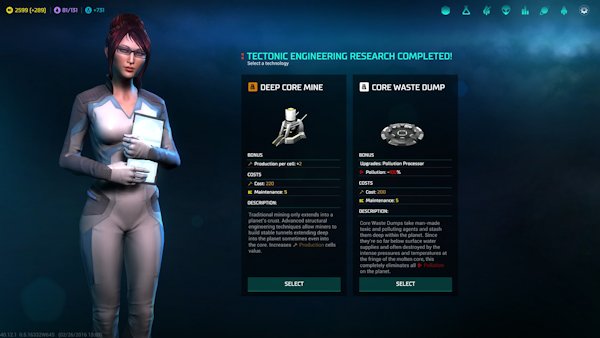 List of Features that are in now (from the official site):
Six playable races: Alkari, Bulrathi, Human, Mrrshan, Psilon and Sakkra
Three victory conditions: Conquest, Diplomatic, and Excellence (score victory)
Tactical battles
Multiplayer
Ship designer
English and Russian localization and voice over
Playable on 64-bit Windows
You can read our Early Access information article here if you want to know more.
List of some if the Features that will be added in (from this official post in the forums):
The remaining playable Races
Custom Races
Espionage
New victory conditions
Minor Races / Independent planets
Linux and Mac Support
They also mentioned in the same post that they will be improving the AI (both in general and in tactical combat), multiplayer, ship design, tactical battles as a whole, better galaxy generation, and balance improvements as needed.
First Impressions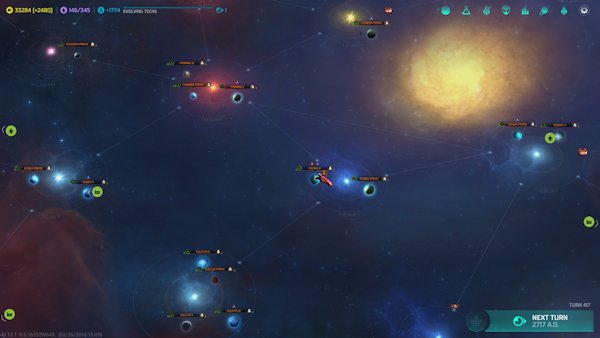 Let's tackle star-lanes first. Fortunately, unlike other games the connectivity of star systems is decent. Generally speaking you can always hop over to the next system with only a few places where there seems to be wall blocking off a nearby system. It's not difficult to go around an occupied system or to get to a system that seems to be blocked from another system.
The downside is that there is no limit on range for anything, be it exploration or colonization. Sometimes a quadrant can be sparsely settled and nothing stops you from building up your empire over there, assuming you are not fully boxed in but usually there will be a path to get there. The AI sometimes takes advantage of this (but not as often as it should). Some people may like this actually, so this is more of a personal preference thing for me.
The other thing I noted is there seems to be no cost for expanding (except for the population you transfer over and the production time spent making the colony ship). This permits for very fast and continuous expansion. The only penalty seems to be in diplomatic relations which actually stacks up very harshly if you outpace the AI too much. I think there should be a higher cost for expansion.
Colony Management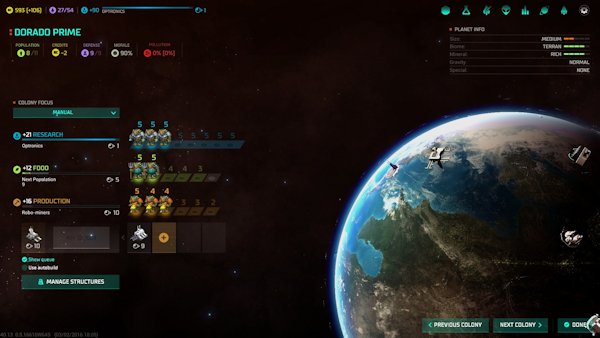 The colony management system is the very similar to MOO2. At a glance it's practically the same but there are some changes, like farming and productions cells giving less output the more people you put in that field and caps on how many can be assigned to farming and production. Also, shipping population from one planet to another also requires dedicated one-use transports.
The other significant change is exporting food is gone (which I do miss); instead there is a mid-game tech that lets you do this within a given system which also allows you to export food and production to a central planet. That last aspect is welcomed but in the end each star system has to be self-sufficient with food even with this tech.
Overall, I was happy with it but I wish we could, or more specifically, had to specialise our planets more as the strategy of going all Gaian generalists seems to be the most viable route. This is due to the fact each world needs to sustain itself and it's not hard to hit the production cap. The rest of your population will go into science which will be enough by the late game. The only specialisation is what you build up first on a colony.
Diplomacy and Technology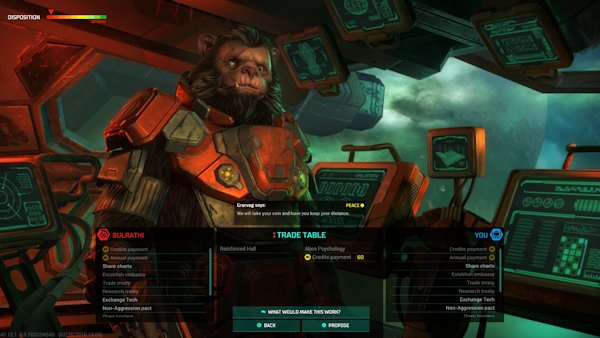 Diplomacy is oddly familiar to anyone who played the Civilization series, though at the moment the AI is overly simplified in this regard. It will still do things that are interesting but it won't follow through with its schemes and at other times be a little random to the point of being detrimental to itself. The framework for a classical diplomacy engine is there though; they only need to teach the AI to use it properly.
The tech tree is also very reminiscent of Civilization; however, the branches are less interlinked. The player can more easily avoid an entire segment and go very deep into the other branches. The only issue I have with the tech tree now is that tech speed increases dramatically as you progress through the game, making mid-end to end game techs get researched way too quickly.
Also, this time most techs award every item inside the tech, though some techs do make the player choose from the options available. Though I do agree that some techs should fully award their options, I found there were not enough of these "make a decision" techs. I do like tech trees in general, but the choices do make things more interesting and I think having more would be better.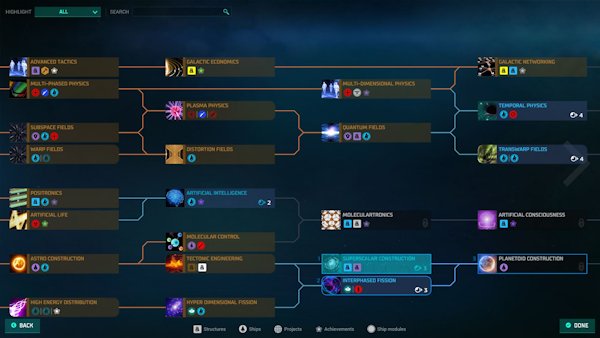 Ship Designer
It's very similar to MOO2, except they have slots which limit the number of separate special systems and weapon configurations you can install separately. Larger hulls have more slots, and honestly I've never felt restricted by them. Actually, my first fully customized cruiser was terrible, so there is still enough rope for you to hang yourself with even with the slot restrictions.
For example: Frigates have 2 Special Slots and 2 Weapon slots while Battleships have 4 Specials and 6 Weapons. A weapon slot lets you put as many of that specific weapon with the selected modification. So you can have 16 Heavy Continuous Forward-Facing Fusion Beams in one slot. The slots just prevent you from have twenty different weapons at x1 or stick every single special module you have.
The Ship designer's interface is still rough and there are a lot of UI issues. It also seems weapons are not as strongly diverse as they were in the original MOO titles. Weapons with special properties like bypassing shields or increased damage to certain systems seem lacking. These sort of extreme result weapons were fun. The developers have acknowledged this and mentioned they will be revising the ship designer and weapon systems as well.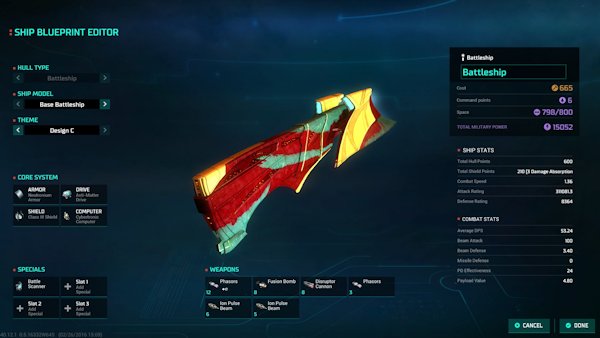 Tactical Combat
Tactical combat at the moment is the weakest link in the game if your desire is for a system that gives the player a lot tactical control. The overall speed is slow enough and the player can slow it down to a quarter pace, they can also pause the game and issue commands. The problem is that the AI still controls things no-matter what, even if the combat AI is disabled.
The game has a combat AI that the player can disable. However, it will still auto-cast your special modules, which may be fine for things like shield boosters, but can be annoying for teleport devices and black hole generators. Also, if you give an attack command, your ships will assume the default close in and attack behaviour.
As it stands the tactical combat system succeeds if its goal is to be cinematic. Actually, in this regard it does a better job than other games that aimed to have cinematic combat. The player can still issue commands while letting the combat AI control most of it, which further benefits it for those that prefer a "laissez-faire" approach.
However, for those that want a more tactical experience, the system is lacking. As I mentioned earlier the developers are still working on the combat system and they're aware of the lack of tactical control for the player and the AI's rather straight-forward behavior. Hopefully, we'll see improvements in this regard.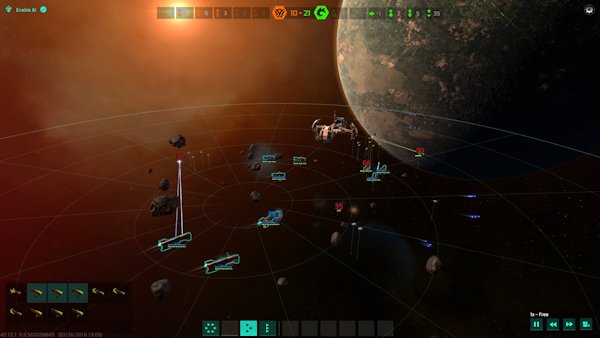 Overall Opinions
As mentioned several times the AI is still lacking. Tactically, they just close in on attack which can be easily exploited since you know what to expect. Strategically, it seems by the mid to late game the AI falls behind quickly as the AI more often than not stops expanding. So when a war does break out at this stage your fleets of larger ships can make short work with what stands in front of them.
Overall, I am nowhere near hitting the panic button. This is because I've seen many games evolve their AIs considerably in a short period of time. The first patch actually made the AI more competent in the early to the mid game, and more AI improvements are promised. The developers have acknowledged these issues specifically in their post.
Also, a lot of the mechanics that would make the game stand out more (the races with more unique traits, minor planets, and espionage) are not yet released. Tactical combat is still being heavily improved and even the ship designer is going through a major revision pass. Personally, I have always been a wait and see kind of person before I start flipping the tables over.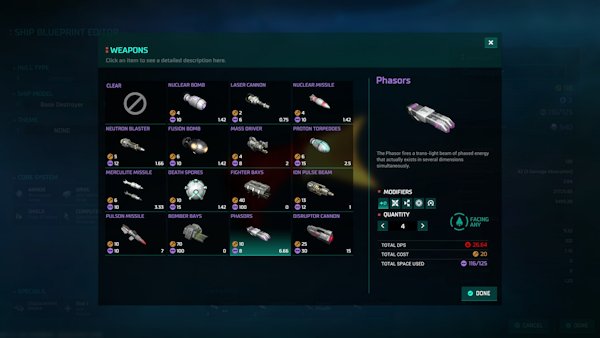 I will not lie. I am optimistic, but I know that for many these are important issues and they will be for me as well upon release. So what will be delivered in the end is important, and for that we have to wait and see. Early Access has always been a risk venture and exercising prudence is always advisable.
SpaceSector will bring you more updates if necessary and perhaps even a follow-up impressions article as more features are added. As always, there will be a review for the final release of the game. Master of Orion Collector's Edition is available on Steam Early Access for $49.99 USD. The game's Collector's Edition (along with Early Access) is also being sold on GOG.
Subscribe RSS
50 Comments
Related Articles:
Post category:
Early Access
,
Game First Impressions
,
Game Previews