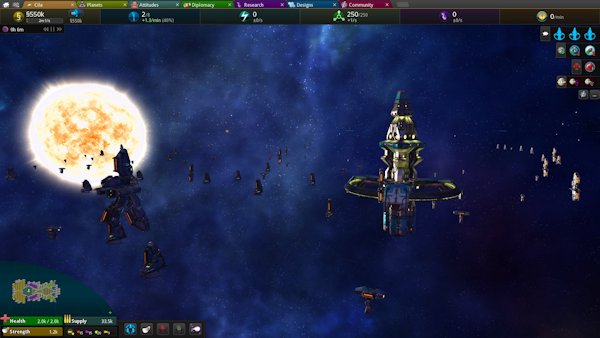 Blind Mind Studios released their expansion Wake of the Heralds for Star Ruler 2 on April 22, 2016, a pausable real-time space 4X strategy game. The expansion also comes with a patch which offers many little fixes and tweaks that all owners of the core game will also get.
Changes that are available without the expansion is the improved AI settings, improvements to the AI's behaviours, graphical improvements, and planet biomes will better match their resources visually, which was one of my immersion breaking criticisms for original game.
The expansion itself brings extra content and fleshes out many of the existing mechanics. There are more options and cards in diplomacy, a mechanic to win the game via the influence system, the addition of Attitudes to further specialise your faction, more techs for more ship design options, and two new races along with a new invasion game mode.
Overall, the expansion is pretty meaty for fans of the game. The expansions gives a lot of extra content in many of the existing systems with a few unique additions, along with the two new races which have more distinct mechanics than the initial races. There is enough to make someone who took a hiatus from the game to give it another go. However, I don't think the content will change someone's opinion of the game unless it was on a knife's edge.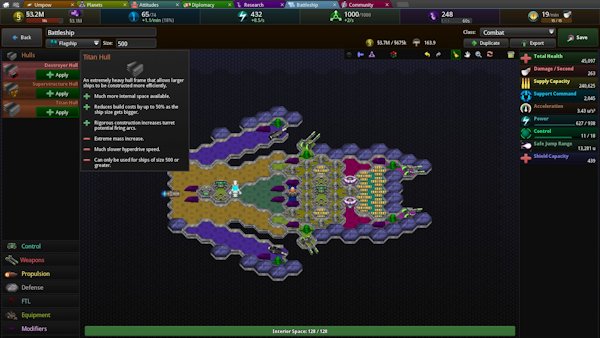 Adding to the Existing Pot
As mentioned before, the game adds a lot of content to the existing systems. More technologies with new ship modules and templates to further customise your ships more. Players can now build dedicated carriers that only use support ships, or build specialised vessels that have no support but are better at being standalone worships. There is even a template to maximise the concept of a super spinal-mount weapon.
More noteworthy is the additions to the diplomacy system. First there is way more card options, a lot more. The nature of the diplomacy is still a miniature card game where you collect cards that are spawned randomly, spending the influence you gather. The largest addition is becoming the Senate Leader; which allows the player to gain and use special cards, build a special station, and even play two powerful cards which when both are played triggers an eventual victory. This effectively adds another victory condition to the game.
There is also a new FTL drive system, the Jumpdrive. Similar to Hyperdrives, the drive makes ships instantly teleport to their destination but there is a safe max distance you can jump to. Along with this, capital ships can now gain veterancy in combat, making it valuable to retreat your ships as they can come back to fight another day stronger.
Overall, all these new additions are welcomed. As mentioned in my review, a lot of the game is built around a sandbox experience allowing the player to do many crazy things one sees or reads about in science-fiction. This expansion gives the player even more choices to manage and create the ships they want or achieve even more powerful plays in the diplomacy and influence system.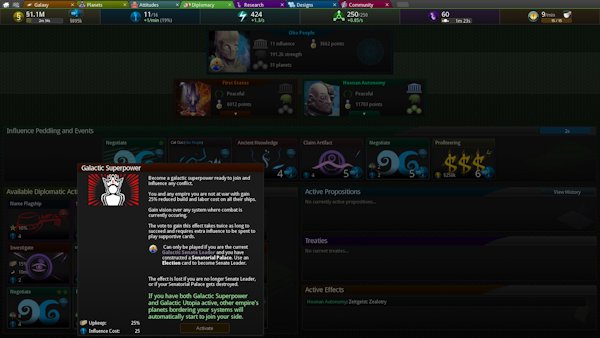 The Newer Brews
The expansion does also try to throw even more unique additions to the game. The first is the invasion game mode which is a cooperative mode where the players fight off waves of ever increasing attackers. In this mode you can still expand, settle systems, and even be a jerk in diplomacy. This mode is a little reminiscent of tower defense games as you build up your defenses and fleets, expanding deeper into your sector, while turning your forces to help defend the boundary systems. You're game over if you lose those systems.
Personally, I am not a fan of this particular type of mode. That said I do appreciate different game modes or scenarios, as there are those I do enjoy, it's just this is not one of them. However, I've never been a fan of tower defense or horde modes, but there are those that do and they might find this mode interesting.
They have also added Attitudes, which is a set of several traits pairs you can unlock. You can only take one of each pair as they represent opposing Attitudes. Since there are many trait pairs, you can take up to five (out of six pairings) Attitudes. Each require you to do something to unlock each level and get the stronger bonuses, these are retroactively gained, so tasks done before picking up the trait still counts.
The system seems to reward playing the game a certain way and focusing on a certain strategy. However, it offers a wide selection of strategy the player can employ. It also gives the player more options to tailor their faction the way they like to play. Overall, it is a nice addition to the game as it helps guide the player towards certain actions and rewards them.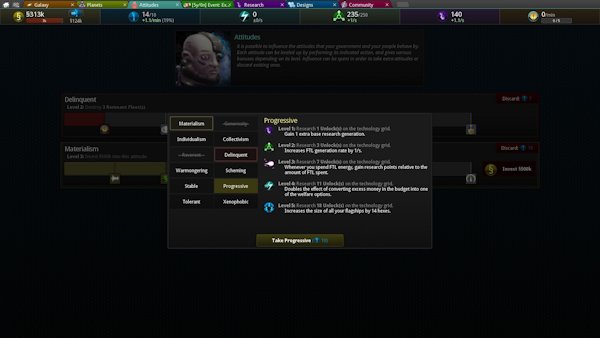 The Extra Ingredients
The last major addition is the two new races. They play significantly differently from the older races. One race has its colonisers warp in at a beacon which you have three spread across the map, these refugee ships then settle nearby words randomly. The beacons can also have resources transferred to allow special actions to be used.
The other race is a post-singularity species, which build structures on planets via orbital replicators. They don't use population and directly collect the benefits of each corresponding resource. Resources that have no benefit for the faction can have their worlds convert it to base materials or ore, which you use to feed your special structures.
The new races, especially the second one described has a significantly different play style as it doesn't need to create conventional supply chains to level up planets. It only supplies ore and base materials which it then uses to feed its unique structures to capitalise on the normal resource pressures and boost its planets with unique structures.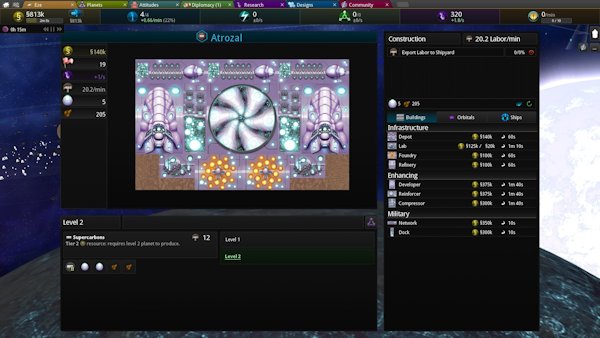 The Overall Flavour
As I said earlier, for those that enjoyed the game or were just taking a hiatus from it will find the expansion well worth it. The added content is very welcomed and makes the game's experience even more robust. This said the game's main focus is the sandbox experience and there is very little intimacy with the individual worlds you control and the races have no distinct personalities between each other except for how they expand and exploit.
Therefore, the comments I said in my review about the immersion still stands and as such any players who did not fully enjoy this game because of those reasons will not have their minds changed by the expansion. Actually, I don't see the expansion really changing anyone's mind about the game if they didn't already enjoy it.
Once I have acclimated myself to the new additions, it felt like I was still playing the same game, which can be a good thing if you enjoyed the core game a lot. Despite this, I do not want to downplay the improvements to the diplomacy with the new cards, along with the Senate Leader and Influence Victory. Nor do I want to downplay the uniqueness of the new races. However, it's not enough to alter the core experience of the game.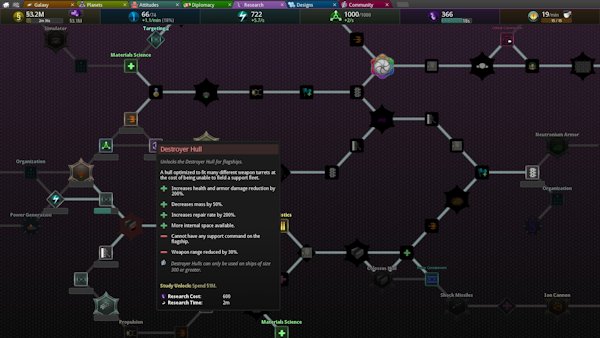 In the end it all depends what you thought about the core experience of the vanilla release. As I said in my review, I prefer games that have a more intimate immersion factor (some form of internal socio-economic management, bonus points for internal politics, and bilateral diplomacy with distinct personalities) which this game doesn't have except for the colony supply network mechanic which also seems detached, but as I said not everyone has the same desires when it comes to immersion.
Those that like building their ships the way they want with very few restrictions, blow up stars, build ring-worlds and artificial planetoids, mine stars and planets dry to make planet-sized warships, and fling stellar objects across the map while not being bogged down with the need to babysit the citizens of your empire, then this game may appeal to you and this expansion adds to that experience.
Star Ruler 2: Wake of the Heralds can be purchased on the Steam Store for $9.99 USD. It seems to not be available at any other online digital vendor at the moment. This may change in the near future.
Subscribe RSS
13 Comments
Related Articles:
Post category:
Game First Impressions
,
News & Announcements