Distant Worlds Legends is the second expansion pack of the 4x real-time space strategy game, Distant Worlds.
Matrix Games and Code Force announced Legends last September 2011. The list of additions to Return of the Shakturi (DW's first expansion) is very promising so I decided to write this Legends' preview to try and condensate these changes and present them in a nice wrapper for you guys, so that you know a bit more about what to expect in November 2011, current Legends' release date target.
So, what'll be new in Legends?
The major additions and changes to Return of the Shakturi, that I could take note of, are:
– Leaders / characters
– Influence spheres
– New ships models (around 600!) with better graphics
– Ability to track where your ships are heading (ship vectors overlay)
– Potential colonies, scenic and research locations shown on main map (more overlays)
– Expanded technology tree (e.g. cutting lasers, new planetary facilities, wonders)
– Race-specific events and victory conditions
– Improved fleet management and automation, including fleet postures
– Improved modding support, including full race and character modding
– Improved refueling system (more intelligent fuel management)
– Improved diplomacy system with refueling and mining rights and immigration policies
– Improved performance, memory usage decrease and sharper graphics
Wow! Where to begin.
The major new addition of Legends is no doubt the new character system. Legends brings Leaders, Admirals, Generals, Ambassadors, Governors, Agents and Scientists to scene. All of them with their own skills and traits with the opportunity to advance and improve them along the way. The character you start with, in the beginning of your games is your leader. Leaders have effects that are empire-wide, that is, they influence your entire empire, every planet, base, etc. Some factions are more likely to get certain types of characters than others. Characters can be lost along the way though due to violent events, accidents or retirement.
Each character has some skills. Next to each of these skills there's a progress bar (0% in the example below), that measures progress towards the next level in that skill. You can increase skills (or acquire new ones) through experience in areas related to those skills. Characters also have traits. Your characters may start with one or more traits and may acquire more based on their experiences. You may start with additional characters. For example Randul Shokia (seen below) is a special scientist character.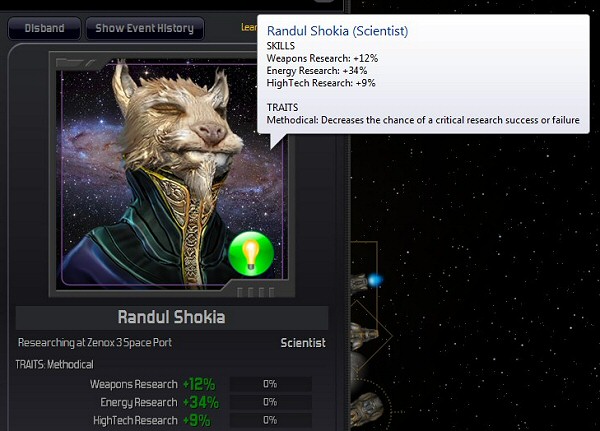 Randul provides bonus to research, in the research base you decide to put him in. In the example above he adds bonuses to all types of research fields. If you assign Randul to a particular Energy Research station with a +15% bonus to Energy Research, his +34% would add on top of that to give you a combined +49% bonus to Energy Research at that location. Besides skills Randul also has a special trait. Randul is methodical which means that your empire is less likely to suffer critical research failures (critical research is a new feature in Legends, which can give you a spontaneous crash program or a boost in a research area). He gives more reliability to your research in that sense.
One feature I found particularly interesting in the character's system is that some characters remain mysterious until you actually use them and find out about their abilities. In the example below Kweeki Woppit has known traits but unknown skills. This is an interesting touch in my opinion since it adds an element of surprise and gets the player a little curious (two essentials elements in 4X strategy games) of what to expect from their characters.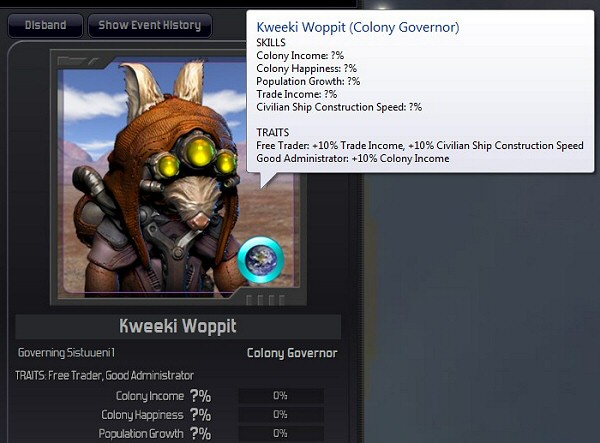 Kweeki is a Colony Governor. You can assign Colony Governors to a particular colony and their bonuses apply only to that colony. Similarly, Fleet Admirals are assigned to a particular Fleet or Base, Troop Generals to a particular Fleet or Colony, and so on.
You can assign more than one character to a particular location and bonus from them will add up, though they may not be purely additive. In Erik Rutins' own words (one of DW's main developers) «(…) if for example you have a Fleet Admiral who is great at combat and another Fleet Admiral who excels at Fighter Operations, assigning both to a fleet that has Capital Ships as well as Carriers can lead to better results than just having one or the other. However, since you generally will have fewer exceptional Fleet Admirals than fleets, you have to weigh the benefits of having one exceptional fleet against the flexibility of having two fleets that are each pretty good».
Another important aspect in Legends is that the devs state they've implemented a better memory management method. This should allow for better performance and memory usage decrease. They also state that this has allowed them to remove the compression mechanism they were using previously, on many of the ship and planet graphics. The result is that Legends should look better, or at least sharper from what I was lead to believe (less blurriness that you could spot in RotS here and there).
In addition to sharper graphics Legends shall also feature 22 new high resolution ship sets (added to the existing ones from Distant Worlds and Distant Worlds: Return of the Shakturi), all obtained from one of Distant Worlds' players and modders, artist Martin Wood. Here's an example of some of the new Teekan ships.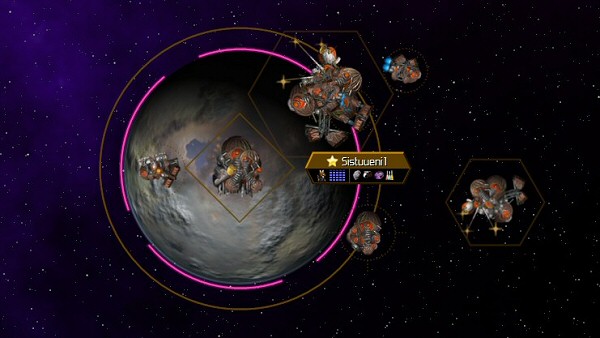 That's approximately 600 new ship/base images right there in Legends! (if you didn't use Martin Wood's mod before that is). This was one of the weakest points in Return of the Shakturi in my opinion, and now that seems to have been properly addressed. Big plus! Don't know if planets and ruins have also been worked at or not though. We'll have to see.
Legends also brings spheres of influence, or borders. The actual use for them is still a bit unclear to me. My best guess is that they tell how likely foreign colonies are to flip (turn to other empires) if they are inside an empire's influence sphere. In that regard I think they serve as cultural/influence borders but I'm not sure of their full scope. In Erik's own words «Spheres of influence are not quite the same as the way we think of borders here on our planet. They project from your colonies and define the space that you could control. Systems within your sphere of influence that you have at least explored are considered under your control. Borders in space are enforced within each controlled system but not in the deep space between systems. Also, building a mining station (for example) outside of your sphere of influence does not give you control over that system (though colonizing it does)».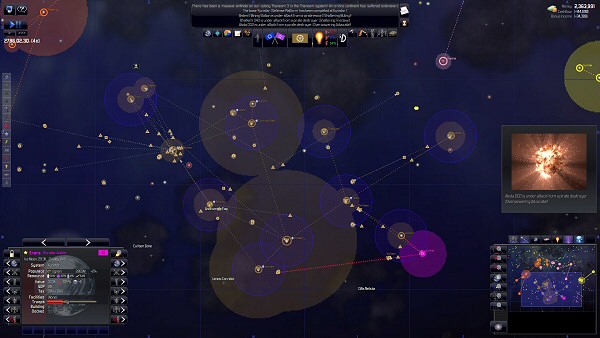 An interesting feature would be for these influence spheres to represent a race's space territorial dominance. Aggressive races would tend to get annoyed if their space was trespassed or if other race's colonies or mining stations are built inside their influence zones, but I'm just speculating here. It would be cool to have that kind of territoriality though, although I now that theme is a bit controversial and would not be appreciated by some.
In addition to all this Legends will feature new faction-specific victory conditions that can completely change how a faction plays, to faction-specific special events and resource bonuses. In the example below the Ugnari have 4 particular victory conditions: two of them (as examples) are to get 25% most trade and 25% most mining stations.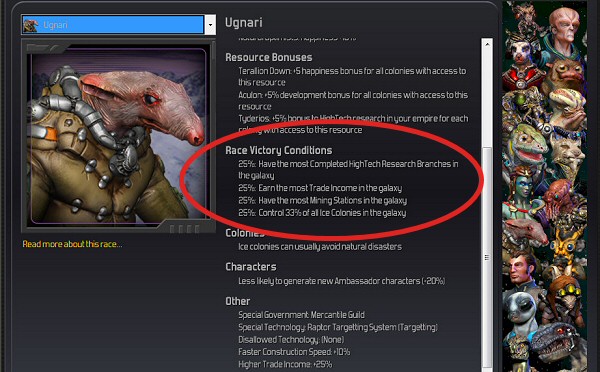 Another aspect where Legends devs invested a bit was on a new UI system that provides overlay information directly on the main map. At the choice of the player it shall now be possible to switch on/off layers for ship vectors, i.e. see where ships are going, potential colonies, scenic and research locations all in the main map with no need for more actions and clicks through secondary screens. This is a brilliant new addition that could be exploited for even more overlays that may be considered useful in the future.
Potential colonies shown directly in the main map are a particularly interesting feature to have in my opinion since they'll surely help late game expansion, where there are simply too many planets to look in the expansion planner and what you simply need is a quick way to see where are the potential worlds for suitable colonies in favorable strategic locations. I was very happy to see these new overlays. The UI accessibility was already very good in RotS, now it will be brought to the next level.
Besides all that has been described already there are more things new in Legends. Examples are the expanded technology tree, the improved fleet management and automation (including fleet postures), the improved modding support (including full race and character modding), the improved refueling system (more intelligent fuel management is also a big plus) and the improved diplomacy system with refueling and mining rights and immigration policies (which should provide even richer diplomatic experiences).
Bottom Line
This preview is by no means thorough. Believe it or not, it is more a sneak peak on major changes. Legends adds much more stuff (judging from what I could understand in the game forums, from what I didn't have access to and others I couldn't find in detail in my digging). The preview was based on information provided by the devs and the DW's community on matrix games' distant world forums. If you want to get more information on Legends, or Distant Worlds in general, that's the place I suggest you have a look at. I'm sure I missed a lot of things but judging from the changes featured in this preview alone it's amazing the amount of new things this new expansion will bring, on top of so much RotS already offered.
I am really looking forward for Legends. And if you're a 4X space strategy game lover, as I am, I think you cannot afford to miss this one either. I think they're making history here. In my opinion Distant Worlds Legends shows enough potential to be running for the best 4X space strategy game ever made. That's a very controversial and bold statement to throw I know, but I'm totally convinced that Legends may be that good.
\Edit (23/11/2011): Legends is out! Get it here.
Subscribe RSS
12 Comments
Related Articles:
Post category:
Game Previews