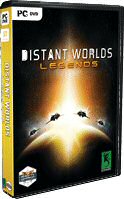 Matrix Games, Slitherine and Code Force have just announced Distant Worlds – Legends.
Distant Worlds Legends is the second expansion to the 4x real-time space strategy game, Distant Worlds.  The first expansion (very well received by gamers by the way) was Distant Worlds: Return of the Shakturi.
Distant Worlds: Legends is currently in final testing and expected to release by November 2011.
New features
New character system, including Leaders, Admirals, Generals, Ambassadors, Governors, Agents and Scientists, all with defined skills and traits and the opportunity to advance and improve
New modelling of borders and spheres of influence
New expanded gameplay with race-specific events and victory conditions, as well as a new hidden faction!
Expanded technology tree, including dedicated carriers, cutting lasers, rail guns, new planetary facilities and wonders
Improved AI and an updated Diplomacy system with refuelling and mining rights as well as immigration policies
Improved fleet management and automation, including fleet postures
Improved modding support, including full race and character modding
Note: Distant Worlds Legends requires ownership of the original full Distant Worlds game.
You can have a look at the Distant Worlds (vanilla) review I've made when the game was first released. The game had many problems by then (acknowledged by many) and so the score was a bit low. DW RotS expansion fixed many problems and improved gameplay experience drastically. You can check the DW: RotS review for details on what's changed on the DW universe.
A contest was also announced (to spice up the release). Read the full press release below.
——

Distant Worlds – Legends Announced and we're looking for a Space Creature!

A new expansion to the award-winning space strategy game is headed this way with a creature contest!
East Arlington , VT , September 27th, 2011 – Matrix Games (www.matrixgames.com), Slitherine (www.slitherine.com) and Code Force (www.codeforce.co.nz) are thrilled to announce Distant Worlds – Legends.  Currently in final testing and expected to release by November, Distant Worlds – Legends is the second expansion to the widely acclaimed space strategy game,Distant Worlds.  Distant Worlds – Legends is packed with exciting new features and improvements, including a brand new character system with skills, traits and advancements based on each character's actions.  Gameplay has been greatly expanded for each race wiith new race-specific events and victory conditions, a new system for borders and spheres of influence, an expanded tech tree with new weapons, facilities and wonders, improved AI, improved diplomacy including mining and refueling rights, greatly improved fleet management, new main map overlays to show ship routes and fleet postures, improved mod support, and more!

Also announced today is the new creature contest for Distant Worlds – Legends.  As part of the release, a new space creature will be included in theDistant Worlds universe, joining the likes of the Kaltor, Ardilus and Sand Slug.  This time, we're giving ­you a chance to add your signature to Distant Worlds by submitting your idea for a new space creature!  For full contest rules, please see this post in our forums.  You have two weeks before the winner is chosen, and the winner will receive a free copy of the entire Distant Worlds series and an in-game credit for their creature contribution!

Erik Rutins, Director of Product Development Matrix Games, said "Distant Worlds – Legends is a huge and highly anticipated step forward for the Distant Worldsseries. CodeForce has been listening to ideas and suggestions from Distant Worlds players, and Legends brings many of the most requested improvements to life, such as the much anticipated character system.  Now you can choose where to send your best Ambassador, assign your best Admiral to lead your main fleet in a key battle, let your General lead your next invasion from orbit, and make sure you have the right Colony Governor assigned to that new frontier world!  We'll be releasing more information on Distant Worlds – Legends over the next few weeks as it approaches release, so check back often."

Distant Worlds: Legends is the highly anticipated second expansion to the critically acclaimed 4X space strategy game Distant Worlds. Legends is a huge step forward which brings the Distant Worlds universe to life.  A new character system includes Leaders, Admirals, Generals, Governors, Ambassadors, Scientists and Agents, each with defined abilities and traits and opportunities to advance and grow over time.  Expanded gameplay for all existing races includes new race-specific events, technologies and victory conditions which create a completely different game depending on your choices.  An expanded tech tree also awaits, with dedicated carriers, cutting lasers, rail guns, new planetary facilities and wonders, and much more (including a new hidden faction)!

Distant Worlds: Legends also includes a new model for borders and spheres of influence for each faction, as well as new fleet management and automation commands.  The interface has been improved with additional overlays for the main galaxy map, including route indicators for all ships and fleet posture indicators, all to make it easier to keep track of activity and strategy. A new setup option allows galaxies to also be larger in map size as well as number of stars.  Empire Policies have been expanded with new options and Diplomacy has been overhauled to be much more intelligent and to include mining and refueling rights.  Finally, the AI has been improved in all areas and modding support has been greatly expanded to allow modders to take full advantage of all the new features.

All of this together makes Distant Worlds: Legends an essential addition to the vast, living galaxy of Distant Worlds!

Please note: Distant Worlds – Legends REQUIRES ownership of the original full Distant Worlds game.

Get more information on Distant Worlds – Legends from its official product page.

ABOUT SLITHERINE LTD. AND MATRIX GAMES LTD.

Slitherine Ltd. and Matrix Games Ltd. are the world's leading video games producers and publishers of historical and strategy titles. Since 2000, both brands have published literally hundreds of games with many award-winning titles in their portfolio spanning all digital and console platforms. Slitherine is also involved with book publishing, and board gaming and work with a wide array of key licensing partners such as HISTORY™, MILITARY HISTORY™, Horrible Histories™, Showtime, BBC, Osprey, Scholastic, Casemate Publishing and many others to deliver the best blend of historical accuracy in an exciting and entertaining way. The two companies merged in May 2010 and formed the world's largest organization specializing in this niche but important market sector. Slitherine's mission over the coming years is to lead the way in innovation and growth in this expanding industry sector.

###
Subscribe RSS
5 Comments
Related Articles:
Post category:
News & Announcements