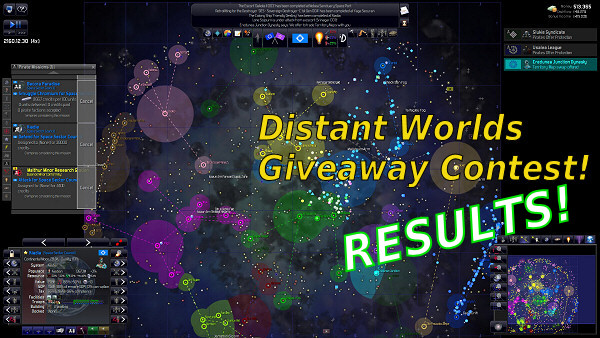 And the winners of the Distant Worlds giveaway contest are: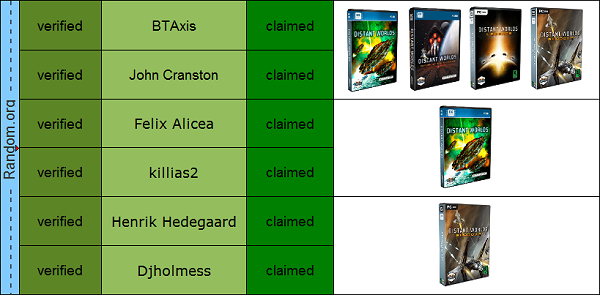 Congratulations to the winners! Looks like today was your lucky day. BTAxis and John Cranston won the full Distant Worlds bundle! (base game + Return of the Shakturi + Legends + Shadows). Felix and killias2 won a Distant Worlds base game. At least that's a start. And this was it for prize a). Henrik and Djholmess, were the contest veterans (apparently, already owned some DW installment). They won a copy of Distant Worlds: Shadows, the latest expansion pack. And that was it for prize b). I'll be sending your game prizes in no time.
Thanks to all who participated. I hope everybody had a bit of fun. A big thanks to Matrix Games and Slitherine for sponsoring this contest. For who didn't win this time there will be more opportunities in the near future. So, stay tuned for that!
Distant Worlds is a real-time space 4X strategy game developed by CodeForce and published by Matrix Games. To know more about this awesome game have a look at our Distant Worlds: Legends review (2nd expansion) and our Distant Worlds: Shadows preview (3rd expansion – new).
Distant Worlds is at sale at the moment, till July 5th. The full bundle is at 40% off and now costs you around $70 (plus VAT). Distant Worlds: Shadows (20% off) costs around $20 ($5 off regular price).
The winners were picked with the help of random.org.
The contest details and all the people who participated can be found in this post.
Subscribe RSS
33 Comments
Related Articles:
Post category:
Contests