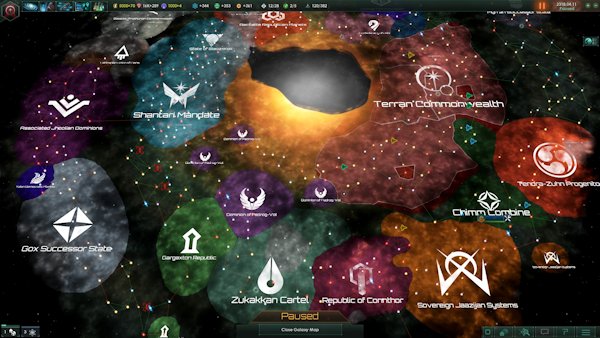 Paradox Development Studio and Paradox Interactive released their first foray into the realm of space strategy with Stellaris on May 9, 2016. The game is a real-time pausable Grand Strategy space 4X game. Like other games from Paradox the game is real-time based; however, the player can adjust the speed and even issue commands when the game is paused. Despite the real-time nature, the game has the pacing that is far more similar to a turn-based game.
Also, combat is abstracted as the player gets no tactical control, though the player will still research technologies that they will use to custom design their ships. The game focuses more on empire management, diplomacy, and internal politics. The game also focuses on exploring space as your science ships don't only scout out new systems but surveys them for hidden secrets.
Overall, the game is very immersive and wide in scope. Most of the systems work well with each other and the game offers a lot of features under its hood. The game can be very addictive and is visually nice to look at. Stellaris perfectly captures that sense of awe and wonder we all get in the early game and is able to hold on to it for quite a bit as you play.
However, this doesn't mean the game doesn't have its share of flaws, some of which actually hurt it from achieving the potential that it is so obviously capable of if it were not for these issues. Once the player is surrounded by other races, it seems war is the only option available to having something interesting happening in the game. Also, the mid-game at times can be drawn out and the end-game always is.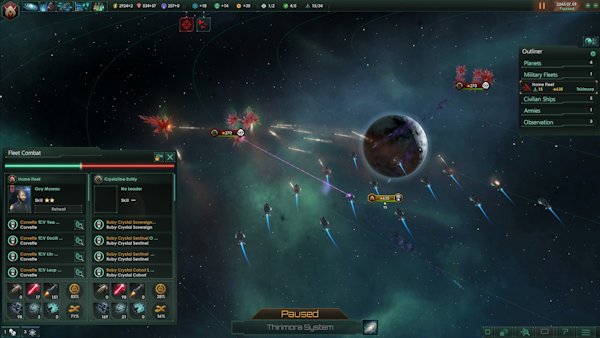 You can read the game's first impression here, where I cover aspects of race creation, the early to mid-game phase of the game, and cover other basics. Overall, not much has changed here from what I've said in my first impressions article. I heavily recommend those that haven't read it to do so, as it explains many aspects of the game and gives a review level analysis of those aspects. Repeating them here would be redundant. Here's the link again.
Getting Started
Stellaris looks good and sounds great. Though a lot of its visuals are animated images and 2D spites, the galaxy and star system maps are 3D renders, as said in my first impressions of the game. You'll find stars of all shape and sizes, black holes, and neutron stars. They have recently introduced different backgrounds for the skybox of the star systems to help make each system look more distinct.
The 2D assets are simple but elegant, and with far more details than previous Paradox games have dad. This makes Stellaris the best looking game from Paradox and also one of the better looking games in the 4X genre (though there are plenty of other competitors in this regard). The music is very operatic and thematically epic, thus well suited for an epic space game. The only downside is that there doesn't seem to be many tracks and the music can get repetitive.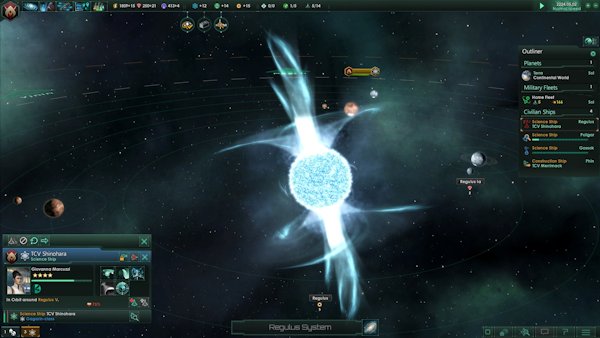 New Game set-up is pretty straight-forward, after picking or designing your own race the player is given a choice between several galaxy sizes, shapes, and the number of opponents they want (and how many of those opponents will start with a boost in tech and resources). The game has three difficulty levels, and though the first one is labelled Normal, it would be closer to easy for anyone experienced with space 4X games.
Designer Races
The main limitation some players will feel is that all races are organic species that require organic food to thrive. The more esoteric lifeforms we might see in other games like lithovores or cybernetic races are not present here. Gameplay wise, all races play by the same mechanics and resource restrictions.
The customisation is geared towards a set of bonuses and penalties (which do have a significant impact) and the selected ethics which determine available governments. These too are also bonuses and penalties, but they will also affect which policies are available to you and the pops' reactions to difference policies.
I think this limitation of not playing something weird per the rules of biology is worth the trade-off that allows the player to shape the personality of their race at the socio-political level. However, this does mean some players might miss being able to create the more bizarre life-forms.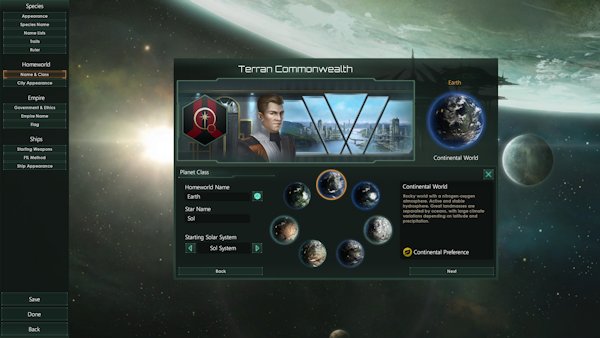 Three Ways to Travel
The player can choose their FTL drive. There is Warp which does what it says on the tin and the one that most classic space 4X players know, Hyperlanes which are the dreaded Starlanes way of traveling, and Wormholes which uses stations that a fleet can jump to or from thus requiring a network of wormhole stations to travel. The player can pick the one they want and even select to force all races to use the same one at the new game set-up.
Each have their pros and cons. Wormhole seems to be the most useful but can leave the player in a pickle if they are not careful, especially during a war. Also, you might have your exploration cut short when you have trouble finding an empty system to place a generator in as only close allies will let you build them in their territory. However, in the hands of a good player this drive is beyond excellent.
Warp is far more reliable and is not limited to needing a station to be built. However, it is prohibitively slow to the point that it may feel like the worst of the three. Thus most players will either settle for Hyperlanes (if they don't mind the Starlanes) or Wormholes.
Hyperlanes are fast and lets the play jump from within a system, but you are limited to using Starlanes. Oddly this is the average drive. This said the game is not immune to bad path generations; it's rare as the Starlanes are fairly well propagated. However, when playing a game on smaller maps the odds of generating a game killing scenario dramatically goes up.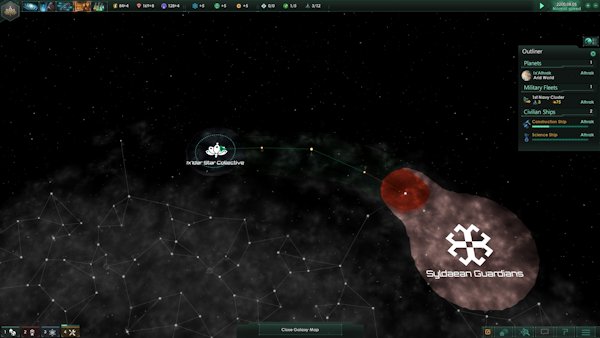 I rarely go into balance talk in a review but I feel Warp needs a buff, specifically on the cooldown period which is the largest culprit at making the drive feel like it is under performing when compared to the other drives.
Managing an Galactic Empire
The system itself is not highly complex. The choice the player makes is still very important since it determines the output of minerals, energy, and science. Also, the player has to manage happiness of the pops living there. The player will more likely interface with the orbital space station which can also be customised with different modules. This is where the player will build their fleets.
What this means is manual control of the planets are not that important once a planet has been developed. This said the AI is not as efficient as the human player can be but it does get the job done, and the player still controls many aspects (the more important ones) manually. This can be frustrating to some players, but it wasn't an issue for me.
It should be noted that it does mean the player and the AI factions are at a more equal footing as both will have large parts of their empire managed by the AI. Perhaps not the best way to achieve this balance but it does remove the edge that the player can micromanage all his planets to be far more competitive than the AI.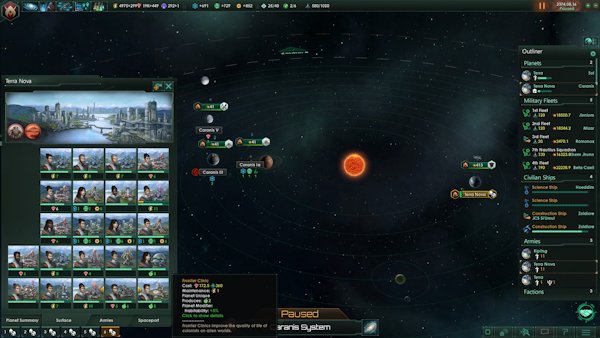 The game offers government choices to increase the number of systems they can control directly. Overall, as I said I liked the system a lot but there are places it can be improved. Aside from giving the player more options in assigning priorities, being able to tax the sector even more or at least allowing overflow from the max storage to go to the empire, and taxing energy and minerals separately would be nice.
One major issue I had here was that there seems to be no rally points. Though the Outliner makes it easy to manage your fleets it can still be a micromanagement hell to assemble new fleets in the middle of a war or even during peace times. A rally point system along with an auto-merge fleet at the destination would fix this considerably.
The Burdens of a Ruler
Like with most other Paradox games a lot of the game's internal management is not just about research, production, and planet management. The player needs to deal with their population's happiness which will be effected by the policies you have set and other factors like being in wars or population mixing. Unhappy pops will join factions which the player has to deal with before they cause too much trouble.
This brings a new dynamic to space 4X games, however it feels that it is not as fleshed out as it was in other grand strategy titles. At the moment only anti-slave factions and independence factions form. It would have been interesting if you got factions that pressured you to change your policies. This would also have the hidden benefit as to why so many of your people are angry, instead you have to check individual pops to see what is upsetting them so much.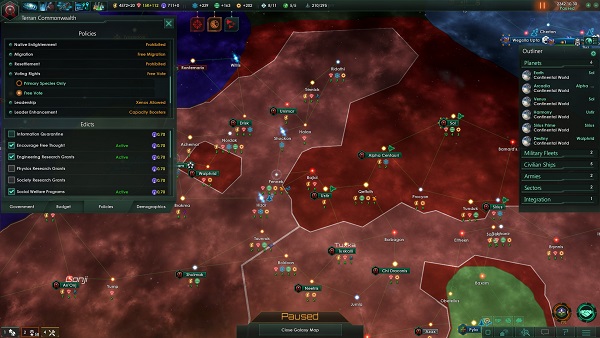 The player can also pass edicts and set policies for several things like slavery, war philosophy, maximum level of bombardment, and voting rights. Edicts can be empire wide or planet specific that help boost an attribute or shift outputs from one direction to another. Edicts cost influence which is a resource that is increased independent from size. This is important for leader recruitments and setting up outposts in neutral space.
This brings an interesting balance as larger empires can easily have higher influence needs, meaning the player will spread it thin, while smaller empires will have a good surplus and thus easily tap into more edicts that can boost their economy. The player needs to think wisely on expansion or conquest if they want to keep their influence balance positive.
The player can also recruit leaders to boost navies, armies, sectors, and individual planets. Scientists is another leader group but these are needed to head research departments or to command a science ship. The player also has a leader cap, so if you want to have five generals it will cut into how many governors or scientists you can have. Naturally, one leader will actually be the leader of your empire as well.
The other thing that is interesting is that you will meet pre-sentient and pre-space faring races on your exploration of the galaxy. The player will have to decide how to deal with these, uplifting pre-sentients into a tailor made race or deciding the fate of all those pre-warp species. The player will also have to deal with your own race genetically diverging if you colonising hostile worlds or you doing so yourself willingly.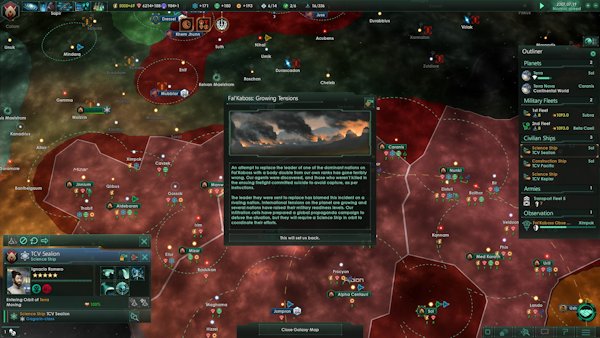 Many of the more interesting event chains can occur with these interactions as the player can have a more Prime Directive approach of non-inference or go full conspiracy theorists were right as you are the proverbial "lizard people" taking over the leadership of another race. Or for the more military minded you can just drop some marines and force the primitives to bend their knee-equivalents at gun-point.
This has to be one of the more interesting aspect of the game, the only down side is that it's very dependent on random system generation. One can have a lot of fun when you have half a dozen of such races under your empire, but there can be games where you find none. This is one of the mechanics where you wish there was more of and more would happen with it.
Bold New Discoveries
The tech system is actually interesting as it manages to add randomization into the mix without it feeling punitive. Basically, the player gets three choices (more if they have certain government types or techs researched). So choices the player doesn't take now will eventually pop back up again with rare techs clearly marked so the player knows those are less likely to pop back up soon. There are a few unique techs that are only available if you have certain ethics. It would have been nice if there were more of these technologies available.
The tech tree is also wide instead of tall. There are several tech lines that have to be researched in order (mostly weapon tech lines), and there are tiers that one has to research a certain number of lower tiered techs before the next tier opens up. However, it doesn't take long before the player has unlocked the highest tier. So there is a wide selection but it doesn't take long before the player can at least grab his first end-game tech.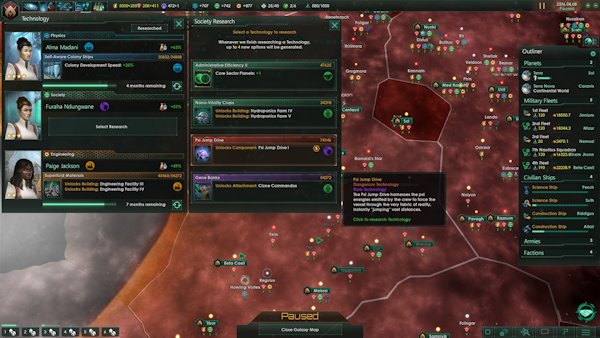 There is a missed opportunity in the tech system. There are a lot of techs that could have triggered a minor crisis or random events. At the moment only techs that lead to an end-game crisis are tagged as dangerous, but there are so many that could have been used to trigger a minor crisis. This would have made both the mid-game and the tech tree far more interesting.
Here are a two examples: Xenomorph Army just screams for a run-away disaster on a planet while Cloning Techs could have triggered interesting events, but sadly they don't.
Preparing for War
Despite the game has no player controlled tactical combat they still get to design their own ships and this does have a significant impact. Firstly, different weapons have different strengths and weaknesses, and combat still elapses in real time in real space. This means ranges, accuracy, speed, evasion, and defenses have an impact on combat.
This is basically the end reward for the technology choices you have made, you can now decide what your ships will be like. Trying to find the perfect mix that may make them capable against as many enemies as possible or specialising so that you can go up against a specific threat.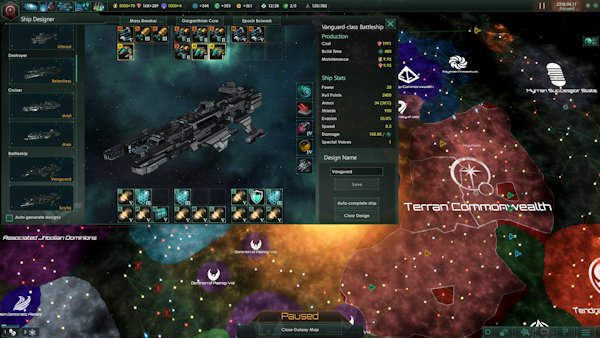 The interface is straightforward and easy to use as you pick the section type and then slot in the appropriate weapons and subsystems. The only issue I had was the lack of filters and sorting options. Maybe I only want energy weapons on my list, or filter quickly to PD guns. Scrolling the long list by the end game can be frustrating.
What also makes the system interesting is that destroyed ships leave debris, which you can scan with a science vessel. If the debris has a piece of tech you don't have it gives points towards it and makes it always come up in a tech draw as a bonus tech. Making researching new weapons easier and a good way to catch after losing a war, assuming you created debris and can get to it.
There is an issue with the system however, it is all too easy to find optimal builds that work well overall and usually these don't even require the larger hulls. A more casual player can easily avoid this, but dedicated power gamers will usually find these builds quickly. Thus using mixed fleets is not that important, and even more casual players will probably find their own sub-optimal but still effective sweet spots.
The game also has ground warfare and the system is simple: build armies, optionally add an attachment to them, launch into space, and invade (hopefully softening up the target first with orbital bombardments). You can also build cheap defensive armies that can't be launched. It gets the job done, is not too trivial, and is easy to manage. Perfect for the scope of this game. The only criticism is that it would be nice if there were more techs, more attachment options, and maybe a few more troop types.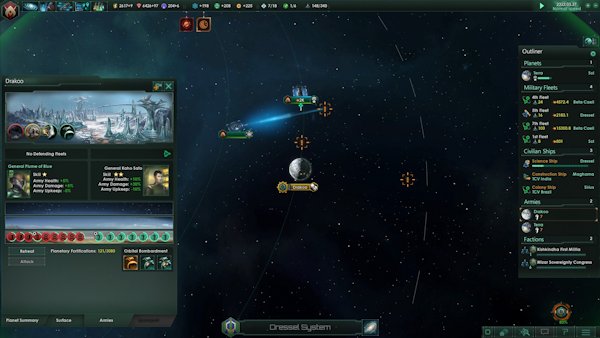 War and Peace
Diplomacy is bit of a mixed bag, by no means is it bad and honestly in many regards it does do things better than most games I've played recently. However, when compared to other grand strategy games it leaves a lot to be desired. You have all your regular options: closing and opening your borders, trade deals for resources, research agreements, exchanging star charts, gifts, and the formation of NAPs, defensive pacts, migrations treaties, and alliances.
What makes the system interesting is that a lot of external factors determine if a race will accept a deal or not. A player can't just bribe their way to positive relations, and positive relations doesn't mean a race will accept everything. However, sometimes it seems these penalties get too much in the way of moving things along diplomatically.
The perfect example of this is the: "not diplomatically relevant" modifier. It's one of those penalties that outweighs any bonuses you might have, but unlike most of these which one can try to get rid of, this one sticks till you become "relevant." Which is your personal borders getting really close and vassals don't count. It's beyond absurd that a race that you can wage war on sees you as diplomatically irrelevant.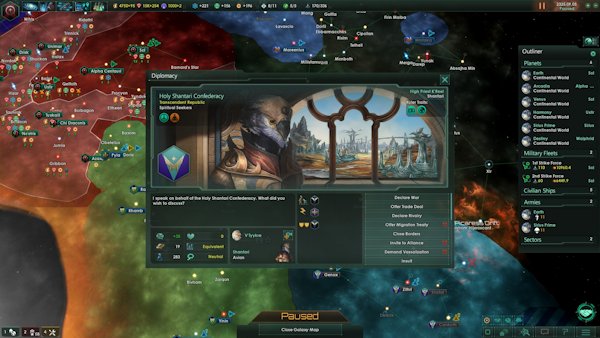 The game also has Federations but they seem to be more trouble than they are worth. First it is hard to get them started, also once formed you can't sign many treaties with other races (this happens with full alliances too), and they don't count towards the victory conditions. Also, the other races need to vote for any wars. The benefit is that you can build ships that uses everyone's tech. Federations definitely need to see a lot of improvements, in its current form it feels best avoided.
What makes Stellaris stand out from other 4X games is the introduction of war goals, a common mechanic in other grand strategy games. Unless the empire is small enough you can't just annex the whole thing in a single war. So you need to make demands and you fight to acquire these demands by ticking a war score. The player can also force policy shifts on other races, "liberate" (read: forced regime change) planets, force open borders, or even make a race into a vassal. If you're genocidal then you can even demand that planets be "abandoned" from the losing side.
By itself the system is nice; however, since there is less to do during peacetime in the late game, this seems to only draw out the game even more as you can only pick off pieces from your enemies in each war. More war goals would be nice but the pace of the mid to late game needs to be improved for this mechanic to be fully appreciated.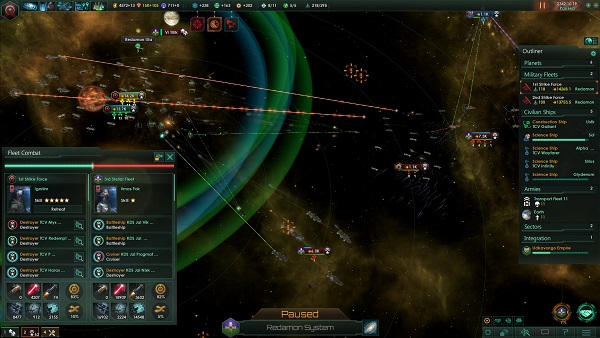 Not so Perfect
However, the game starts experiencing some issues as you transition into the later parts of the mid-game. Sometimes you'll get lucky and have a galaxy set-up that will keep you busy, but many times you may find the game starting to be drawn out. As mentioned earlier it feels like the level of details the game has during the early phases fades during the mid to late game.
The issue about the mid to late game is not a new one in 4X games, and honestly one that pretty much many 4X games get wrong, even many of the classics. Personally I can only think of three games that handled the end game well, well maybe four but the forth one had severe late game micromanagement issues. Also, one of those three is currently severely dated and will probably only be played by some of the original fans.
The only issues here is that it didn't do as good a job as it could in trying to fix it and it didn't sugar coat it as nicely either. Other 4X games avoid the problem by letting the player annex entire late game empires in a single war, and introducing victory conditions that are just research X, build Y, hit end turn 50 times, then win. So really, not fixing the issue but only replacing it with a means to race to a victory before things get too drawn out.
I'll be brutally honest, the issue with the mid to late game in Stellaris is no worse or better than in any other 4X games, even those praised by this site (except for those unnamed few I mentioned earlier). The shame is Paradox didn't address the issue when they were in an interesting position to do so. This is because unlike your conventional 4X game, Stellaris is a hybrid Grand Strategy game. When we start seeing 4X games starting to take mechanics from the Grand Strategy genre, you'd expect the actual Grand Strategy hybrid to do so even more.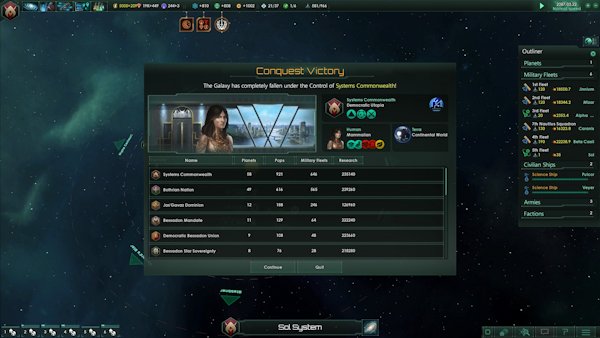 The late game crisis does help (sometimes as there are times they can be beaten back easily). However, once they've been defeated the player is presented by the same issue as before. Additionally, there are only three late game crises and it would have been nice if there were more and as mentioned earlier, if there were smaller mid-game crises or events along the way.
Onto Victory
The issue with the end game could very well be that there are no interesting victory conditions or alternative victory paths. This is because there are only two victory conditions. One is to conquer everyone (be it conquest or vassals), the other is by controlling directly or indirectly 40% of all colonisable planets. Also, Federation members don't count to this total, only vassals and owned systems. This leaves very little path to victory for less military minded players.
The player can always set their own objectives, however Stellaris doesn't have a point rank system which a player can use to measure their success. Actually, you can't even see the score screen which is bare bone unless you achieve one of the victory conditions. Since the game does have a keep playing option, it seems strange to set the victory condition thresholds so high.
The primary reason to have victory conditions in an open-ended 4X game is to give the player different paths to victory. Otherwise the game is just an open-ended sandbox game. The current victory conditions are basically more of a prompt that you beat the game more than the proverbial dead horse has been beaten then an actual objective to aim for.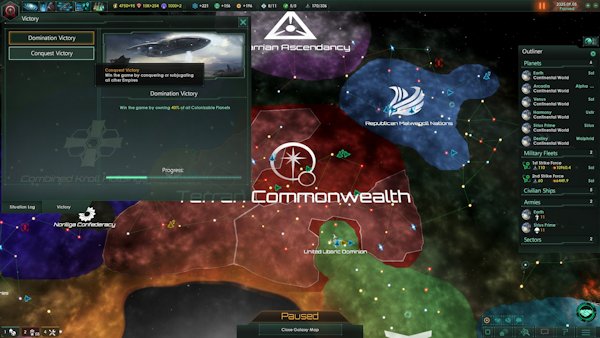 AI, Modding, and Stability
The AI does get the job done and the higher difficulty levels can offer a challenge. Also, the player can assign all AI factions to start with a boost and make them more aggressive which will also increase the challenge for more skilled players. The early game and maybe the mid game is where the AI can be more dangerous; however, if the player survives this phase it is not uncommon to be overwhelmingly powerful and there may or may not be a rival to your might by the time you get to the late game.
The biggest issue with the AI is that allies tend to stack their fleets with your largest fleet. This is useful when you need a doom stack but it can also be annoying when trying to defend. Though the latest patches have tried to mitigate this issue somewhat. Outside of this the AI does try to retreat weaker fleets and will sometimes jump over your fleets to sneak attack your worlds, including your home world.
The game is stable and I experienced no crashes. As for bugs, that depends, currently the game is being patch and many of the minor bugs have been addressed. However, they seem to introduce new bugs into the game, and sometimes these can be borderline frustrating. The game will receive continued support, a common practice for Paradox, so this process is ongoing. As for people that love modding, the game is highly moddable and the game has a huge modding community.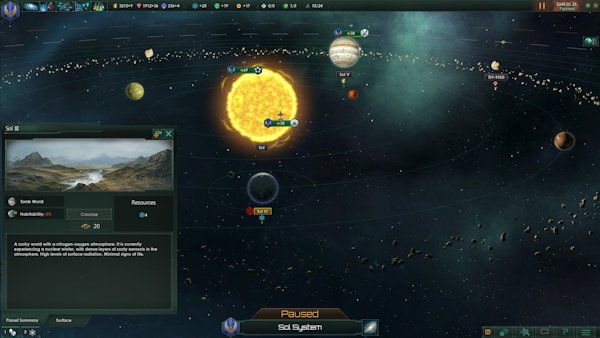 Final Verdict
Overall, I really enjoyed Stellaris and have played quite a few games to a very terminal point. However, as mentioned earlier some of these actually didn't cross the line for one of the two victory conditions. Despite this, what the game offers is outstanding for the most part despite its weaknesses. It is easy to see if these issues were not present this game would have easily scored a high 8 or even a 9 possibly.
The fact the game fails in achieving this higher standard doesn't mean it is bad either, the penalty for failing to reach that standard is not receiving the higher score. There are better games out there and they also have the scores to match it. Stellaris still does a much better job than many other 4X games that have been recently released, except for a select few.
The game is very immersive, has one of the best exploration phases, and a very solid expansion phase. Managing your empire can be interesting, and enough events happen at this stage to make the game very fun to play. Just the fact space feels and looks like space helps a lot with the immersion as well. Most games tend to abstract this layer a lot but Stellaris doesn't. The problems begin when exploration and peaceful expansion gives way to war and conquest.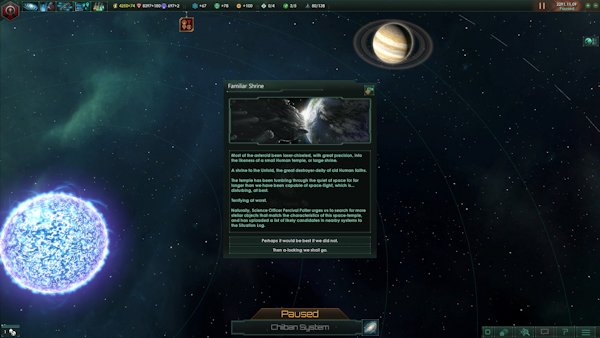 At that stage of the game you might be blessed with a good set up and it still holds a lot of interest till the late game, at other times it will feel like it stagnates fast. The late game crisis may mix things up a little, but once beaten (assuming it doesn't actually kill you, since it can), the game will return to its normal rhythm. With no alternative road to victory, and the high bar for the existing ones, the player will have to set their own victory conditions.
Surprisingly, despite the weaker late game, I find myself wanting to start a new game often.
Now all this said and done, I would still recommend people to wait before trying the game. This has to do with the fact Paradox has decided to try to get the game to the point many have hoped it would be. These patches have been free of charge (they are not embedded in a paid DLC) and there's still at least one more major patch coming, still free of charge.
The downside of this is the game is now going through a sort of "Class Balance Pass" (veterans of MMORPGs will know this term all too well). Paradox games normally evolve continuously if the franchise is supported even if you don't purchase the follow-up DLCs. However, in the case of Stellaris this cycle is much faster and a little bumpier. Therefore, it's best to wait till they reach their comfort zone and return to a normal post-release support cycle.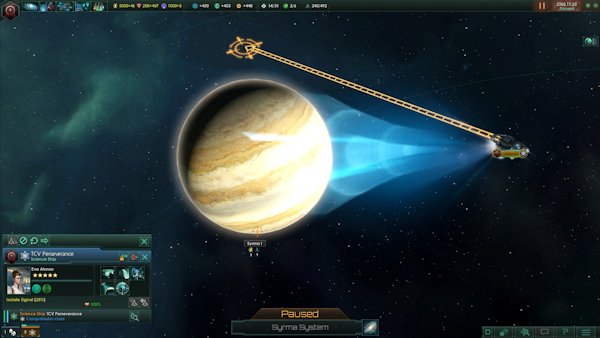 Till that point is reached, Stellaris is definitely a game to keep your eyes on as many of the upcoming improvements will address many of the criticism this review had. If addressed properly, this game will be even better. If they drop the ball on it, we'll be here to tell you about it.
It is obvious that Stellaris could have benefited from more development time to reach the expectations the players and the developers had for the game. However, by no means was the game broken or incomplete either, only not as good as it could have easily been.
I will however stress that the current review reflects the recent state of the game (minus a small hotfix or two), and the final score is not a potential score but the current score it has earned so far. Post-improvement will be rated accordingly, be it for better or worse, when the time comes.
| | |
| --- | --- |
| | great |
The Good:
- Good graphics and amazing soundtrack
- Internal Politics is far more detailed than other space 4X games.
- Interesting technology system and three different FTL drives.
- Vastness of space looks and feels like it would in real life.
- Immersive and rich exploration phase.
The Bad:
- Mid to late game issues with pacing and things to do.
- Diplomacy still has issues, especially Federations.
- Victory conditions are poorly implemented.
Subscribe RSS
16 Comments
Related Articles:
Post category:
Game Reviews