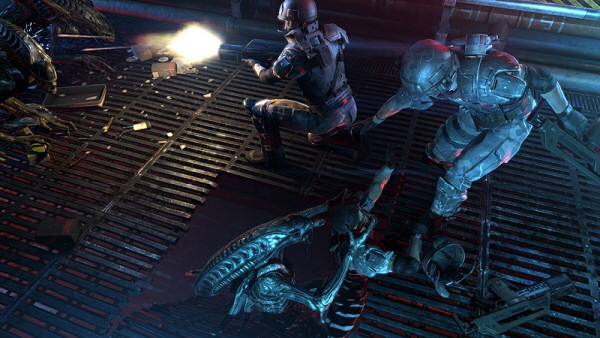 Aliens: Colonial Marines got featured on the Space Sector's "Sci-Fi/Space Games You Can't Miss in 2012" list. Well, as usual in this business the release date got pushed, from spring 2012 to Feb 12, 2013 now. The new date is on the game's official site, sounds definitive, but we never know. Better take more time but get it right!
I'm not much for shooters these days but A:CM is right on the border of games we tend to cover here and as its setting takes place on one of the most influential science fiction universes of all time (and one I particular love and I guess many of you also) I think it deserves the spotlight. The story starts onboard of the U.S.S. Sulaco, that got recovered in orbit around LV-426 (the planet where the Aliens movie unfolds – and part of original Alien movie too). After that the story continues on the surface of LV-426.
The new trailer shows-off the new competitive multiplayer mode called "Escape". In this mode some guys play as marines and try to escape while others play as Xenomorphs and try to hunt them down. I don't play FPS games in a long time but I guess A:CM could be one I would enjoy.
Aliens: Colonial Marines is being developed by Sega and Gearbox Software and is targeted for release on February 12, 2013 for the PC, PS3 and Xbox 360. One miss on the 2012 list, but not by far ;) I hope…
Subscribe RSS
4 Comments
Related Articles:
Post category:
News & Announcements
,
Videos