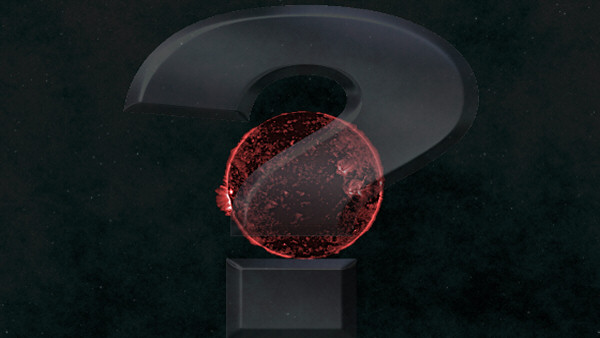 I'm going to start writing about the systems in the game now. This will be a series of many articles. If you want to have a look at my previous articles of this series, please find them all here. These are my dev journals on making my own space 4X game.
Hopefully, by the time when I'm done you will all have a good idea of how the game will play and that'll be enough for you to decide if it's good enough for you to try :)
I also want to throw out a disclaimer: I will be showing some game art now. Most of it is placeholder art. The game is still in Alpha phase (not feature complete, but getting there).
I will be going to kickstarter later this year to get high quality art assets. So please refrain from making TOO many negative comments about my placeholder art :)
A Living Galaxy
There is a lot to say about a galaxy that feels alive, and full of discovery. It really makes the game more enjoyable – you don't know what is at the planetary system you're about to explore. What space monsters reside out in deep space? What sort of change happens over the course of the game to the galaxy? All of these are parts of making a living galaxy. It's also easier said than done.
My Vision
I've taken the following approach of trying to add a bunch of unique and fun aspects to bring the galaxy alive.
Allow for enough variation and cool stuff to be generated each game so discovery is always fresh and exciting.
Make different parts of the galaxy useful for different activities and at different times of game play.
Make sure super rare items can appear and be useful for anyone who finds them.
Integrate some game systems into this. The galaxy view can be used in many different ways, and that can help bring the galaxy to life.
One important note: I'm going to continually work on this idea of creating a living galaxy. I won't be able to implement all of my ideas right away, so I'll work on it over time but what you read here is already in.
Galaxy Types
Galaxy types offer a good foundation for unique game play and different experiences. This is mostly due how the topography of a galaxy affects game play choices (such as where to expand/explore). It can set up fun situations: maybe being present at the end of a spiral arm, or in the center of a ring galaxy. Each situation can appeal to different players, and that is good.
I will offer the following galaxy types at release:
2 and 4 arm spiral, elliptical, ring, small and large clusters, chained clusters(clusters connected by small paths of stars), streaks(random streaks of stars) and spokes (sorta like spokes from a bike).
For each galaxy type, it'll be possible to specify the size, age, and resource, special and planet scarcity.
This is quite typical of 4X games. I'm just offering several new types of galaxy structures (streaks, spokes and chained clusters). I have plans for more galaxy types later.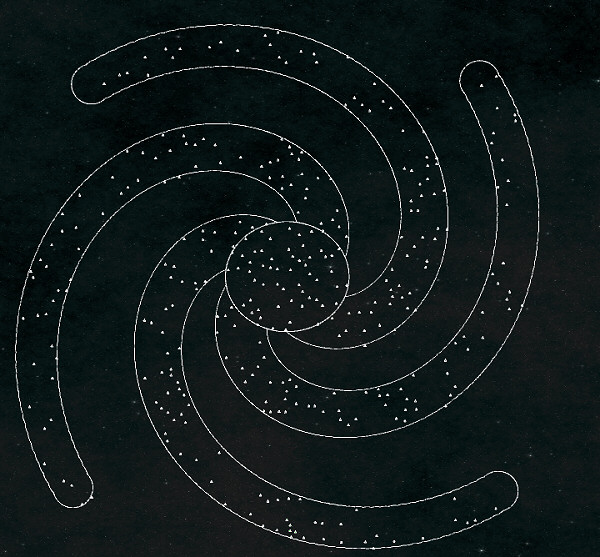 Galaxy Contents
One important and fun aspect is to make sure that there is always a reason to explore – from the very beginning to the very end of the game.
In order to achieve this, I've made it so that each star has a random set of possible planet types (all defined in XML). Each star and planet type can spawn some unique and rare characteristics (resources, improvements, trade goods, specials). Sometimes, more than 1 rare characteristic may be generated – making the planet super special and worth defending. For example, maybe a planet generates with a high amount of rare resources. This would make the planet a critical point for an empire.
Each planet type will have a set of common characteristics that are typical for that type. But, each will have some rare and at times, ultra rare characteristics. They will have a large impact if colonized and exploited to their maximum! I also offer some unique and rare planet types (such as carbon or chthonian), which also have rare characteristics. While these have slight chances of occurring, they should happen often enough to have an impact.
For example, maybe you were suddenly attacked and weren't ready for this war. Your colonizer is just about to reach a rare planet, capable of producing a lot of of industry. Within a few turns your new planet is pumping out warships to help defend against this unexpected war.
I'm also going to make some really interesting stellar objects present in the galaxy. I rarely see things such as neutron stars (sure, they sometimes are in games) actually have meaning. Maybe neutron stars are very good at producing research – so you'll be able to build some special research improvements. Space has so many cool things out there – I want many of them to be present and each useful in their own way (or in some cases, better at doing common aspects).
Thusly, by making sure that the planets and other stellar objects offer a chance of offering unique and rare combinations of characteristics, it will make the contents of the galaxy always different and worth exploring.
Resources
The game will offer 7 resources, split in three tiers. Each resource has a specific use. They are:
Early Game
Neodymium (Mineral)
Deuterium (Fuel)
Mid Game
Zalluriam (Mineral)
Antimatter (Fuel)
End Game
Dark Matter ("Mineral")
Dark Energy (Fuel)
Boson Crystals (Special)
Minerals are used to construct ships armor. Fuel is used to power ships engines. Finally the single special, Boson Crystal, is used for well, special components and some powerful weapons/armor. It'll be an end game resource, rare and extremely useful. I'm hoping to drive resource contention with it. This'll take some balance tweaking to ensure that it offers good game play (ie: making sure it's not an "I Win" button).
Resources will work like Civilization 5. You have access and can build ships with it. When the ship is destroyed, the stockpile gets restored. This is done to lower micromanagement and keep small numbers in the game. Instead of 10,000's of resources per resource, you only have 100 or 1000 (depending on galaxy size).
Of course, the game can be modded to handle any amount of resources.
In addition, if you notice the types of resources, they're all slightly different. This means the harvesting mechanism will be different. For example, Dark Matter may be located out in deep space. Antimatter may be harvested from suns/stars. Dark Energy could be from black holes. As you can see – this really makes the resource dynamic of the game change!
And finally, the way the game is played slightly changes over the course of it – at the beginning you'll be harvesting Deuterium on regular planets, and by the end – you'll be looking for black holes to get the Dark Energy. This is good since it's more interesting over the session and keeps you engaged.
Building Stuff
I've made the decision to make sure that the players cannot always build every single improvement on a planet. They are only given enough room to build a subset (most times). This will facilitate continual expansion. This can be magnified especially when certain events occur (either internal such as a player's own goals or external like a nearby opposing empire affecting them).
I'm going to do a future article on Empire Management and Micromanagement that explains this aspect of building in more detail so I'll stop here.
Exploration
I wanted to do something different for exploration. You know – besides sending out a scout ship and hitting end turn. So I've come up with some extensions and this is how I'll handle exploring:
Scout Ships
Well, not much to say here except: they completely explore a stellar object (star) and it's orbitals(planets).
Probes
You'll be able to construct probes for a small price and then launch them to nearby stellar objects. They are a ONE time use, but will completely explore the stellar object like a scout ship. They'll be much cheaper and faster than scout ships.
FTL Scans
You'll be able to construct a large scan array that can be deployed anywhere. This scanner will act as a sensor array which will scan nearby stellar objects and anything in space in range (so fleets will show up). The catch here is: you won't be able to scan the contents of the stellar objects – just the name will be revealed. These will also last a few turns(though the name of the stellar objects explored will remain). These sensor scans take a bit more industry to build than scout ships or probes.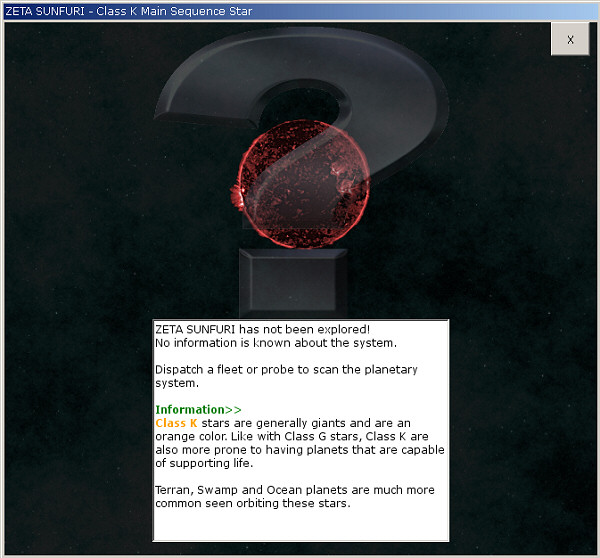 By presenting the player with a few different ways of how to explore and answer the question "Hey, what's out there?" it should be a bit more interesting since choices have to be made. You won't (though you can) always be building scout ships. There are advantages and disadvantages for each type, and some have long term use, such as the FTL Scans.
Other Game Systems
I've also taken the idea of a living galaxy and used it in many of the other game systems – technology, trade, espionage, and diplomacy. In the case of trade and espionage, the player has control to define some structural aspects of how they work/behave, and this structure will change over time. On diplomacy, since it's partially incident based, the player will be able to see actions that happened in the past. It'll give history to their experiences in galaxy. Finally, for technology, there will be a few super projects that can be discovered and completed. These will be randomized during generation of the game.
This helps create an image in the player's mind that the galaxy is alive because it had a beginning, and then changes over time. The player can look at these systems and see how it takes shape on the main galaxy view. Then, they can control certain aspects to give ownership. This will hopefully create a sense of being alive and make the galaxy more than just a star map.
I'm going to be doing articles on the systems mentioned above so I won't explain them now.
Codex
Since I've created a lot of lore, I want to make sure the player can have access to it while playing the game. As such, I've created the Codex system. Each time a game is generated, a series of codex's are placed on various orbitals. When a player colonizes/explores that planet, they'll gain access to it. It'll be saved to a special file that persists between games. Besides explaining the lore of the universe, these codex's are going to be part of the requirement to unlock the special faction.
Pirates and Space Monsters
There will be these guys out there. They're always fun and it's cool to see how a developer tackles it. I have a couple of interesting ideas for space monsters, besides just the typical random one appearing. It involves transforming planets into breeding grounds of some sorts. If left unchecked, it could be a thorn in an empire's side for a bit. I may have a rare chance of having super space monsters that can seriously plague the galaxy.
For pirates, they play a big role in the trade system and will be based on various factors, such as distance from your planets and how many of your fleets are around.
Extras
Now, I said in a previous article I don't talk about things that aren't in yet. But I'm going to break that rule this one time. I mentioned above that I have plans to expand on making a living galaxy, and I'll list a few of them: event system, unique wonders, and smaller unique named stellar objects. Some of these may make it in on the initial release, but I can't say for sure.
Of course, I can take requests so if you have any ideas – let me know!
Conclusion
So there you have it. That is how I'm trying to create a galaxy that isn't static. I have some more things I'm doing but I'll save those for another article.
Trying to make a living galaxy was something that I had to continually think of while designing each system. I think it'll pay off – the galaxy will hopefully be more interesting than in other games. I hope the players have fun exploring each stellar object and location in the galaxy and think it's worth it. After all, 3 of the 4 X's are: eXplore, eXpand and eXploit
I'm going to continually improve upon this aspect for future updates as it's important.
What am I currently working on?
I've been very busy the last 2 months. I've completed the majority of the fleet combat (I recently added lasers), then implemented the agency based espionage system, incident based diplomacy system, added in space governments and I converted the game to use LibGDX (potential Android deployment + better performance/tools) rather than Slick2D.
Between this, I've been coding the AI system. Finally, I've been working with my new artist to bring the different Empires to life! He's doing a great job and I know you'll like the art work.
Thanks for reading and I look forward to your comments.
dayrinni has been a Space Sector contributor since October 2011. This is his first foray into writing articles for any review site. He is an avid gamer in the genres of 4X, Strategy, MMO's and RPGs. Finally, he has been the implementor of several MUDs and is currently working on a space 4X game that offers large scope and complexity. See all dayrinni's posts here. In particular, check his "what makes a good game" and "making a space 4X game" series.
Subscribe RSS
51 Comments
Related Articles:
Post category:
Game Design
,
Ideas & Concepts