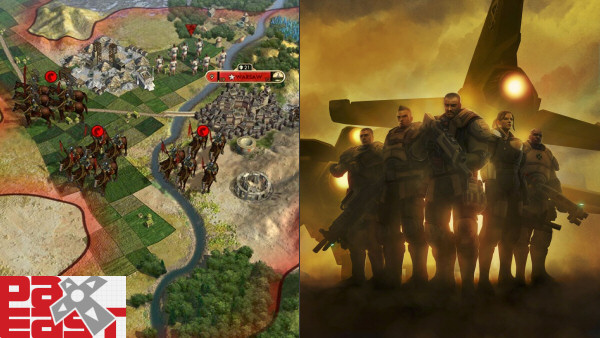 I watched 2K's PAX East (Penny Arcade Expo) live feed this weekend, because there was going to be "never-before-seen footage and big reveals and announcements for upcoming Firaxis Games projects", namely about XCOM: Enemy Unknown and Civilization 5: Brave New World, the second expansion to Civ5.
In a discussion panel set up for the occasion, named "Strategy Masterminds Mega Panel – Behind the Scenes at Firaxis Games", XCOM: Enemy Unknown was represented by Jake Solomon (lead designer) and Greg Foertsch (lead artist). Civilization 5: Brave New World was represented by Ed Beach (Civ5:G&K lead designer) and Dennis Shirk (Civ5 producer).
You can watch the full panel video here (starts at 5h 20m). Civ5:BNW presentation (main part) starts at 6h 03m and XCOM:EU at 6h 16m.
So, what were these "big reveals and announcements" and "never-before-seen footage" about? And, was it worth it?
Sid Meier's Civilization 5: Brave New World
I would say that Civ5: BNW presentation was OK and moderately satisfying. But, to be honest I was expecting more Civs to be revealed.
There was some Civ5:BNW footage showing off the new international trade routes system, which allows you to set up trade routes on land and over the sea. This was cool to watch and looks to be a promising new feature.
There was also a brief presentation on how the Tourism new concept works. You can now use great artists and great musicians, and other great people, to create Great Works, which can fill in a few new slots created on some culture generating buildings. These Great Works should generate extra culture and tourism.
So, these Great Works should attract tourism, which is a new Civ5 resource, like Faith or Culture. We were shown two of these great works on the presentation: the Tower of Babel and the Hall of the Mountain King.
But, I suspect that what everybody was really hopping to see were new Civs reveals. One was already know, because it was presented when the expansion was first announced. That is Casimir of  Poland. Ok, but there were 8 more Civs to go.
Ashurbanipal of Assyria was semi-revealed. I say "semi", because there were already assumptions made that the Assyrians would be in because of some units spotted on the announcement's screenshots. The only true new Civ to be revealed in PAX East, in my view, was Pedro II of Brazil. And, that was it regarding new Civs.
Firaxis also presented some prototype footage, or previz, for Civ5. Yes, footage from Civ5 before it was first released. Features and art style which were cut out from the game. It was still somewhat fun to watch this "never-before-seen footage", and one has to say that some of those features, especially the way city attacks would work, or the extra work put on the leaders animations were really cool, but could probably become tiresome on the long run. You can see this Civ5 prototype content at 5h 37m.
Juicy stuff summary for Civ5:BNW
Prototype footage for Civ5: interesting to watch; nice dynamics, especially city attack. But, nothing special to see here to be frank;
Some nice footage showing off the international trade and tourism mechanics: quite promising stuff;
1 new Civ: Pedro II of Brazil; 1 (semi-)new Civ: Ashurbanipal of Assyria (was already perceptible from previous announcement);
Civ5:BNW release on July 9 (North America); July 12 (Worldwide).
XCOM: Enemy Unknown
I was personally underwhelmed by XCOM:EU's presentation. These were certainly not the kind of "big announcements" I was hoping for. But, I'm sure some folks will still be happy with them.
But first, Firaxis presented an XCOM:EU prototype showing off gameplay and art that ended up being scrapped. It's always nice to know more about a game's evolution, but the content shown was really not that interesting in my opinion. But, it's always fun to watch in any case (5h 40m).
Then, Firaxis presented three XCOM:EU announcements: a) XCOM:EU for Mac on April 25; b) XCOM:EU for iOS; c) a big "not gonna talk about it for a while… thing" which "may" be coming next.
XCOM:EU coming for Mac was already known. We knew it would be released on spring this year. The new bit is the April 25 release.
XCOM:EU for iOS (iPhone and iPad) was an important announcement, which will open the game to a new audience. They announced to be working on this, and expect to be working on it for the next few months still. Release status is "coming soon". The iOS versions should include all the game's content, said Jake, but the game will be optimized for the iOS touch system.
The third "big announcement" was only a teaser. A very small, 40sec long, very vague teaser about "something big to come next". The full transcript goes like this: "Hello Commander. The war continues, at great cost. We now believe another force is at work against us. If not dealt with swiftly, it can destroy us (interferences). What we'll be about to tell you (major interferences) the agents (major interferences) – signal lost". You can see it at 6h 20.
We can only speculate what the "big something to come next" will be about. The teaser seems to suggest an expansion pack in my view. An extension to the game of some sort. So, I would say it's unlikely it will be a small DLC like Slingshot but most probably something bigger.
The contents found on the Steam Apps Database seem to suggest a different EXE is being worked on under the codename: "XCOM:EW". Some people think EW may stand for Enemy Within. This seems to correlate well with the hypothesis of "another force", another Earth organization like XCOM being a threat. But, it could also be a major threat (external, internal, possibly from the deep?) from which even the XCOM:EU aliens are running from, and are afraid of. But, frankly, no one knows what it will be at this stage.
Juicy stuff summary for XCOM:EU
Prototype footage for XCOM:EU: not that interesting to watch; still kind of fun though;
XCOM:EU for Mac on April 25: the news part was the April 25 date, since the Mac announcement was already known;
XCOM:EU for iOS (iPhone and iPad): this was a first hand reveal, and quite an important one; surely very good news for iOS touch device enthusiasts;
XCOM:EU "big something to come next": a very small and vague teaser about "the war continues" and "a new threat is at work"; definitely some sort of big XCOM project seems to be in the works but probably we'll not know what is for quite a while longer.
That's it folks. Hope you enjoyed this PAX East coverage summary for XCOM: Enemy Unknown and Civilization 5: Brave New World. We'll continue following these two Firaxis titles very closely. Let's see what GDC (Mar 25-29) and E3 (Jun 11-13) will bring new to the table.
Subscribe RSS
45 Comments
Related Articles:
Post category:
News & Announcements