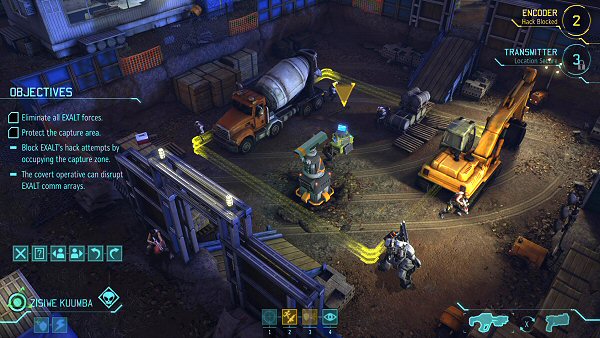 We already knew a fair amount about XCOM: Enemy Within, Firaxis' new expansion pack to XCOM: Enemy Unknown released roughly a year ago. We know that it promises to bring new maps, new weapons, new soldier types, new skills and new aliens to the table. Basically, new toys and possibilities to enhance the tactical layer. But, what about the strategy layer? What sort of new, or improved things can we expect to see in the expansion pack regarding the high-level decisions that you make towards dealing with the alien invasion, and the overall game progression? So, I asked Firaxis about this and other things that I think were lacking in the original version to see if those have been improved. Here's what the expansion's lead designer Ananda Gupta had to say about it.
SS: Being XCOM: Enemy Within an expansion pack, it's inevitable to ask what main features does it bring new to the table. So, what can people who already played XCOM: Enemy Unknown expect to find in EW to justify going back to XCOM?
AG: We've added a lot of content to refresh the basic gameplay – new maps, new items, new foundry projects – and then some big new systems, like MECs and gene mods. EXALT is a new adversary that has a huge effect on both the strategic and tactical layers of the game. In XEW the crisis-management feel of the game is increased, but the player also has new ways to feel even more powerful on the battlefield.
SS: If I'm not mistaken, you've announced that there will be around 50% more maps in EW than in EU. 47 was the number thrown around. You also mentioned that some, or even many of the original maps, were touched somehow to incorporate the new EW resource, Meld. What would you say was the extent of those changes on the original maps? And, on the entirely new maps, would you care to give a few examples of the new locations, and perhaps talk about the size of those new maps?
AG: The new maps vary a lot in size; we have some smaller ones, like a new take on the construction site map, and then we have some bigger ones like the Farm and Urban UFO Crash maps. Urban UFO crashes were a big priority for us, since like the fans we felt that always having UFOs crash in forest areas was a little repetitive. We've also got a tire shop, a bank, and a rural highway under construction, among others. We added a new terror mission set on the original game's Pier map, and one in the Paper Office as well.
And of course, as you note, Meld went on all the original game abduction and UFO maps. And then there are the covert ops maps. These are maps that we adapted from both EU and the new maps in EW for covert ops play.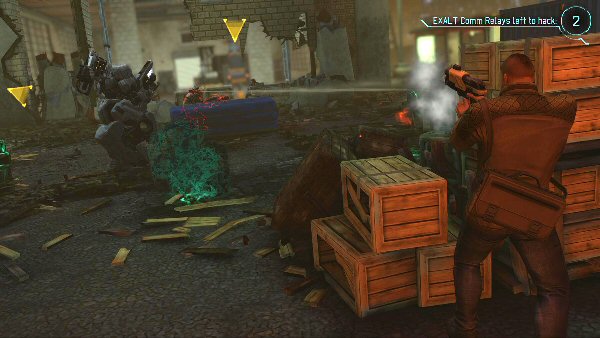 SS: One criticism of EU, that I saw being done in some of the game's community, and I include myself in that group, is how much linear XCOM:EU feels in terms of progression with respect to its 1994 predecessor, X-COM: UFO Defense. Particularly, and more evidently, right after the game starts, where the initial sequence of missions is almost always the same. The type of missions, I mean. In other words, the progression feels a bit too scripted. What's your take on this matter? Was this aspect considered in EW? So, will there be more variety, or even randomness, in terms of game progression now?
AG: I think the invasion in Enemy Unknown feels about right; you're like a goalkeeper in soccer, trying to block shots. The aliens are an overwhelming and implacable enemy, so your control over the tempo of the invasion is limited (except for some key moments, like the raid on the alien base).
But EXALT is a different story; covert ops missions don't happen unless you want them to, although you have other ways of at least slowing EXALT's operations down. EXALT complements the alien invasion gameplay really well, and I hope players enjoy the greater flexibility they have in dealing with EXALT.
SS: One area where X-COM veteran players are always very vocal about is with respect to the inventory management, and its flexibility. The equipment that is brought to the missions seems a bit too limiting in EU, at least for some. I understand that there's a foundry project now that will let all soldiers carry an extra item in EW? Is that correct? And what about new equipment, what sort of new goodies can people expect to play with in this new expansion? And, what other changes were made regarding inventory and inventory management that you'd like to talk about?
AG: Yes, Tactical Rigging is now available from Experimental Warfare; it's expensive in terms of credits but will enable a 2nd inventory slot for all soldiers. We wanted to make sure players had a chance to play with the new items while not feeling like they had to give up their favorite items from EU to do so.
In terms of inventory management, we've added a new button in the Squad Selection interface; this allows players to return to the locker all gear equipped on soldiers who are not in the current mission lineup. It eliminates the problem of "Who has the Arc Thrower?!".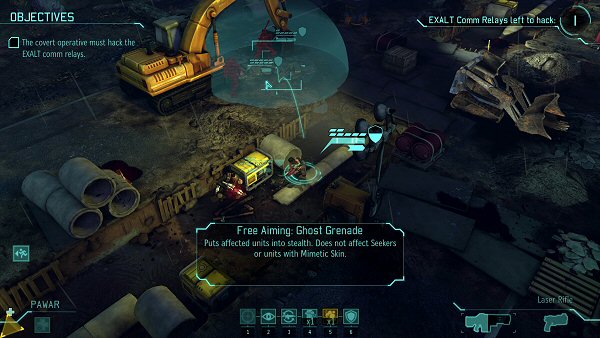 SS: I love XCOM:EU's music. To the point that even after 350h of play (says Steam) I still prefer to hear it over anything else. Are there new music soundtracks in EW? And, as we're on the aesthetics subject, were there improvements to the graphics in some way? Perhaps a few innovations on the animation aspects, new cutscenes, others?
AG: We've cleaned up the UI a lot; there's more consistency to spacing, typeface size, and other elements that should provide a smoother user experience with the game. Roland Rizzo, our in-house composer, has done a lot of great new soundtracks for the covert ops missions, to reflect their subtler nature. And the new cinematics have new music from Michael McCann, whose work speaks for itself.
SS: One generalized criticism made to XCOM:EU was the number of glitches and bugs present on release. Many were indeed fixed with patches, but a few others still remained to some extent, the most important ones being the infamous "Teleport" and "Flanking" bugs. I would say that the teleport one, where groups of aliens would seem to suddenly "teleport" and appear right in front of you, has been addressed for PC players. But, the "Flanking bug", where occasionally you should get a flanked enemy and you don't, although a very rare bug, still seems to endure. Were these and other important bugs addressed in this new expansion?
AG: We did make a strong effort to address bugs in XEW, although of course new ones arose since we added so many new systems to the game. The teleport bug should be put to rest, and we hit the flanking bug very hard as well. I should say that in our press demo, we used code from July, so any players who spot flanking bugs in the footage needn't worry; we've addressed that stuff.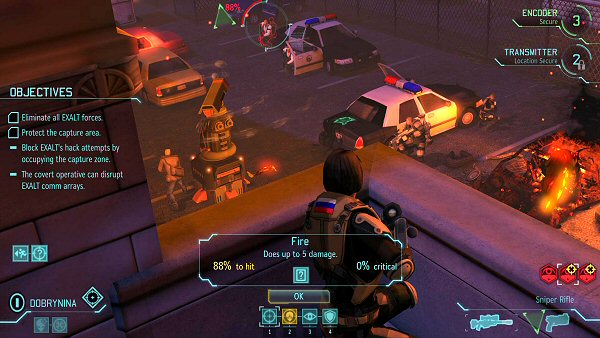 SS: The Second Wave options are a very important element in XCOM:EU regarding having more replayability. I understand that there will be new SW options in EW. What will those be? And, will those be unlockable straight away, or only after you finish the game on a certain difficulty level like in XCOM:EU? And speaking of difficulty levels, I remember reading that you expect Normal difficulty to be slightly easier now and that Classic and Impossible should be slightly harder? Could you please elaborate on that?
AG: We have five new Second Wave options in EW. My favorite is Training Roulette, which when active causes soldier training options to become random (mostly – only abilities not directly linked to specific weapons are included, since those are still class locked. No rocket-firing Snipers!). This really increases the game's replayability, especially combined with other Second Wave options like random stats and random stat progression.
I think Normal is slightly easier in EW because the power of MECs and Gene Mods will help the player a lot, even against the new EXALT threat. On Classic and Impossible, EXALT is very dangerous; for example, barring the flanking bonus, it's very difficult for EXALT to cause critical hits on Normal. This isn't true on Classic or Impossible.
SS: Most of what I read about EW points to an increase of things you can do in the game's tactical layer. New types of soldiers, new abilities, new weapons, new enemies, new maps. That sounds great, but what about the game's strategic layer, like base management, tech progression, UFO tracking and combat system, the game's storyline progression and the game's goals themselves. Were there any significant changes made on that front, or only to the extent of what needed to be adapted to satisfy the tactical layer changes?
AG: The Covert Ops system is a major new add for the strategy layer; it involves new threats (EXALT operations) that can complicate the player's management of both resources and global panic, and new tools to combat EXALT (the Intel Scan, which reveals all EXALT cells, causing them to suspend operations until they can hide again). We've added a lot of new Foundry projects as well.
We didn't add a lot of new tech because we didn't want to bloat the playthrough time of the campaign; hence Foundry projects, which pose new research dilemmas but don't add total research time (since Foundry projects don't consume your research project choice). We've also added Operation Progeny, which is a new narrative subplot that players can complete, with some extremely cool rewards and some neat story background on events in the Security Breach trailer.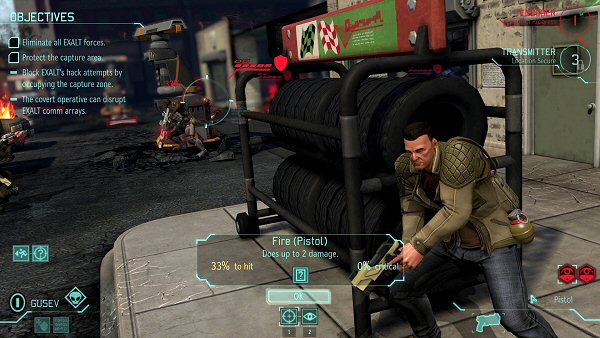 SS: I understand that you may not want to spoil everything for players, being we only about one month from release now and all. But, people are eager to know if certain important rumors are basically true or not. So, a new faction besides XCOM and the Aliens is confirmed as being the EXALT, a paramilitary secret organization. But, can you confirm if there will be or not XCOM base defense? And, are there new Alien enemies besides the announced Mechtoid and Seeker units? What can you tell us about this?
AG: As for base defense, I'll let the Security Breach trailer answer that one for me. The Mechtoid and the Seeker are the only new alien enemies, but as our announcements this week indicate, EXALT is a major new source of opposition, comprising eight new enemy unit types and plenty of tactical AI adjustments. EXALT uses squad tactics and ability combos in a new way, so I think players will have fun figuring out how to deal with them on the battlefield.
SS: Thank you for your time.
The XCOM: Enemy Within expansion pack is slated to release on 12th of November 2013 in the US (15th Nov worldwide) for the PC, Mac, Xbox 360 and Playstation 3. For more information, including new features, check out our XCOM:EW announcement post or the XCOM official website.
Subscribe RSS
22 Comments
Related Articles:
Post category:
Game Previews
,
Interviews