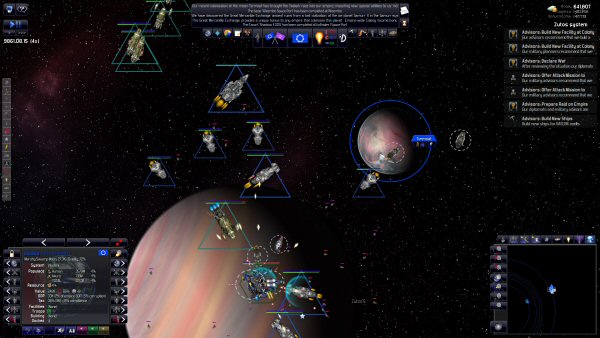 Distant Worlds: Universe, the all-in-one package for Distant Worlds, a real-time (pausable) space 4X strategy game by CodeForce, Slitherine and Matrix Games, is now available for the PC.
DW:U is a standalone expansion pack. So, it includes all content released so far, which includes the Distant Worlds base game and the Return of the Shakturi, Legends and Shadows expansions. On top of the previous content, it brings new modding capabilities, a scenario built with these modding enhancements and a bunch of new techs. It may have received a few balance tweaks and other improvements as well, but I'll need a bit more time to see how noticeable those changes, if any, really were. I'll let you know more on that on our review, to come out in the next few weeks.
But, in the meantime, I've been playing a DW:U preview build for the past few weeks, so here's some first impressions on the new content, and on the entire series as a whole.
Modding improvements
Ok, first of all I have to say that I'm not much into modding myself. What I mean is that I don't usually play mods. But, I do get why so many people do. The possibility to play your favorite games using your favorite setting (e.g. Star Wars, Star Trek), or to simply play a totally different setting, or even different features from the ones available, can help generate a substantially different experience. I totally get that. But, for me, and you can call me old fashioned, it's all about enjoying the experience that the game's designer had in mind for the game in the first place.
But, I guess modders, and people who enjoy mods and Distant Worlds, will probably rejoice for what Matrix Games and CodeForce have prepared for you in Universe. From what I understand, just by looking at the game's files and the modding guide, it's now possible to change much more about the game than before, which includes redesigning the tech trees, create new technologies, new resources, modify almost all the images in the game, UI icons and even sound effects. This all done through text files manipulation, which are exposed in the game's directory structure.
Then there are other things you can change, like planetary facilities and wonders (not sure if you can create new ones from scratch though), alien races, and their race families (e.g. humanoid, insectoid, machine, and you can create more if you want), characters, governments details, and others.
Now, I wouldn't say that the modification process is very hard but I don't think it's that simple either. I had a look at the files, and while many aspects are very easy to change, like changing names or other text, if you want to create new things, like a new tech or new components, there's a lot of references (ids and stuff) that you need to tweak to make it happen. I think the modding guide helps you there but even if I'm not very experienced in modding myself I'd say that the modding capabilities are there yes, but if you're not experienced just don't expect to be creating new techs on-the-fly. That's for the amateur and professional modders. Of course, it should be simple for them, so, judging from previously available mods it shouldn't be long until you see new more comprehensive mods popping up.
New ingame customization
In the game itself there are also new customization possibilities, accessed through the ingame editor. While the hardcore modding (the one explained above), you do outside of the game, this editor is a tool you can use while you play. You could change many game aspects in the previous expansions already, like creating new planets, change their contents and all other sorts of things. But, the interesting new part is the possibility to add ruins (which I think were not present before) and the possibility to setup custom events on planets and other objects. Custom events work like story triggers that you can define on specific map objects. And you can define a lot of actions associated to such events, like for instance if you investigate a ruin, you can setup automatic declarations of war, the establishment of treaties, characters getting killed, you can learn techs, make empire contacts and many other actions. There's a lot of these possible actions, just see for yourself (click on image below to enlarge).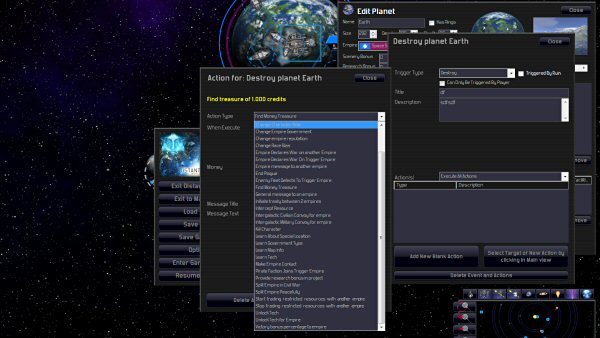 So, you can ultimately define your own storyline with this new event system, if you wish. Also new is a feature that allows you to load a previously saved map that you can use again for a new game. You can then even tweak previously generated maps at game startup if you want, since the game allows you to tell the game to generate different resources, space monsters, or ruin locations. So, I guess this storyline customization and map replay can be useful for people who like to share custom maps and create stories around them, and perhaps then share them with friends, that sort of thing.
So, if you're really not that much into the hardcore modding, perhaps there's something useful for you to justify the expansion's price, if you happen to own all previous expansions, that is. I for one find this new event system quite useful if you want to spice up things a bit. This is probably something I see myself experimenting with in a next game. As for the hardcore modding itself, the one you need to tweak files, I leave that to the modders. But, if there's an interesting Star Trek or Star Wars mod out soon, perhaps I'll give it a try.
The Ancient Galaxy storyline
Along with the modding and the new customization features, DW:U comes with a new theme called "The Ancient Galaxy", which is actually a mod, I suppose. This built-in theme was designed by the devs to serve as proof of concept for the modding capabilities. It portrays the events in the first war between the Freedom Alliance and the Shaktur Axis, according to the Distant Worlds' lore. In it you'll find a slightly different tech tree which allows you to have access to the "planet destroyers" and "Xaraktor virus" techs.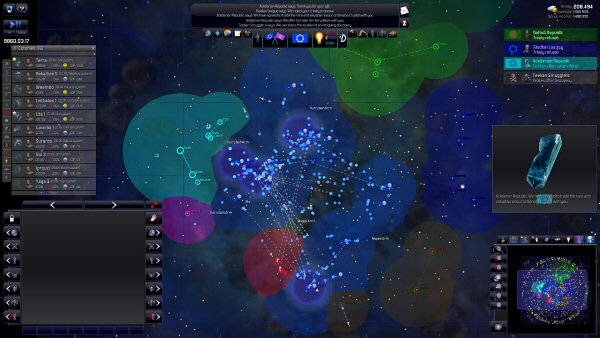 As you can see, there's a lot happening already when you start to play the Ancient Galaxy scenario, so this will not be a good place to start if you're new to the game. But, it can be interesting for veteran gamers wanting to experience something different.
It's worth noting that you can customize your own games using the Ancient Galaxy theme itself. So, even if you don't wish to play the Ancient Galaxy scenario, you can always customize a game using the new techs and other modifications that the theme provides. Actually, that's how I played most of my games for this first impressions. I didn't notice anything remarkably different using that theme, but I did spot a bunch of super techs by the end of the tech tree.
A few more notes so far
I'm afraid to say that one thing that has been haunting the series since the very beginning, and even after three great expansions have been released, which have addressed the issue reasonably well, is the font issue. The readability has been increasing with time, for sure. So, it's not so much of a big deal as it once was. But, some parts of the UI are still not particularly easy to read, especially on the diplomacy and research screens. The readability at game customization time can also be a bit blurry at places.
Some other areas like ship design are ok, but not great. Etc. I'd say that the font issue is not a critical issue anymore, especially after the font sizes have been addressed, the selection panel enlarged and many other important areas have been sharpened out, like the Empire Summary screen which is now presented crystal clear. I understand that the devs probably did the best they could, but it's something that the player needs to be aware, especially if very high resolutions are used, as I've come to understand throughout this time. Personally, the fonts don't give me much trouble, but I've seen many people complaining about this in the past, so, consider yourself warned.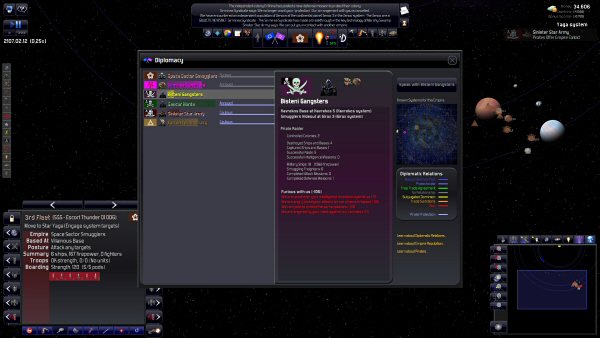 As for other changes in this new expansion, I feel that I didn't play enough yet to be certain if other aspects have been improved, like overall balancing and AI. But, I found the pirate gameplay experience to be smoother now (it was a bit buggy when Shadows was launched). Of course, I have no easy way to know now if that was already addressed with patches or if it was fixed by this new expansion.
Then there are other things which are just feelings and hunches at this time for the amount of hours I played, like I feel that resources seem to be dispatched more efficiently than before. Before this expansion it was not that that rare to find yourself lacking a resource and having to wait ages for that resource to be transported to the place it was needed. Now, when I lacked two resources in two different times, my private sector freighters, and the independent freighters, seemed to have addressed the resource shortage more efficiently. That and my smuggler freighters now being much more diligent (I feel) when I accept a smuggling mission to supply an empire with some particular resource.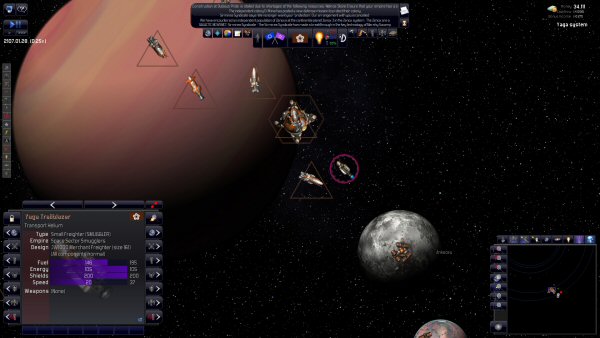 Another issue I had with the previous expansion (Shadows) was with fleets, and fleet management, which I still thought was not that intuitive and flexible enough, at least for the type of player like me who likes to play the game with everything in manual. Fleets seem to obey my orders better now. But, I reserve more on this when I play more for the review. Other hunches include resources being scarcer now and other AI hypothetical improvements, but that could be just my imagination. Anyway, I'll let you know more details in the review but I feel it's important to tell you all this now, since this is a first impressions article after all.
Closing Thoughts
Distant Worlds has come a long way since the series' inception in 2010. In my opinion, the game didn't start well. But, CodeForce and Matrix Games redeemed themselves with the release of the first expansion, Return of the Shakturi. And, by the second expansion, Legends, Distant Worlds became a great experience, the best space 4X experience since Galactic Civilizations 2, in my opinion. Shadows, the third expansion, brought, among other things, the pirate gameplay and the very important PreWarp experience, which made possible to have the experience of developing from a very, very humble beginning, where exploring and exploiting a star system seems like a galaxy in itself. This was a very cool addition in Shadows.
Now, new players have a lot to experience with Distant Worlds: Universe, but also a lot to learn. This isn't a simple game. Distant Worlds is very complex and as deep as can get while still being approachable to a large audience. The UI has improved dramatically over the expansions, especially in the second one (Legends), which made things a lot easier. There are ingame tutorials that help you get started, but reading some parts of the manual will most probably be required. And, if you want to master the game you'll need to consult the ingame encyclopedia frequently, and perhaps make a few visits to the game's forums to ask some of the veterans there what something means or is used for (oh, I know because I did that a lot myself!). So, you'll need a while to get a hang of things.
And, the game's scope can be quite huge. Of course, you an setup a galaxy as small or as big as you like, but there will be a lot to do still. You can automate certain aspects of the game at first and then progressively turn that automation off, when you feel you're ready. So, the game can feel quite daunting at first. But, the learning curve is totally worth it, in my opinion.
How to upgrade
If you already own the base game and any of the expansions, Matrix Games has created a system for you to upgrade to Universe. You get a $10 discount for every game/expansion you own. This means that, if you own Distant Worlds plus all the three previous expansions, you get a $40 off coupon to buy Distant Worlds: Universe. Combined with the $10 release discount, that allows you to upgrade to the latest expansion for $10 (a bit more than that if you buy the physical box product which comes with a printed manual).
These are Matrix's instructions to get the coupon:
In order to generate this coupon, you must register your Distant Worlds content on the Matrix games Members Club. After you have done this, click the "My discount coupons" button on the right side. Here you will be able to get your coupon.

Note: Make sure to register ALL your Distant Worlds content before generating the coupon. It can only be done once, so if you do it before you registered all Distant Worlds keys, you will not be able to use the full discount!  -Matrix Games
When you generate the coupon you can buy the game here (both physical and digital download versions are available) and then enter the coupon when required. Note that the Matrix Games store's version is DRM-free (or at least you only need a serial key to install).
Steam
If you buy on the Matrix Games store you also get a Steam key.
Everyone who buys Universe from our own stores will be able to redeem their Steam keys as soon as the game is released there. In order to do this, you must register you copy here. Next you can click the "Steam Keys" button in your profile page and press "Redeem Key". You now have a Distant Worlds: Universe key you can activate on Steam.  -Matrix Games
Distant Worlds: Universe is a standalone package containing all content for the real-time (pausable) space 4X strategy game Distant Worlds, and is now available on the Matrix Games store for the PC (both in physical and digital download form) with a $10 discount within the first week of release. The game will also be on Steam soon. Our review should be up in the following weeks.
Subscribe RSS
97 Comments
Related Articles:
Post category:
Game First Impressions
,
News & Announcements