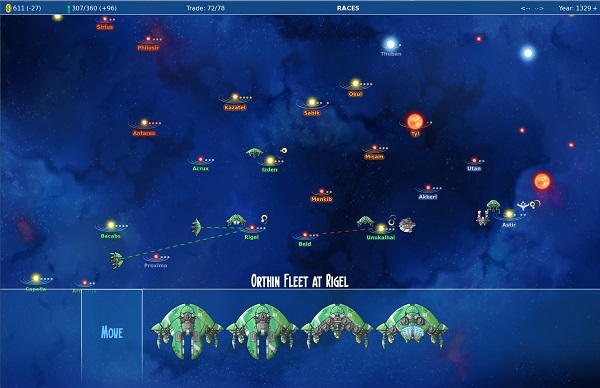 The recent resurgence in 4X games have left one request out of many veterans of the genre: a 4X game that will have turn-based tactical combat that is similar to Master of Orion 2 (along with a similar ship customisation system). Among the many new indie titles, one stands to try to offer that very same request: enter Stars in Shadow, developed by the small indie team of Sven Olsen and Jim Francis (Arioch). You can go here if you wish to read more about them and their game.
Their website is still young (it still doesn't have a forum up) but it is loaded with several screenshots, concept art, and a quick background of the setting and the races. The first thing many may notice is the stylized art, very reminiscent of animated series and certain video games of the 90's. The game will feature rich 2D art, with the only 3D art being the rotating view of the planets. Here is their response on the matter:
Yup — it's 2D through and through. The only exception is the planet art; and that's a purely cosmetic feature. We wanted to show the planets rotating, with city lights switching on as regions cross the terminator — so while the art is all hand-drawn, planets are rendered in game as 3D objects.

The strategic map is also two dimensional. I think 3D star maps are very cool in theory, but, I'm still not convinced they're cool enough to justify all the complications they add to a UI. -Sven Olsen
About the Game
Stars in Shadow will focus on delivering turn-based tactical combat as described in their developer blog. According to Sven, this decision is critical as it is important to keep focus in designing a game. The experience the developer wishes to give to the player needs to be decided. If a game gets bloated, or a feature needs to be trimmed-down, one must know what the end goal and main feature of their game should be.
The other objectives are to have the game playable in a single evening (I assume a single evening by the standard of a strategy gamer, I mean we don't want the game to be too short either), and that the game is immersive enough to get lost in. The rich 2D art and distinct races is probably the product of the later, as for the former we will have to wait and see what the end result will be.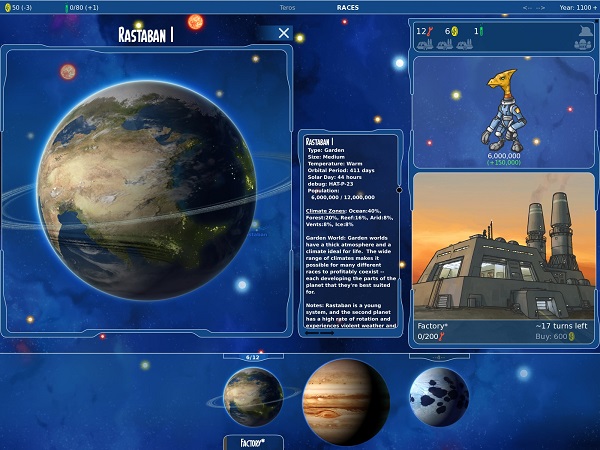 The game offers 7 playable factions based off of 6 races (one race is the composition of two separate factions). The setting is set far into the future after a great war has literally pushed all surviving star-faring civilizations back to a pre-star-flight state. Three of the races will be such survivors, one composing the race that now spans two factions and Humanity. The last three races will be newcomers to the galactic stage.
As mentioned earlier, the game will be played entirely in 2D and though not many details are given to any specific mechanics: the game will have diplomacy, planetary management (though streamlined), customisation of ships with a wide and diverse selection of weapon systems, and turn-based space combat that seems reminiscent of Master of Orion 2. The other interesting thing to note is that the game will give certain unique techs to each race as a way to further differentiate them from each other but also as a means to have "cool toys" early on.
Many of these unique techs will seem similar to many of the end-game techs one would research in games such as Master of Orion. Here is more from the words of Sven:
Essentially, there's one very large tech tree; but only parts of it are available when you start a new game. Which parts depend first and foremost on the race you choose; but game events, like colonizing and artifact world or defeating a pirate faction, may unlock additional branches. Diplomacy can also broaden what's possible, as in some situations, other empires will be able to trade you techs that you wouldn't be capable of researching yourself.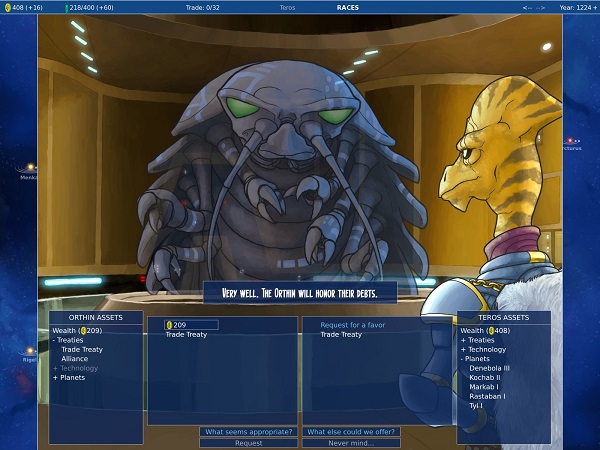 As for those curious about terraforming, this is what he had to say about the matter:
Terraforming in SiS is modeled fairly simply. Given the right techs, you can change a planet's type. We don't attempt to realistically model the transition from one type to another — one turn your colony will be an arid, Mars-like world, and the next it will look and behave like earth. Not terribly realistic, I'll admit :)

The details of the mechanic aren't finalized, but, as it currently stands, your terraforming options are limited by both the size and temperature of the planet you're on; though as you advance through the tech tree, more transformations become possible. Warm, large planets are generally the best candidates for a terraforming project, but in late-game you may learn to build things like solar shades or artificial suns; which make terraforming possible in situations where it normally wouldn't be.
Inspiration and Motivation for the Game
Reading the background and their first developer diary, one can get the feel Sven is a veteran of the genre, and not just that of the 4X genre. He seems knowledgeable about grand strategy games of yore such as Romance of Three Kingdoms, and lists Star Control 2 as one of his all-time classics, and has played a healthy mix of other types of games. Sven states that both Master of Orion 2 and Sword of the Star have significant influence on the making of Stars in Shadow.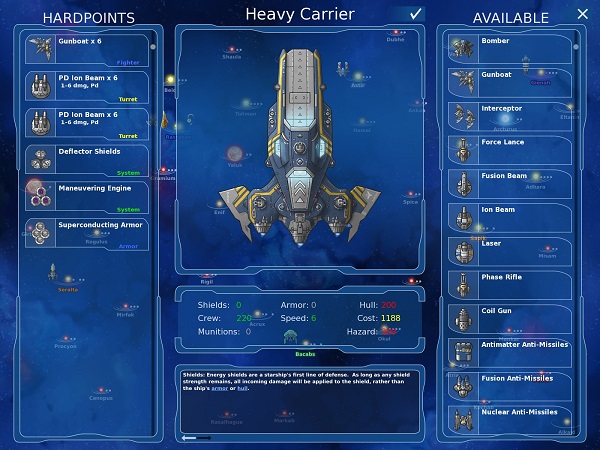 We leave you with a long excerpt from one of his answers where he responds to our questions about what games influenced Stars in Shadow and what were some of the innovations the devs are thinking to bring to the genre:
My goal as a designer is essentially to do with MOO2 what Valve did with Quake. To take a set of classic mechanics and refine and elaborate on them to the point that the gameplay experience becomes something quite different. I'm not the only designer with such high aspirations, of course. We're in the midst of a real renaissance of 4X titles; and most of us are trying, in one way or another, to "remake MOO".

I think Sword of the Stars needs to be given a lot of credit for this burst of new titles. I'd daydream about making a MOO-like game since childhood — most of us did, I think. But when SOTS launched on Steam, Kerberos proved not only that there was still a place for 4X games in the modern era, but also that were significant ways we could really improve on the old classics.

One of the big things I always regretted about MOO2 was that so many of the really interesting, game changing techs where stuck up at the very top of the tech tree. Inevitably, by the time you got to use Star Gates or cloaking devices, the game was essentially over. Give a carefully chosen selection of game-changing techs to specific races in the early game, however, and you can make the distinctions between the different races a lot more interesting. A hugely successful example of this in SOTS is the Hiver's design. Give the Klackons Stargates at the start of the game, and you get some really extraordinary implications, both in terms of world building and gameplay.

I'll go into more detail on the Stars in Shadow tech tree in just a moment, but, SOTS has certainly been a major source of inspiration there.

I'm trying to resist what I see as a troubling trend towards ever longer game times — ideally, I'd like to be able to play a complete Stars in Shadow game over the course of an evening, rather than a weekend. Epic games like Civ have their place, of course, but I think the flavor of escape that strategy games provide can be achieved without 10 hour plus playtimes.

I'm a huge fan of the Heroes of Might and Magic series — and one of the core things I'm hoping to achieve with Stars in Shadow is to make a 4X game with a flow that's closer to Heroes of Might and Magic or Age of Wonders. That means emphasizing tactical combat; simplifying the strategic game, and increasing the number of smaller battles that come up in the course of exploring new systems. And drawing on ideas from HoMM, I think, is a big part of the puzzle of how to get a 4X style game with shorter playtimes. -Sven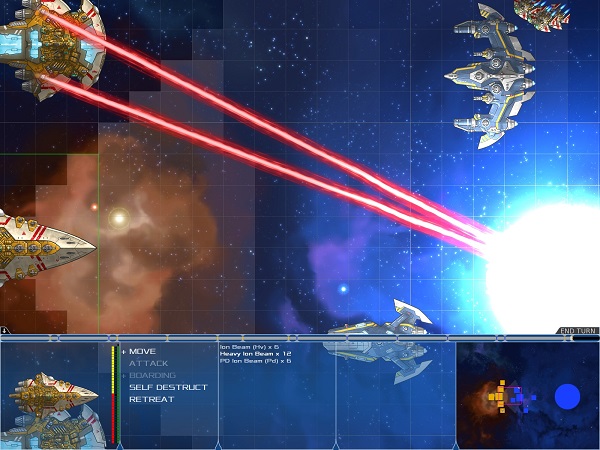 Closing Thoughts
Overall, Stars in Shadow looks interesting. As the screenshots have shown, the game does seem to wish to recreate the type of tactical battles we had in Master of Orion 2 and offer a visually rich setting. The developer does seem knowledgeable to the strategy genre as a whole and not just the 4X genre. Also, a defined focus is something many game critics have mentioned was lacking in many of the new titles who seem to get bogged-down with random features that just don't add up nicely, so having a developer team say they will keep a strong focus is refreshing.
We will have to wait and see how all of this pans out to be like once executed; however, from what has been glimpsed so far this may be something many strategy game fans might have been looking for. The only concern I have is that the games don't end up too short, though I understand the motivation to have more manageable lengths of gameplay. The rest does seem promising. We hope Stars in Shadow will come together nicely, and SpaceSector will keep you informed about the progress.
You may go to their official website to read more; also you can also send them an email and sign-up for their closed beta-test that may start in a few weeks. The game is estimated for a Q2-Q3 2015 release, and may see a future Kickstarter if needed.
All screenshots used in this article are courtesy of the Official Website.
Subscribe RSS
72 Comments
Related Articles:
Post category:
Games Under Development
,
Stellar Indie Venture