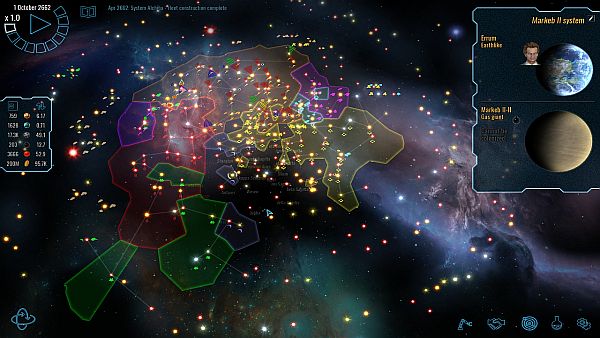 If you've paid a visit to our forums, you may have read or seen images about a game called Remember Tomorrow or Galaxia: Remember Tomorrow. It was originally based on a space 4X game that was released only in Russia in the late 90s, but developer SoftWarWare has had a vision of a modernized and enhanced version that would bring its core concepts to today's gamer. This game, which is now known as Polaris Sector and now published by Slitherine, has recently reached full release after several years of development. While much has undoubtedly changed about the design since those early days, what hasn't changed is the 4X pausable RTS gameplay that makes it feel more like a turn-based game than an RTS one.
Earlier this month, I posted some first impressions of Polaris Sector. While I had some fears and concerns, I was informed that I was not playing a final build or even the most current beta available at that time. Since then, I've had a chance to experience many more hours with the release build which is currently version 1.02.
Here I Go Again On My Own
Your empire begins as a newborn ready to explore its surroundings. You may or may not have ships at the start of the game, depending on difficulty and pirate settings, but once you have a ship prepared you will want to begin exploring nearby systems that are connected to you via starlanes. Starlanes are the primary means of transportation in the game. While the ability to build temporary and limited range teleportation gates for a high cost exists later in the game, or can potentially be picked as a starting racial trait, you'll be relying on starlanes from beginning to end.
Every starlane leads to a new system, and every system contains at least one planet which may or may not be inhabitable. How far you can travel depends on how much fuel you've equipped your ships to carry. During your travels to new systems, you may find resource caches that provide a quick influx of a specific mineral. In some cases these can be VERY substantial, as very early on I was able to find a deposit that increased my supply of one rare resource by over 1000%. There are also ancient keys that can be found which promise to provide access to a powerful ancient spaceship if you can find them all. Aside from physical goods, there are also wormholes in some systems that act as one way tunnels which instantly teleport you to an endpoint somewhere else within the galaxy.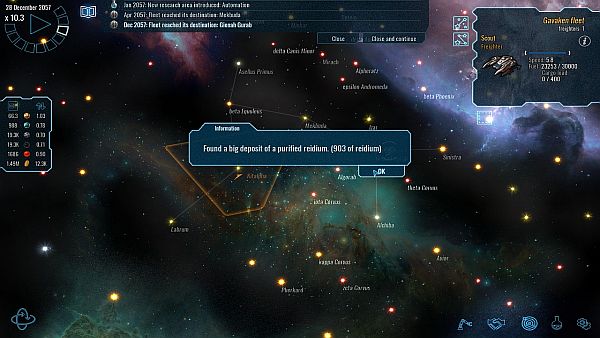 That concludes what you'll find while exploring. If you're looking to encounter minor races, space monsters, mercenaries, missions, anomalies, or any other strange phenomena, you're not going to find it here. You can enable pirates if you like, but if you also choose to play on hard you need to be prepared for a forced immediate impact on your early economy. This is because they always appear in a nearby system on hard mode and always approach you immediately with demands. While you can fight off their initial effort, a larger fleet that you can't defeat is sent almost immediately to extort protection money from you. I found their presence when playing on hard mode so forced and uninteresting that I now simply disable them from the start.
One of my favorite phases of any 4X game is the exploration phase. I firmly believe that a solid experience in the exploration phase forms a solid foundation for a 4X game as a whole. This is especially true in the space strategy genre, as the vastness of space inherently offers a sense of discovering the unknown among near limitless possibilities in a way very few genres can. It is therefore with great disappointment that I report that Polaris Sector barely scratches the surface of what is possible. Simply put, it offers one of the most uninteresting and uninspired experiences I've had in this regard in any modern 4X game.
Expanding to new Earths
Spreading your civilization throughout the stars is what the expansion phase of any space 4X game is all about. In Polaris Sector, there are a variety of planets to be colonized such as acidic, oceanic, desert, contaminated, hot, volcanic, gas giant, dwarf, and even a not-so-super super-earth. Each of these planets contains some of the 5 essential minerals that you'll need to collect and harvest in order to maintain your buildings and fleets. To extract these minerals, you'll need to colonize them, and depending on the type, this requires researching things like domes and platforms. Each planet and planet type offers up one or several of these resources, and the richness of the source provides you a sense of what kind of return you can expect once you begin mining it. In theory, this presents an interesting contest for resources that will have you fighting over rich planets in order to keep yourself in steady supply, but in practice I found it was relatively easy to maintain a constant flow of all of them.
The most important planets of all, and the one you and all the races will be rushing to grab, are the Earthlike planets. While many other planet types exist, they are primarily sources for mining resources. Earthlike planets are where the action happens. They offer a range of benefits and allow you to choose how you want to exploit them. They can specialize in food production in order to spread food throughout your mining empire. They can specialize in industry and become key location for creating your fleets and ground forces. They are also the only planet type aside from rare oceanic planets that can perform research. These purposes coincide with the policy choices you'll have that manage each colony automatically for you. You can also choose a balanced approach which divides your planets interest among the three, or if you want total control, you can manually manage all planets or even just specific ones. Control is certainly placed in your hands if desired.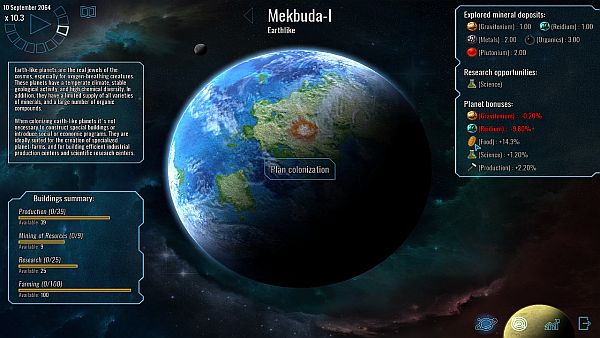 The issue with Earthlike planets and colony management in general is that there is almost no decision-making to be made here. Each of these planets is predisposed to certain tasks depending on randomized modifiers to agriculture, industry, and innovation (research), and unless you are in desperate need it makes sense to specialize them in what they naturally do best. If you decide you do want to manage one manually, you'll find your building choices sorely lacking as you queue up stacks of the same preferred building type regardless. There is also a blocking system in place, and this system prevents you from building certain structures dependent on how many other structures you have, and this further limits the benefits of manual management. It is clear to me that the system is meant to be automated and for the most part unmanned except for your industry colonies which you'll use to construct your fleets.
Meeting your neighbors
While space may feel lonely early on, don't be mistaken. There are other major races out there and they are expanding probably even faster than you are. Territory gets gobbled up as colonies are founded, so it won't be too long before you encounter them. Exactly how soon you find them will depend on the galaxy shape, of which there are several, as well as galaxy size, number of opponents, and of course random chance. There is no shortage of options here, and whether you want a chaotic claustrophobic experience or want to isolate yourself down a galactic arm, you'll find an option here for it.
Part of meeting you neighbors is them meeting you. Designing your race is a relatively simple task and begins with selecting one of the preset races. This primarily determines what you look like and what ship layouts you'll have access to. Once you've selected one, you can then change your logo and race color as well as your starting attributes. These consist of efficiency modifiers or penalties to certain actions such as production, research, population growth, and trade. In addition, there are two unique traits that provide your race unique benefits on oceanic and radioactive worlds too, and you also have an option to start with from one to three higher tier technologies if you leave enough points available for them.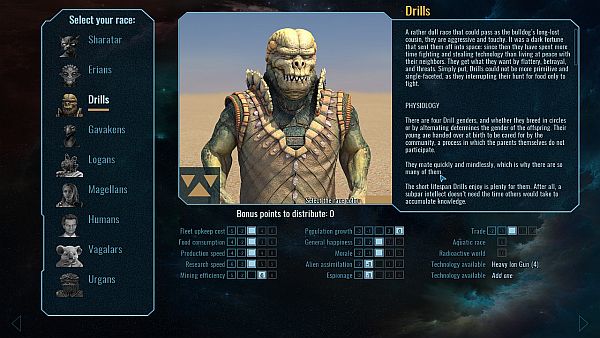 Diplomacy
Diplomacy incorporates both trade and military agreements in an interesting way and is one of the strongest aspects of the game. By now, most 4X trade systems are nearly identical to one another, and while nothing truly revolutionary has been put in place here, there are certainly some interesting wrinkles added to the formula. For instance, different types of trading require that treaties be accepted by both parties. So while you may choose to trade in goods and materials once you have an economic treaty, you won't actually be able to trade technology unless they have also agreed to a scientific one.
I enjoyed the way I could perform both one time trades and long-term trades. Even if you lack what you need to make a trade happen right away, there is a trade option that allows you to pay the other race back with interest. On the other hand, if you are fortunate enough to have an abundance in some resources, yet a shortage in another, negotiating a long-term trade deal can be just what you need to keep your war machines rolling. The AI is also smart enough to cancel deals that it no longer finds beneficial, which is certainly a nice touch.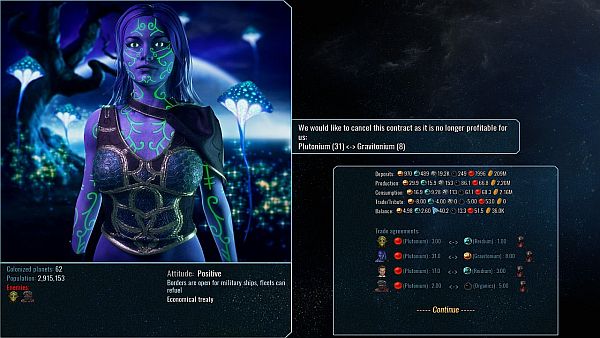 Military treaties are interesting as there are clear distinctions between open borders for scouting vessels and permissions to fly through with your heavy war ships. As the player, you are also given an option to demand they leave your territory in a certain amount of time, which is an important feature that is often neglected in other games.
The presentation of other aspects of diplomacy, for instance when making military requests, is a jumbled list that often doesn't even fit on the screen without scrolling. Making military requests or remarks such as "Hey, doesn't race X seem kind of dangerous?" will often improve or reduce your relationship with the other race, but you typically don't know why they'd reacted a certain way. It is certainly difficult to get the AI to help you militarily.
Preparing for War
Ship design in Polaris Sector is similar to other tetris-like grid based systems but adds a few interesting twists. It is certainly the first game I've encountered that allows the player access to place modules on not just one floor but multiple floors on most ship hulls. Not all floors are created equal either as each potentially has a different layout. The top floor is actually almost always restricted solely to weapons. Another unique aspect of the top floor is that turrets placed there have a 360 degree arc while weapons placed below deck are far more restricted. Certain components such as weapons and engines can only be placed in designated areas, but the game allows total freedom when it comes to the placement of all other components.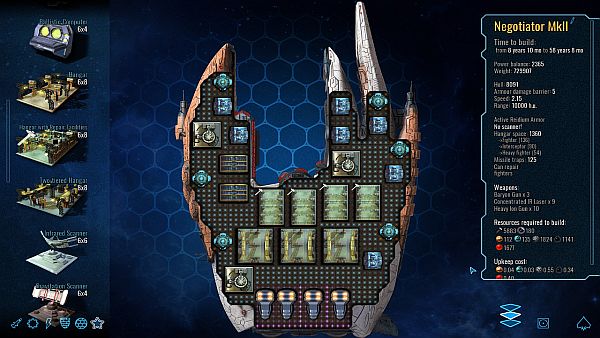 The number of modules available to you increases your design options as the game goes on, but it never really reaches a point where you feel you can't fit everything you need. For some, this may be a positive, but I found myself feeling handcuffed due to the limited areas available for engines and weapons. Late in the game I was just cramming fighter hangars onto my ships to fill space, as there are only so many defense systems, fuel containers, and power plants that you need. Also, since armor is simply selected and automatically applied without taking up any space, I found every ship I made was heavily armored and there was no significant opportunity to make decisions regarding offensive vs. defensive trade-offs. I will admit my ships were quite slow, so perhaps weight and speed is a trade-off in itself, but I also didn't find slow ships hindered me in the grand scheme of things.
Fighterfare – The Future of War
If you're someone who fears RTS style combat will be too stressful for you, I can assure you that this combat system will not be an issue for you at all. The game pauses when combat begins and takes you to a battle map. Once in battle, the game speed is still highly adjustable and can be paused at any time in order to issue new orders and can be sped all the way up to 64x normal speed to get you into the action quickly. It will even auto-pause at max speed to let you react when ships start to engage.
My aim throughout my play was to design ships capable of doing damage at long-range. As much as I like destroying enemy ships, I like not having mine destroyed even more. What I found was that most weapons had very short ranges and that this approach was less successful than I've seen in other 4X space games. It was actually quite surprising to find that only one of the missiles I had available to me could even match the distance of my longest range energy weapon. While I did try to use some missiles, the fact that they are limited in supply and seemed no less effective left them feeling lackluster. I also equipped my ships with some of the missile defenses available, but in dozens and dozens of fights with the AI I never noticed enemy missiles being fired at me.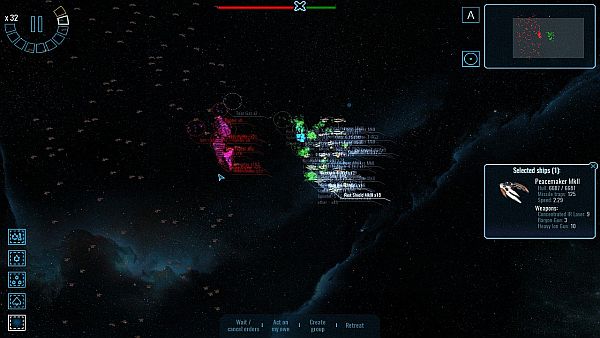 The most dominating weapon in combat isn't actually a weapon at all, but rather a hangar bay. In nearly every fight with the AI I was swarmed by hundreds of fighters and their larger cousins the interceptors and heavy fighters. In some cases I faced almost 1500 of these ships along with over 100 corvettes. The only effective countermeasure I found, and I did look for other ways among the weapon and defense systems available, was to start slapping multiple hangars into my own destroyers. With each destroyer carrying 50+ heavy fighters or nearly 100 interceptors, as well as hangar repair bays, I was able to counter their incoming fighters with my own which were technologically superior.
Aside from fighters, the enemy's tactic consisted of spamming dozens of corvette class ships against my larger frigates and destroyers. In most cases, if I fought the battles, I could defeat these much larger forces while only losing some of my own fighters. If instead I chose to auto-calculate the combat, I would find I would lose the battle without destroying a single enemy ship. It seemed like the auto-calculation actually started and then bugged out, as in the case of these larger battles it calculated results quicker than it did in smaller battles and shows all results as 0 shots fired for both sides yet my ships were destroyed. While I could win these battles of attrition manually, I found it got repetitive with the auto-calculation completely unusable.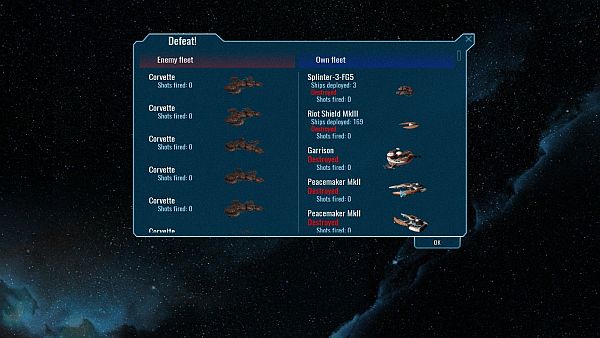 Boots On the Ground – Taking Planets by Force
Ground combat is abstract as in most 4X games, but here it is a bit more involved and complex than many similar systems. Battles take place in real-time on the galactic map. A look at the planet displays a meter showing which side will win and how long it will take if nothing changes. This is rarely the case though as reinforcements for both sides are often added to the fight as it rages.
While they aren't something that can be designed, there are a wide variety of different units that can be used in ground combat. Each has its own niche in a more complex rock, paper, scissors system. Tanks for instance are good at destroying infantry, but are countered by ground attack craft, which are in turn countered by fighters, which are in turn countered by something else. There are even genuine seafaring battleships that can be deployed in some cases.
Managing ground combat to this depth isn't going to be everyone's cup of tea, and the game helps alleviate this with the inclusion of a "plan invasion" button that appears on planets you've blockaded with your ships. Once pressed, the AI will begin gathering up your troop transports, queuing up units on your various planets, and will shuttle them over for the invasion. This is nice as it allows you to focus on other areas without micro managing troop deployment.
Unfortunately, the AI did a relatively poor job managing my invasions. It would queue up thousands of weak police units and deploy them against worlds filled with tanks that have 400% efficiency bonuses in destroying them. Another flaw with allowing the AI to manage your invasions is that the AI will continue to send troops to these planets even if you've lost the fight and control of the airspace around the planet. This causes you to have to retreat these ships as they arrive or lose troops unnecessarily. It seems like once the order is issued to a ship, it doesn't ever re-evaluating if following through it makes sense years down the line.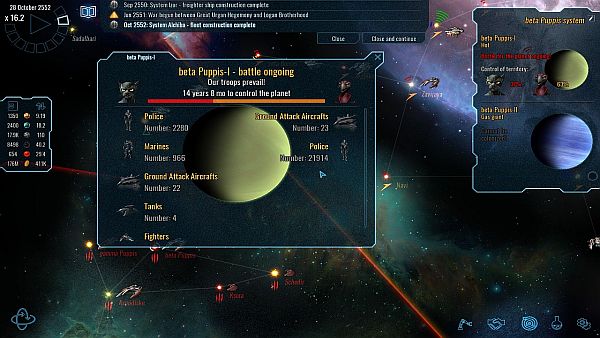 A Unique Research System
One of the most unique aspects of the game is the research system. Research is split into fundamental science and applied science. You are provided a slider you can manually adjust to decide how you want to split your research between these two areas. Fundamental science is used to unlock new applied sciences, while applied sciences unlock actual technologies.
While manual control is an option, the approach I took was to select technologies I wanted and use the "set as priority" option. This essentially controlled the slider for me and did whatever was necessary to unlock a certain technology as soon as possible. While at first glance the research screen can be a bit overwhelming, this approach makes it much more manageable. In some cases I did still find it difficult to determine exactly why certain techs took far longer than others, but it is very easy to change your priority between techs to see how long certain ones will take so that you can make an informed decision.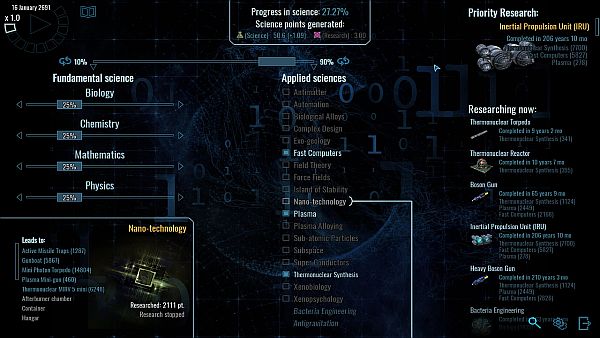 The system is certainly unique, but I'm not sure how much it adds to the genre. I found the layout often made it difficult to find the technologies I wanted. For instance, trying to locate a new engine among all the applied sciences can be a bit frustrating, especially since the technology names don't always clue you in to what they are at a quick glance. Weapon technologies are even more troublesome, as finding a long-range weapon vs. a short-range weapon or a large weapon vs. one that can fit on a fighter's available mounts is a time-consuming endeavor. It's not obvious which is the most advanced option at a quick glance either. The info is there, hidden in the "technical data" you can bring up after selecting them, but it's not easy. There are numerous times I researched techs and found I actually had no use for them on my designs. I think some tweaks to the UI to help call out important facts about technologies would do a lot of good here.
AI
The quality of a 4X games' AI is almost always a key concern for experienced strategy gamers. My experiences against the AI have been on the hardest difficulty with pirates disabled. I wasn't able to walk all over them, but I wasn't particularly overwhelmed by them either. The AI, at least for a few of the races, was able to expand quickly and colonize more planets than I did. What they weren't able to do was research new technology anywhere near as fast as me, and their military relied solely on mass production of small ships like corvettes and fighters and brute force measures. These very large fleets were dispatched time and time again by my smaller more well equipped fleets.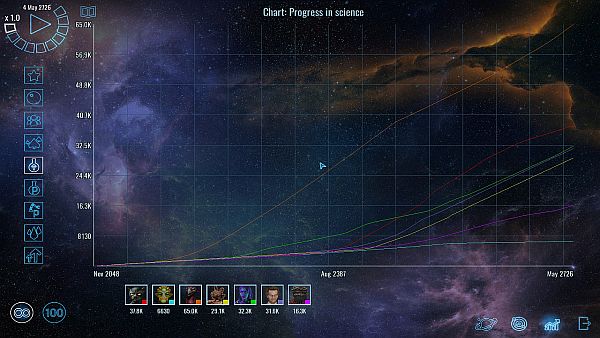 My games against the AI devolved into a war of attrition. I would slowly whittle away at one empire, taking a planet here and a planet there, while splitting the other part of my fleet off to defend myself from another. The AI attacked the same planet over and over again despite weaker planets being available that also directly bordered them. This allowed me to easily concentrate my ships where they needed to be. Unfortunately, these constant battles got old after a while, and the lack of an auto-calculation system that produced results anywhere near how the battles would actually turn out meant every one had to be manually fought.
I also found that the AI does know how to take advantage of the espionage system. They would often fly stealthed ships into my empire. These stealthed ships can bypass any border defenses you put in place, even if there is no other starlane that would allow them into your system. It is possible they are using one way wormholes also I suppose, but as it's impossible to know where the exit points may be located in your empire, I don't really know how you'd defend against it. There are long-range scanner buildings which do detect them, sometimes, allowing you to reveal them, but they don't often detect them even if you've built as many of these as you can on your border worlds. Stealth ships wouldn't be a big issue, as an occasional sabotage or riot can be dealt with, but sometimes they will bomb a planet wiping out years and years of progress in an instant. I found this to be incredibly frustrating. I did try to retaliate with bombs of my own, but that's when I found out some empires don't like these tactics and you take actual diplomatic hits with them if you do so.
Final Thoughts
I did get some enjoyment out of Polaris Sector and can say I did experience the "one more turn" feeling associated with 4X games a few times during my time with it. This was the exception rather than the rule though and for the most part I just found it to offer a frustrating experience. Whenever I would find myself having some fun, something would happen that made me want to quit out of the game.
I love exploring and in this game the whole experience is uneventful and dull. I also love expanding out and developing colonies, but here again the system is without meaningful decision-making and may as well be automated. I'm not going to say the game itself is bad due to these deficits, but fans looking for rich experiences in these 2 of the 4Xs are going to be left feeling unfulfilled. Exploitation and extermination are certainly more refined, but even in those areas I found much to be desired.
It is certainly possible to have a good time with this game, but in an era of ridiculously tough 4X competition, with even tougher competition on the horizon, it is difficult to see where this title fits in. I know there are some hardcore 4X fans who will enjoy it for what it is, especially those who care about warfare and ship design above all else, but I can't say I'm one of them.
| | |
| --- | --- |
| | mediocre |
The Good:
– Real-time with pause is well executed and keeps the game moving at a good pace
– Multi-level ships add additional design space
– Offers interesting and well implemented trade options and agreements
The Bad:
– Exploration is dull and uninteresting
– Automation is encouraged yet is inept in most aspects
– UI feels out of date and ineffective
– Tactical combat gets repetitive quickly and doesn't auto-calculate accurately
– Too few meaningful decisions to be made
Keith Turner, also known as aReclusiveMind here on SpaceSector, has been an avid gamer ever since he first laid his hands on a Commodore 128 in the mid 1980s. He enjoys multiple computer game genres, but his primary interests are in deep strategy games, 4x games, rpgs, and action rpgs. He enjoys writing and hopes to contribute with additional reviews, previews, and informative AARs to the community. See all Keith's posts here.
Subscribe RSS
61 Comments
Related Articles:
Post category:
Game Reviews