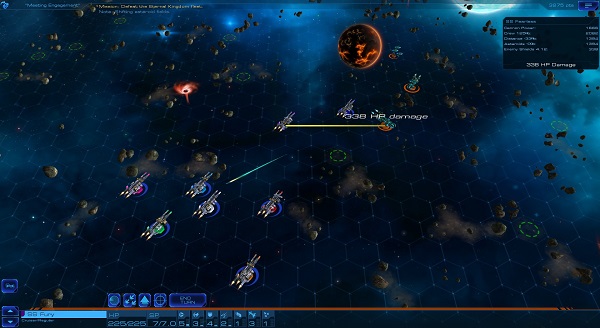 March 12, 2015 saw the release of Sid Meier's Starships on PC, Mac, and iOS by Firaxis and 2K Games. The game is a continuation of the story from Civilization: Beyond Earth but a different genre of game altogether. Starships is a strategy-light experience with very minor 4X elements that focuses on the player's fleet that goes about the galaxy doing missions and fighting its enemies as it gains influence over planets. The game's main focus is tactical space combat.
The problem with Starships is that calling it strategy-light is an understatement as even the game's tactical battles are very simple and straight-forward. Though lighter strategy games can be fun, Starships sets the bar too low for itself making it more of a casual experience, one would play on an iPad while busy doing something else instead of it being the player's main focus of attention.
Despite its simultaneous release on iOS and PC, the game feels like an iOS port to PC. Though some iOS focused games can offer deep and entertaining experiences that can rival some PC titles, there are those that are meant for a more casual experience or as a minor distraction. Starships falls more into the second category than that of the more serious offerings of iOS games.
Presentation
The game overall looks good for a budget title. The art images are stylised and some of the ship models are very nice. Music is only average though. There's thematic voice overs for many actions but these tend to be short, with many of them being re-used assets from Beyond Earth. However, the ship models are not that distinct as you equip different modules, most of the visual distinctiveness will come from your primary affinity and from your ship's class as you equip more modules.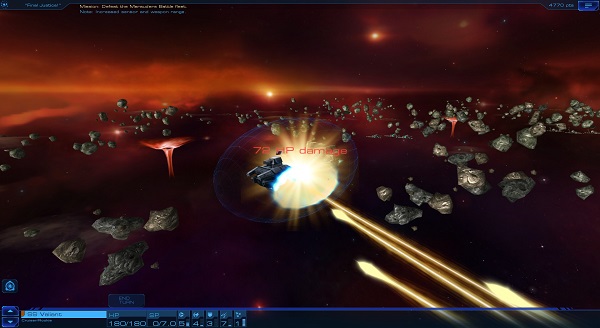 Another downside with the visuals is that the standard weapons look roughly the same. Only the impact head and the trail show some minor differences. You can tell a laser and plasma strike apart, but they do not feel or look different at all. Also, the ship explosions are laughably bad; little bits fly off as small explosions that barely register visually pepper the model and then the model just disappears. The initial explosion from the weapon's impact is okay, but the continued explosion of the ship is the issue.
Good graphics or animations are not always a must but some effort to give them a certain appealing style or consistency with the rest of the visuals is still important. The problem with the explosions is they stand out, sticking out like a sore thumb in the otherwise somewhat visually decent models.
Game Set-up and Settings
The player can choose to play any of the 8 factions from Beyond Earth. They also choose which affinity they are at the start, one of the 4 difficulty settings, and one of the 4 map sizes. You can also choose the number of opponents (6 max, meaning they're only 7 possible factions on the map) and which Victory condition you can win as. This last option only affects the player as the AI can achieve victory by any condition, which is not how victory condition selections usually work. The player is limited to selecting only one or have all enabled. There is no cherry picking.
It should be noted that on the epic size map the player doesn't automatically conquer a whole faction by taking its Homeworld. They need to take each planet individually. But, on big or smaller maps, taking a Homeworld from a rival will take over their entire empire. This is not explained anywhere.
The player's affinity and faction choices will give different bonuses. However, the balance is a little odd for some. Example, Supremacy gives a free wonder. This can be seriously overpowered or underwhelming as not all wonders are equally appealing. Warp Control will feel wasted in the start of the game and is debatable if it's useful later, while Tight Squeeze (lets fighters fly through asteroids) can be very powerful as the player can immediately focus on a devastating fighter build.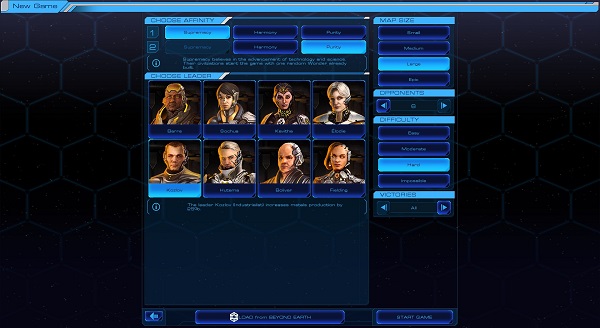 The same can be true for faction bonuses, one faction gets a metal bonus and the other gets a credit boost per city. These can be underwhelming in the early game, but as the player nears the end-game they become insanely powerful and can easily tip the balance to victory very quickly. While having two free techs or a ship is nice at the start, it does not compare with the factions that get the metal and credit boost, especially if your free techs are in a direction you did not intend to go.
The game also lacks many options in the system's menu, further giving it a feel that it is more of a mobile port. There is no full-screen mode, and the borderless window doesn't overlap onto the system bar, which normal borderless window modes tend to do. When played on the PC it literally feels like you are meant to be doing something else while playing it.
Strategic Layer
The strategic layer is simple, which on its own is not a bad thing since the game's focus is the tactical battles. The player accumulates Energy, Metal, Science, Food, and Credits. The last one, Credits, is only earned through missions, selling surplus of the other resources, or the special trait of one of the factions. The player can then spend food to increase the number of cities on a planet, which will increase the planet's overall output. The player can use metal to buy planetary improvements that increase one of the yields or build wonders; they can also build defensive drones or a warp gate (immediate travel between worlds). Science is spent to buy tech upgrades, and energy is used to buy new ships and customise them.
The game does have wonders; however, each planet can only build one wonder specifically and it is predetermined which one it is. So the player can't rush to the wonder they want, they need to get a planet that has it as its option. This prevents someone from bee-lining their favourite strategy, but this can also be frustrating as many wonders are almost useless leaving the chance the player will not be able to get a worthwhile one before the AI builds it.
Credits are used to buy any of the additional resources (and can be gained by selling surpluses); however they can also be used to buy influence over a planet thus speeding up their entry into your Federation. The only other ways to earn influence over a planet is to be the first one to make contact with it, complete its mission (which can give between 1-3 influences). The player also gets 1 for ending their turn on a planet. Once the player has 4, the world joins your federation.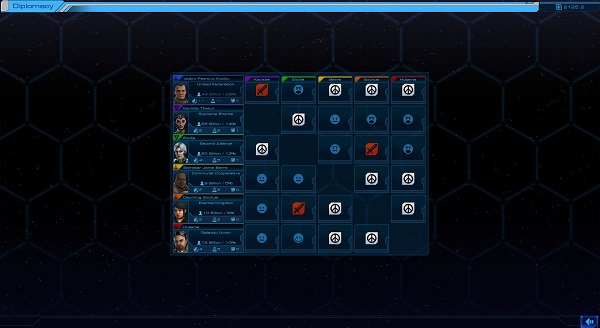 Diplomacy is simple, you can get info about the other faction and you can sign a peace treaty. When you encroach on an enemy's sphere of influence they may offer you something to sign a peace treaty and let them be. You may also receive a "mission" from their enemies to encourage you to start a war. If you succeed you get access to the planet, and if it was a planet in their empire it flips over to your federation. On a big or smaller map, claiming a Homeworld gives you the whole empire.
The player is capable of performing multiple actions per turn with their fleet, but each movement without a warp gate, or mission completed, drains morale. The lower the morale the less effective your ships become. This effect is not significant but it can be important in close fights, eventually leading to ending your turn. The player can end their turn early to conserve morale during the AI's turns. This does give an interesting management system for the game.
The game is won by researching 3 techs to level 6, gaining 51% of the population, building 7 wonders, or killing all other factions. It should be noted that the player can choose to limit themselves to one victory condition, but the AI will always be able to win with any of the victory conditions.
The whole system is simple, straight-forward, and quick to learn. Which is fine for a light strategy game that focuses more on the tactical battles, however the problem is the tactical battles themselves are not as engaging as they could be.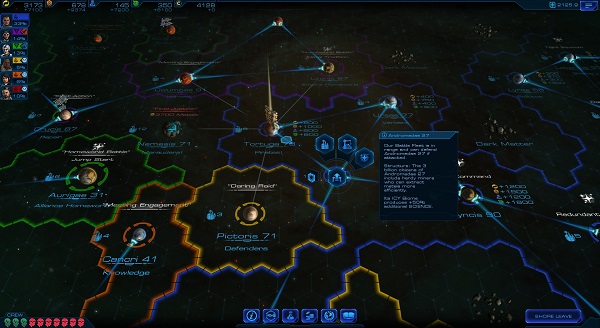 Ship Customisation
Ship customisation is the corner stone of a tactical space combat game; usually if this aspect is weak so will the battle mechanic also be weak. Starships sadly falls on the weak side in this department. Firstly, the tech system. All techs are merely linear growth of your ship's modules. The player upgrades how much speed an engine modules gives, increases the damage of the weapon systems, increases how effective sensors or stealth is, and how powerful fighters are. That is it. No special properties, special weapons, nothing, just increasing the effectiveness of everything that is available from turn 1.
The player then spends energy to increase their fleet or improve their ships. The player can also sell older modules for a small refund. This lets the player customise their vessels on the fly. The system can be interesting, but due to the way the tech system works the player will usually go for an optimal build, and due to the way the tactical combat system works that build will be true for all ships. Having different ships do different things is not necessary and it will be more efficient to make all your ships heavy killers.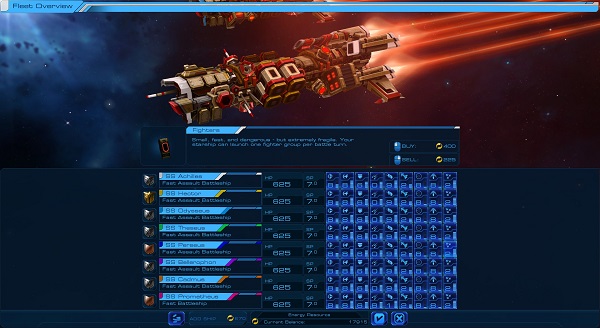 The other aspect that doesn't help regarding ship customisation is that stealth and sensors have no downside, so as long as the player has the energy they can invest in those systems. Also, the AI uses stealth poorly, meaning sensors will not be a top priority. The other thing that compounds the problem is lasers are underwhelming (more on this in the next section) so the player will quickly go down a plasma and fighter route with torpedoes being a valid option.
An important note, the player has only 1 fleet and it is capped to 8 ships. The use of warp gates is what lets the player respond to the incursions into their territory by other factions.
Tactical Combat and Missions
The missions the player gets are varied at first. Escort a colony ship, destroy a transport before it gets to its destination, navigate an asteroid field, survive an ambush, destroy a planet killer, or a straight up fight with a variation on the map. Planets will reissue the missions the next turn if no fleet is on it. Engaging another faction will trigger a straight-forward fight with a map variation. The use of warp gates, the distance from it, and overall location determines how quickly the enemy fleet arrives to protect the planet.
The combat system is also straight-forward. You move all your ships on your turn, and the enemy does the same. This can sometimes take awhile to have the AI complete all its moves. Also, if you set yourself up perfectly, or get first strike and have the range to do so on the first turn, you can devastate the enemy. More than once, I was able to wipe out a strong enemy fleet on turn 1 before they even had a chance to attack because we started close enough, my vessels had good speed, and I had the right mix of wonders. Achieving this is not difficult either, which made this strategy viable and reused on other playthroughs.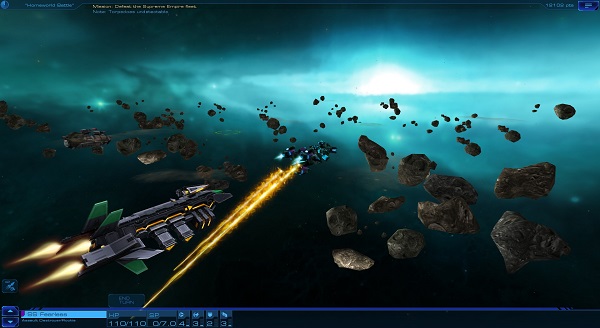 A ship can only attack once per turn and only use either lasers or plasma cannons even if you have the dual command wonder, which only lets you have another none-attack action, which can be firing a torpedo or launching fighters. Lasers are long range weapons but are extremely underpowered when compared to cannons. Once you enter close range a single cannon module can outclass several upgraded laser modules. The laser wonder helps this by removing the range penalty on lasers; however, the map layout will make it that plasma cannons will still be the better weapon.
There is also a battle card mechanic where the player gets battle cards that they can use in combat that tilt things in their favour like giving extra moves, slowing down the enemy, and the like. This system is random and also unneeded. I usually forgot these existed and blasted my way through missions without even checking what card I had access to. I sometimes would check only to see if I had a +2 move card so that I could finish the mission this turn or when a fight goes badly, something I can use quickly, but these incidents were rare.
One interesting aspect of combat is torpedoes, the player fires them but they do not detonate till the player commands them to and the option only becomes available at the start of the next turn. The mechanic is that at the beginning of your own turn you get to detonate your torpedoes or make them run their course with the option to detonate along the way. If the player abstains, the torpedo will continue on its journey at the start of the following turn. Torpedo blasts can also clear small asteroids and destroy other torpedoes; they also have a huge blast radius and do a lot of damage to several vessels.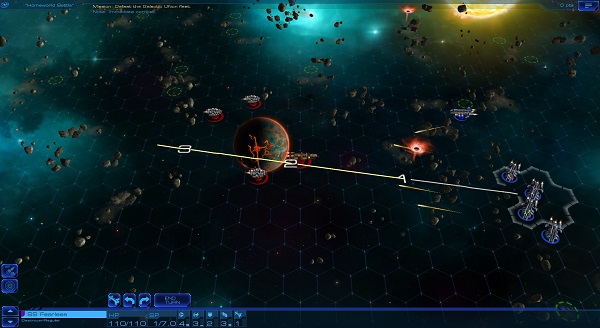 The game tries to give variations to combat by giving a topographical map of space. Aside from breaking any semblance of realism by the number of warp holes and asteroids all over the place, the maps make it that most of the time lasers and plasma weapons will be blocked by asteroids. This means the player needs to get in really close in order to get a straight line shot to an enemy ship, hence why plasma weapons will always outperform over lasers. When the player receives a wide open map that favors lasers it is not hard to move your ships close enough that plasma weapons will suffice and do way more damage. This is why the Tight Squeeze wonder is so powerful, because your fighters can fly through asteroids and thus completely ignore the map, and if upgraded heavily they can take down capital ships in one attack.
The other failing of the tactical combat is the AI and the repetitiveness of it, which is covered in the next segment.
AI and Replayability
The AI is capable enough on the strategic map, and at the higher difficulty levels it will aggressively pursue the many victory conditions which are always available to it. This can challenge the player. Also, since weaker AI factions tend to merge into stronger ones to overcome the player, the player may lose to a population or wonder victory easily if they are not careful. This sort of challenge is artificial unless the player also has all the victory conditions enabled too.
Tactically the AI is disappointing, and though there is a marked improvement from the lowest to the highest difficulty setting the AI seems to not know the game mechanics. At the higher settings the AI will still stealth stupidly thus automatically failing it or leaving the player an easy way to spot them without even needing to use sensors. Though the higher AI can dodge lone torpedoes it will be overwhelmed by a salvo that a player would know how to dodge easily.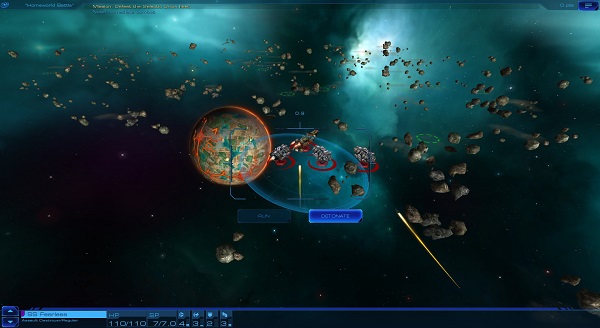 Another failing of the AI in combat is its inability to gauge the player's "pouncing" ability, which is to say staying away from the AI's main threat but letting them get close enough that you can obliterate them on the next turn. This is probably due to the AI not factoring the human player's speed and any wonder they have that can make "pouncing" more effective. This doesn't mean the AI can't be dangerous, it's just that it's easy for the player to circumvent it once they understand the system fully.
This creates the oddity that though the game can offer some challenge on the strategic layer, once you know how to beat the AI every time in tactical combat you can spin many strategic elements in your favour like taking wonders away from the AI or making sure no one gets over 50% till you get your victory condition.
Since the same tactics will work and the AI will become predictable, this makes the game lose some replayability. Also, it is not uncommon to see missions repeat on larger maps and even on smaller ones, and the player will start seeing a lot of repeats in a second playthrough. Sometimes, different missions will have exactly the same mechanic with only a minor difference in them.
After two playthroughs the player should have seen it all and probably experienced a lot of repeats. The game seems to work better in smaller doses than any prolonged playtime as even the largest map can be finished in a few hours with most games ending in less than an hour.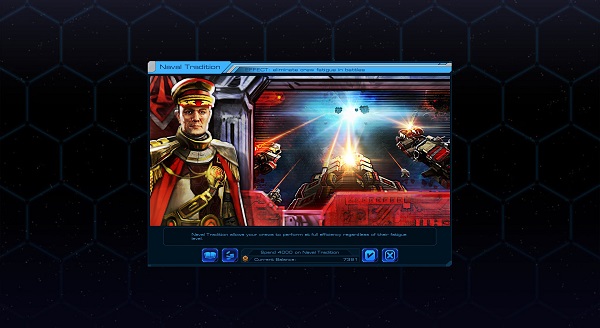 Cross Connectivity with Civilization: Beyond Earth
Playing Starships unlocks new start-up options and maps in Beyond Earth, while achieving things in Beyond Earth unlocks more options, missions, and planet types in Starships. This can be seen as a way to reward owners of both games but can also be seen like cording off content for those that only enjoy one of them. This is not too far fetch to believe as the games are drastically different. Despite Beyond Earth failings, it is still a serious 4X title and a full strategy game. Starships seems to be more of a game that would appeal more to a very casual mobile crowd who happens to be curious for a bit of strategy.
The demographic that would adore Starships more might not be interested in a full 4X title like Beyond Earth, while a 4X player might find Starships too light-weight to be worth their time. This could possibly be interesting for someone graduating into Starships and then be given an incentive to further step-up into a more complex strategy game.
The player can also import a game from Beyond Earth. This only preselects the number of opponents, your opponents, their affinity, your own affinity, and starting diplomatic stance. This feature is more gimmicky and doesn't really add much to it except giving a sense of continuity with a Beyond Earth game.
A lot of the new options given from Starships are more interesting than the ones available for the vanilla version of Beyond Earth. Considering how uninteresting many of the old start-up options were in Beyond Earth, these should have been in a patch that fixes that game and not as a bonus from another game.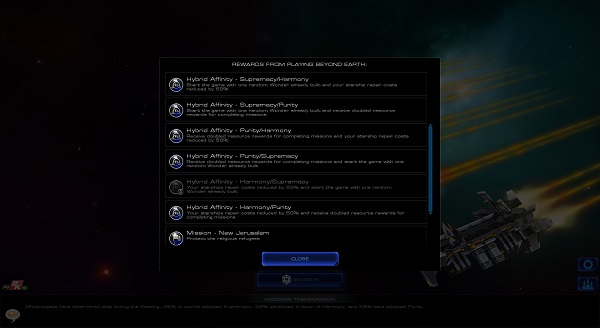 Final Verdict
I wanted to like Starships, and did not go in with high expectations. I was aware this was a light strategy title and that the tactical combat will not be any sort of heavy hitter either. I expected every aspect of the game to be simple. I also knew it was meant to be played more quickly. Despite setting my bar this low, Starships still manages to trip on the pole.
The lack of distinctiveness between lasers and plasma visually along with the laughably bad explosions stick out like a sore thumb. The AI's inability to use Stealth or Torpedoes, and properly counter a Torpedo barrage is disappointing. Seeing a Plasma heavy build that is also fast with fighters roll over any threats just adds more to the list. The overly simple tech system just compounds it all.
It also feels like the only challenge in the game really comes from the fact that the AI can use any victory condition no matter what. This means the player plays a game of denial till they achieve their own victory condition. It sort of becomes more like a puzzle on how to prevent the AI from winning, and even at that it isn't even a hard puzzle to figure out.
There are some elements of enjoyment in the game if you treat it as something you play while standing in the subway station or sitting down in a bus. A game you play to kill some time as you wait for your friend to finish-up in the bank or waiting in the car for someone. In this case, the game can be fun and is the ultimate casual mobile experience. However, if you're looking for a game to play in your bed while on your iPad or a game to play on your PC, this isn't it (unless you tab to it while waiting for the turn to process in another game).
| | |
| --- | --- |
| | Mediocre |
The Good:
– Art and some of the graphics are nice for a budget title
– Easy and quick to get into
– Cross connectivity with Beyond Earth can offer some novelty
The Bad:
– Weapon graphics are lackluster and explosions are embarrassingly bad
– Too quick to play, can get repetitive quickly
– Serious lack of depth and complexity
– Not for serious strategy players
– Cross connectivity can limit content in both games if you do not own both
Subscribe RSS
31 Comments
Related Articles:
Post category:
Game Reviews