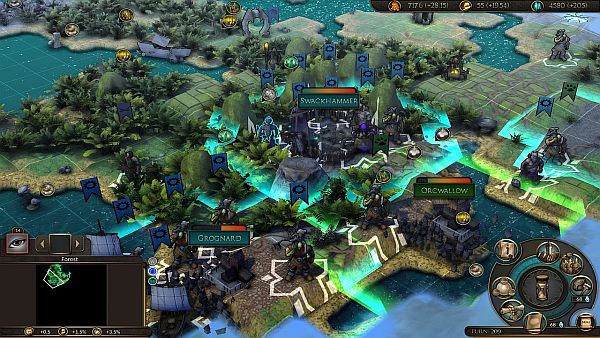 Back in 2013, Lucid Dreamers and Wastelands Interactive teamed up with just one goal in mind: to create Worlds of Magic, a true successor to the classic 1994 fantasy 4X game, Master of Magic. Two long years later, they have removed their game from Early Access and taken it into full release.
From the beginning, they have worked hard to involve the community in nearly all aspects of the design. Feedback has been provided by Kickstarter backers, fans on the site's forums, the Steam community forums, and by press previews like my early access impressions. With a development team seemingly so willing to listen, it would be nearly impossible to unknowingly release a game that was in any way unfit for duty.
It is therefore shockingly disappointing to see Worlds of Magic has now been officially released from Early Access as an obviously unfinished title, and overall as one of the most lackluster 4X experiences I've played in years.
Burning the midnight oil
My thoughts and opinions are formed based on many hours played shortly before and right after release, including several complete games with v1.0.1 (first post-release patch). Since then, the development team behind the game has been producing patches nearly daily with the latest, as of the time of this writing, being 1.0.4. I have spent some time with the game with 1.0.4, and in instances where I've seen improvements, I have adjusted my review accordingly. While the fact that the game is receiving nearly daily updates is a positive thing, it is also another sign, and there are many, that this game released far too soon.
A 4X Sandbox Experience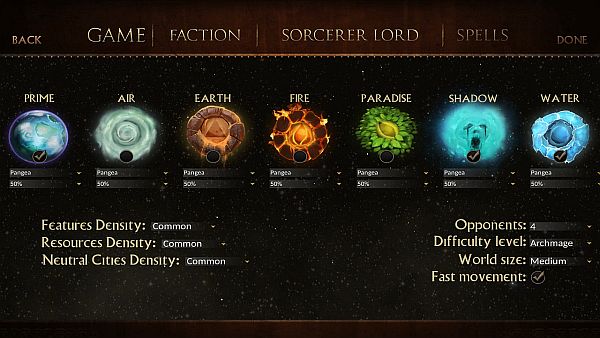 Worlds of Magic offers a pure 4X fantasy sandbox experience containing single player and hot seat modes. One of its most notable features is that it offers you the opportunity to pick and choose from a variety of planes of existence and decide which of these you'd like to include in your game. These planes, 7 in all, represent the different elemental planes, a shadow plane, a tropical paradise, and the prime material plane. Each plane has its own distinct look, soundtrack, unique locations to visit, and unique resources. This variety is something I've only seen a few times before, and it is certainly one of this game's highlights.
After selecting your included planes, your number of opponents, and your overall AI difficulty level, you'll be presented with the option to select your faction. There are 8 factions on offer, and each of these brings their own twists and abilities. All of them also have their own buildings, architecture, and units. It doesn't matter if your preferred focus is on might, magic, growth, or expansion, there is a faction that will have you covered. The most extreme of the factions is likely the Unhallowed, an undead faction that can forgo food, gold, and morale completely. Instead, they rely on a new resource called negative energy. Another feature unique to them is the ability to sacrifice their own citizens to rush production, which let's admit sounds a lot more fun than rushing it using gold.
The last aspect of setup is creating your own Sorcerer Lord. There are a number of preset lords to choose from and a customization option. With a custom lord, you can select different schools of magic and spells, different positive and negative traits, and a portrait for your sovereign. There are some interesting, and perhaps broken, combinations that can be created here. Combined with your faction choice, specializing your lord is where your strategy begins to take shape, even before the game has begun.
Manual Not Included
4X games can be a daunting experience, especially for newcomers. After creating your sorcerer and entering your first game, you'll realize you have a lot to learn. This is why a well written instruction manual, or even better a clear and helpful in-game tutorial is near essential for this type of game. Worlds of Magic unfortunately launched with an artbook, but not a manual, although as of v1.0.3 the manual is now included. The tutorial on the other hand still feels like, and perhaps is, an early alpha version. The tips provided are minimal, and in some cases outdated, such as when they refer to round buttons in the city construction screen that no longer exist.
There is also no in-game encyclopedia and there no clickable links to further explain certain concepts. Since concepts such as "Reflex Saving Throw" are unknown to most players, and the benefits to certain spells are vague or refer to other in-game terms that aren't explained, the lack of information provided in-game is an issue.
Exploring the 7 planes
Every time you start a new game, you'll be randomly placed on one of the available planes. You'll generally have 1 or 2 opponents sharing this plane, with an equal number sharing other planes. With a single city and a few units at your disposal, you are free to begin your journey towards victory. There is but one goal and victory condition, eradicate all enemy cities.
Unlike some 4X games, you don't start with a settler unit, but instead start with a city already constructed. This means that your starting city , which is random placed, will have a wildly different amount of available resources from game to game. You could be blessed with gold, production, and food bonuses right from the start, or not at all. It is also possible you've selected Unhallowed, a faction that doesn't need food, and have been given a starting city with numerous tiles granting useless food bonuses. Also unlike some other games, your city does not grow in size when it gains population, so resources just out of reach will likely remain that way for the entire game.
Exploring the map and its many locations with your armies is a key aspect of this game. The type and spread of these locations varies, as do their guardians, though the plane you are in does play a role here. As long as these locations are within your line of sight, you can click to see what types of guardians it may contain (though it seems it always contains at least 1 of each unit shown), and what types of rewards it may offer. These rewards range from simple gold or mana up to powerful units, heroes, artifacts, spells, or even levels in an entire school of magic.
Every engagement with a location proceeds in the same manner. Moving an army over the location allows you to interact with it. You will then see exactly what units you'll need to contend with and can choose to fight a tactical battle on the battleboard, auto-resolve, or retreat. These battles tend to take place on generic maps with no thematic connection to the location you are visiting. If you succeed, you'll receive a random assortment of rewards and potentially an additional reward dependent on the location. So, for instance, the location may expose a few far off areas on the strategic map to you, revive a dead hero, or provide a portal to another plane.
City Building and Management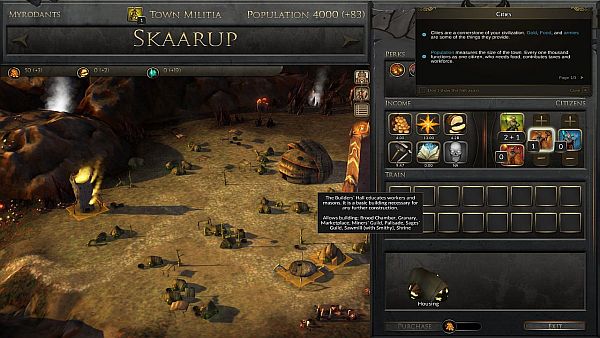 When it comes to city building, Worlds of Magic certainly pays a nice homage to its inspiration. One of my favorite things about this game is that every building you construct appears before you in the city view. Not only that, but every faction also has its own unique building artwork even amongst the buildings they share. This is a nice touch not often seen outside of Heroes of Might and Magic style games, and its inclusion here makes it obvious that they took great pride in this portion of the design. Additional effects such as floating buildings, billowing smoke, and flickering flames enhance this even further. Watching your cities grow over time is certainly one of the most aesthetically pleasing elements in the game.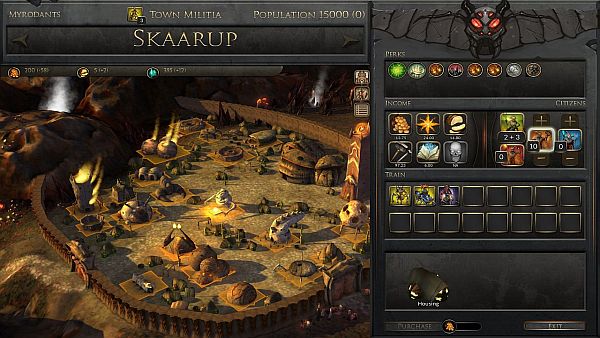 While factions do share some buildings, each faction also has a number of buildings which are specific to them. This number seems to vary dependent on the faction, but overall it feels like there is a good enough variety that build orders aren't always identical from faction to faction. Speaking of build orders, it bears mentioning that determining a proper build order or dependency tree is very difficult as you can only see what a building unlocks and not what is required to unlock it. The addition of a "Requires:" in addition to the "Allows:" would be very welcome.
A city's population will grow each turn dependent on its growth rate, and every time another 1,000 population is reached, a new citizen will appear for assignment. Your citizens can be assigned to farm duty, sometimes force-ably if the city would otherwise lack enough food to support the population. They can also be assigned to production duty to help speed construction and unit training. One final option is to assign them to generate additional research. In all my games however, I rarely if ever used this research option.
I have two gripes about the city population system, and these are both related to the game's unwillingness to provide necessary information to the player. The growth rate calculation is a mystery to me, and there is no tooltip to indicate how this number has been generated. Furthermore, the max population of a city is also hidden information for no apparent reason. Eventually, you'll just notice the city has stopped growing. It is frustrating as I know the game has knowledge of this information, and exposes some of it if you use the awkward survey tool they provide, but for some reason makes it unnecessarily hard to grasp.
Diplomacy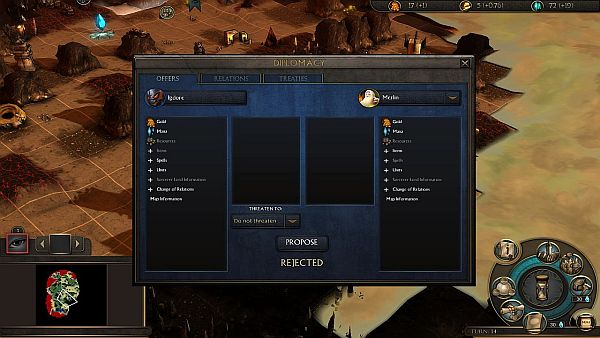 There was a time years ago when 4X fans were subjected to diplomatic systems that provided almost no information or feedback with which to make decisions. Yet, here we have this same archaic and hated system used again. Diplomacy consists of only a bare-bones portrait of the leaders, a list of things to offer or request, and a submission button. Your offers are "REJECTED" with no reason given, once again with no attempt at flavor or storytelling, and an experience that leaves you cold. I tried many times to get the AI to agree to even a non-aggression pact with me, but was unable to and had no idea what I could do or offer to change that.
Worse yet, the diplomacy itself is broken in several ways. You can use it to see a list of every unit your opponent currently controls. Wondering if he has progressed and built some super units somewhere? It's easy to see through the magic of diplomatic omnipotence. Then of course you have the AI's request for truce, promising riches in return for your agreement, and yet nothing appears in your coffers when accepted. Not that it matters, because declaring war immediately after is easy and without punishment should you desire.
Combat as a whole
Tactical combat is one of the most critical elements of a fantasy 4X game. While there is of course some room for deviation in this area, as some recent releases have shown us, there is also no need to reinvent the wheel when traditional tried and true systems work perfectly well. In this area, Worlds of Magic has once again elected to continue its mission to create a true Master of Magic successor through its use of a traditional turn-based tactical combat system.
It is painful for me to state this, as I am a huge fan of tactical combat, but combat is one of my least favorite aspects of this game. The system is nowhere near as polished as it should be. This criticism extends across the entire system, including the mechanics, the AI, the bugs, the spell effects, the animations, and even the sound effects. It's completely unacceptable.
Just Say No to D20
The decision made early on to utilize D20 system was a mistake. The D20 system is a roleplaying system developed for use with Dungeons & Dragons roleplaying campaigns, and is a rather high luck system overall. It involves the use of various dice denominations, in this case virtual dice, to produce results. As it is intended to do in RPGs, it makes combat feel far more about luck than it should in a strategy game.
For those who may be unfamiliar, D20 uses a variety of dice denominations ranging from 4 sided (D4) up to 20 sided (D20). This means for example that a 1D4 will produce a result between 1 and 4, a D6 between 1 and 6, and a D20 between 1 and 20. Some units also have additional guaranteed modifiers indicated as "+X", with X being a number that is always added to the roll.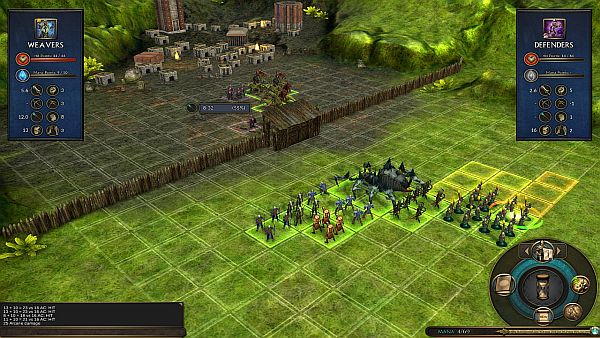 As in Master of Magic, in this game we have single army units made up of a number of "figures", or individuals. These figures each get their own attack roll based on their attack dice. For instance, a unit consisting of 4 figures each doing 1D8+2, will actually be doing 4D8+8. This means the amount of damage, if unmitigated, could range from 12 to 40. Well, not exactly, because I haven't included critical rolls that can further amplify damage, or misses, which could reduce damage from a figure to zero. As you can probably tell, the potential combat damage values can vary extremely wildly, especially when multiple units are involved. This can lead to weaker units sometimes actually being more powerful than much stronger ones, and makes the game feel more random than most.
This damage swing applies to spells as well. Spells when cast can be empowered with additional mana, which is a rather nice feature. Empowerment varies dependent on the spell, but typically involves adding additional damage dice or increasing its ability to overcome spell resistance. The resistance system is obtuse and feels like guesswork as you wait for the virtual die roll to reveal if your spell was resisted or not. Combined with the D20 damage system, this too left me feeling deflated on more than one occasion. Having a spell resisted or failing to do much damage despite many virtual damage dice being added and a lot of mana being spent is a huge letdown.
Moving Beyond D20
Random die rolls are far from the only issue with the combat and battleboard. Aesthetically, the game feels not just extremely dated, but unfinished. The look of the battleboards are lackluster, with very few containing any element of terrain or obstacles to contend with. The unit animations are slow and jerky and there is no option to speed them up (Correction: There is an option to increase animation speed, but only in the main menu options, not from within a game or battle). The sound effects, though often they don't exist at all, are of poor quality and often lag behind the activity they are accompanying. The unit artwork and spell effects both vary in quality, with some looking pretty good and others looking awful.
Based on my experiences with them, siege battles and city walls should have been cut from the game until a later date. There are so many problems with them that auto-calculated combat or relying on spells or ranged units is the only real alternative. I tried multiple units with wall scaling and none of them could cross over. Flying units work, but if slowed they can no longer move far enough to get over them either. You also can't attack the gate with normal units, which may be a design decision, but it seems like it should be possible to at least attack a wooden gate. Basically, if unprepared on offense, you must wait for the AI to decide to sally out. This involves them walking through the gate since it doesn't actually animate or open. On the defensive side, I once caused the game state to lock up by attacking a non-existent "settler" when trying to sally out my own gate. I've also had AI incapable of breaching the walls attack my city, turn after turn, pointlessly. If auto-calculated, the AI simply retreated and attacked so it could retreat again. If fought tactically, both sides could just click end turn repeatedly since the AI could do nothing unless I reacted.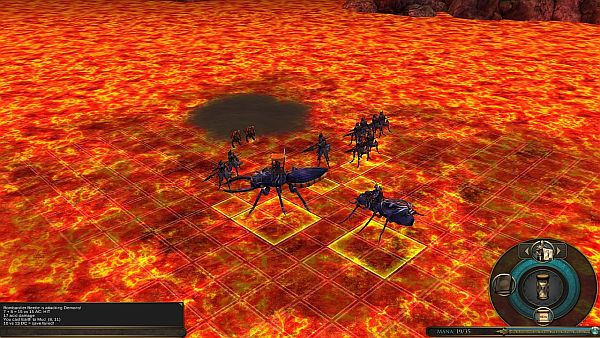 I've actually mentioned several combat related issues already, but there are oh so many more. Like the AI attacking my flying units it can't hit thus giving me free counterattacks. Enemy city enchantments that are nonsensical like wall buffs when they have no walls. Enemy city enchantments showing as owned by me instead of the AI in combat. Battles taking place with foot units in a river of lava or in the ocean. The AI shooting missile weapons at units immune to them. These are only the ones I decided to document, and I am absolutely certain there are many others.
AI
The AI in Worlds of Magic can be competitive, but only if it can pin you into your home city within the first 50 or so turns of the game. I've see some players cite the game as difficult, and it often comes down to this. If you are able to overcome its initial armies of tier 1 or 2 units, it will never advance to a point of becoming a more significant threat. Instead, the AI continues to build these armies of low tier units, garrisons most of them, and then surrounds its key/main cities with a whole bunch of weak single unit armies. This leads to mid-late game turning into the classic "clean-up" march to victory as there is no longer any challenge.
To its credit, the AI does quite well clearing out explorable locations. Given enough time, the AI will clear out these locations and presumably collect the rewards. I have seen some missteps, such as an AI overlooking a nomad camp containing 500 new citizens within 1 tile of its city, but I can forgive them that error since they do quite well in this regard otherwise. A player who waits too long to explore will find all but the toughest locations have already been completed.
I've seen two AI co-exist side by side peacefully on a plane for over a hundred turns before I arrive. Though the game is not 1 vs. All, my game sessions at both Wizard and Archmage difficulty made me feel like it was. It may be I was just fortunate, but I've not seen the AI really compete with one another. Thankfully, the AI was so passive that they waited for me to arrive with my massive army stack on their plane, so this wasn't really an issue.
After learning how to overcome the AI's initial rush, I found I could no longer lose the game. On Wizard difficulty, I created a single city that was so populated and enchanted that it supported a single powerful unit stack that successfully razed every other city across the planes. On Archmage difficulty, I instead conquered all of the AI's holdings on my home plane, and then razed the cities on every other plane once again with a single stack of doom. In reality, I found this second game no more difficult than the prior Wizard difficulty game. At this point, I find the game holds no real challenge or threat.
It's Clearly Unfinished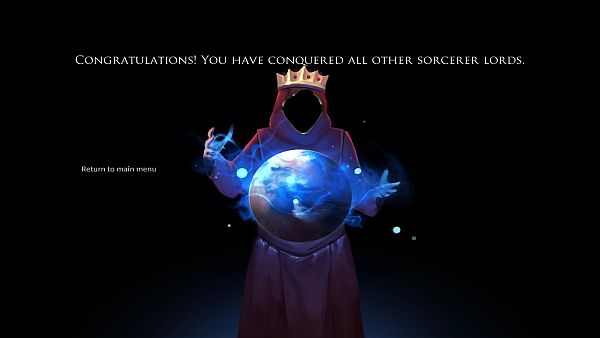 The number of issues still present are numerous and spread throughout all aspects of the game. I've experienced crashes on multiple occasions. I've had a city whose gold value is being modified by events to the tune of -2.328306E-08. I've also experienced, more than once, an event pop up stating I've been granted a new neutral town, and then I never get the mentioned town. Perhaps the clincher for me was the reward for winning the game after many hours of play. A lone static image that says "Congratulations". It's not even custom tailored to my faction. For an early access budget title, this might be acceptable, but it's simply not in a full price release.
There are moments within Worlds of Magic that clearly show a love for the product and genre. Moments like taking in how far your city has developed, traveling to a new plane and experiencing the unique soundtrack and ambiance, and realizing for the first time that rushing your undead faction's building just did something unique and sacrificed some people.
Still, even if I discount bugs entirely, I struggle to find any reason to recommend this over its competition. It is simply an old world game relying on nostalgia in a time where bigger, better versions of the same type of game have already come along.
| | |
| --- | --- |
| | bad |
The Good:
– Faction diversity is present in both city and unit design
– The 7 planes each offer a unique aesthetic both visually and aurally
– Watching your cities grow into something grandiose is rewarding
– Feels a lot like Master of Magic reborn
The Bad:
– Far too many bugs for a full release
– Combat system feels clunky both mechanically and visually
– Diplomacy is vastly underwhelming for a modern 4X game
– Lack of information makes specific game mechanics hard to understand
– AI is a one-trick pony and fails to challenge players beyond the early stages
– Exploration lacks a sense of excitement as there are few surprises
– Fails to innovate or expand the genre
Keith Turner, also known as aReclusiveMind here on SpaceSector, has been an avid gamer ever since he first laid his hands on a Commodore 128 in the mid 1980s. He enjoys multiple computer game genres, but his primary interests are in deep strategy games, 4x games, rpgs, and action rpgs. He enjoys writing and hopes to contribute with additional reviews, previews, and informative AARs to the community. See all Keith's posts here.
Subscribe RSS
72 Comments
Related Articles:
Post category:
Game Reviews