Ok, I thought it was about time to stop playing Distant Worlds: Legends and start writing its review. The review is a bit long because Legends brings many new things to Distant Worlds and I wanted to make sure I didn't miss anything major, good and bad. Well, most of it is in fact very good, let me advance that already.
Legends is Distant Worlds' second expansion pack, after Return of the Shakturi, released 11 months before and Distant Worlds original 9 months before that. Distant Worlds is a single-player 4X real-time space strategy game for the PC.
Both the devs and the community have been very active lately and a couple of days ago Matrix Games and CodeForce released Legends' first official patch (v1.7.0.6). After trying that and after playing quite extensively for the past 2 weeks I'm now finally ready to properly review Legends. So, here we go.
What's new in Legends?
The major additions and changes that were promised (at least that I could take note before release) were:
– Leaders / new character system
– Influence spheres
– New ships models (around 600!) with better graphics
– Ability to track where your ships are headed (ship vectors overlay)
– Potential colonies, scenic and research locations shown on main map (more overlays)
– Expanded technology tree (e.g. carriers, new planetary facilities, wonders)
– Race-specific events and victory conditions
– Improved fleet management and automation, including fleet postures
– Improved modding support, including full race and character modding
– Improved refueling system (more intelligent fuel management)
– Improved diplomacy system with refueling and mining rights and immigration policies
– Improved performance and sharper graphics
I can confirm that's all in Legends plus these other interesting new additions:
– Research events (setbacks, research crash breakthroughs)
– Declarations of war now shown on main screen as galactic news
– Elegant new race-specific victory conditions system
– Resources events with new resources found on planets
– Catastrophe events and more menacing space creatures (the dreaded Silvermist)
– Races now have key resources that provide specific bonuses
– We can now see where ships are headed (with a vector, not just coordinates as before)
– Custom ship designs are now signaled with a different color
– You can set the game's difficulty level
Characters
The character system is Distant Worlds Legends major improvement. Characters are special people who specialize in different aspects of your empire like economical, social, intelligence or military aspects. You have Embassadors, Colony Governors, Special Scientists, Intelligence Agents, Troop Leaders and Fleet Leaders. These characters are varied in nature and you can tell that your play style does influence their appearance and progression. For example if you negotiate often in the diplomacy screen you get diplomacy skill increase on your existing Embassadors and new Embassador characters also tend to emerge more. At least I experienced that.
Characters have positive and negative traits which makes them feel realistic and fun to play. You have a leader, only one; that's you. If you don't like yourself much, or other characters, you can dismiss them and new ones will eventually be generated. Some character traits are unknown at start so you have to put your character to the test before discovering their abilities. This is a very interesting and fun detail, since it involves a surprise factor.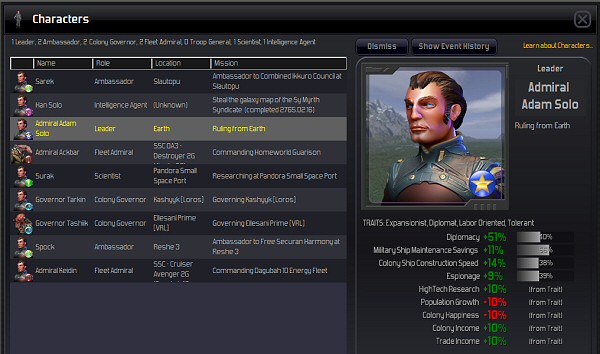 Your characters level up with time, according to their past events (which are logged by the game for you to consult at any time). It's really very cool to see your agents for example get specialized in sabotage or espionage due to the fact that you keep sending them to those kinds of missions. If they keep succeeding in their missions they will continue to level up those skills which makes the intelligence system much more fun and immersive to play now. Moreover you can't recruit as many agents as you want as before. Agents now emerge so you have to take care of them much more carefully than before. I particularly prefer how the intelligence system works now.
In summary the Legend's Character system is what I was expecting it to be and more. It is really a new experience to play Legends over Return of the Shakturi just because of that believe me. Characters provide extra strategic choices, gameplay depth, personality and immersion. And the expansion would probably be already worthwhile just because of that.
But there's plenty more
Your colonies now project influence spheres. At first I didn't quite understand what those were really about, but after playing Legends for a while, and after going through the galactopedia and the manual (both very good by the way), I finally got what they're real aim is. By the way, in-game documentation is very good with links to the galactopedia spread all over the different screens to assist you in case you have doubts. I guarantee that you'll have doubts many times :)
Planets project these influence spheres based on their strategic value (population and development level). The more of it they have the bigger the spheres will be. Inside your sphere of influence is all the territory that the other races see as under your control so they will avoid building mining stations and colonies inside your space. Due to this new feature you can now grant mining rights to the races you want, another cool new feature that deepens diplomacy options even more.
In addition to mining rights you can also decide to offer refueling rights to your neighbors, for the ones you're not in a mutual defense pack already that is. Another nice one.
Another interesting new diplomacy feature is the ability to set immigration policies on your colonies. Distant Worlds allows several races to peacefully (or not so peacefully) co-exist in the same planets, which is a good feature in my opinion. In Legends you can now set policies to influence the way immigration works. For instance if you don't want a particular race to be present in your colony you can set it up for relocation and slowly your private sector passenger ships will transport those races elsewhere (you can set immigration policies empire-wide if you need). If you want to enslave a particular race for economic bonuses on a colony you can also set that up, among other options like don't accept a particular race completely at a colony (or colonies) or decide to slowly exterminate a particular race. Enslavement and extermination have a strong negative impact in your reputation (the way other races see you).
An old negative aspect of Distant Worlds has finally (and thankfully) been addressed in Legends, which is the way ships looked. This was a big complaint of mine in Distant Worlds since the beginning, as you can judge by my Distant Worlds original review. Ships looks were really very poor and unappealing. That is no more! With the help of a mod fan (nicknamed WoodMan in the Distant Worlds forum) the devs have injected 600 (yes, 600!) new ship models. Ships are now sharper and much more interesting, however there's an option that allows you to use the old models if you prefer.
Research and the tech tree also had some improvements. There are now new weapons (rail guns that partly bypass shields); carriers (a special type of ship hull class that is suited to hold fighters); new planetary buildings (like the terraforming facility that is used to increase the colony development after a major catastrophe). There are also wonders now, Sid Meier's Civ style. Below you can see 3 of them. From left to right you have the Gizurean Universal Hive, the Rusan Technology Installation and the Shandar Lava Palace Resort.
Wonders are special structures that provide significant bonuses to the race that finishes them first and are unlocked by researching required techs. There are 15, which vary in development, research, ships speed, defense, among other bonuses.
There are also two new nice twists to research that made it even more interesting. Now there are research crash breakthroughs and research setbacks events. The former causes a tech to breakthrough much faster, the latter causes an entire research on a particular field to be lost. Scientist characters also play a role here. If you happen to find one with the Creative trait your chances to breakthrough techs increase. Here is another example of good association between characters and gameplay.
Refueling, another headache from the past has now been further improved. In order to solve past annoyances which required too much fuel micromanagement we can now set a % that determines how many (a % of) ships in a fleet need to be out of fuel before they 'assemble', meaning they will get more gas before attacking (\Edit this only works when your fleets are automated). This is a VERY important implementation. In DW previous installments it was very annoying to witness that sometimes your fleets were crawling because of a single frigate having no gas. Now if you set a low % of refuel order before attacking, that fleet will refuel at the nearest refuelling point before embarking on its attacking plan. This is another big plus.
There's plenty more meaningful events added in Legends. There are now the new race-specific events. For example a race enters in a biological cycle where it will behave differently, more aggressively or friendlier. There's the new catastrophe events. For example I had a major earthquake in one of my major colonies that decreased the planet's quality significantly and I also lost a good amount of population. There are resource events now. I was surprised and very pleased to see this new feature. Now your colonies may occasionally discover a new source of a particular resource not found before. This seems to be a particularly rare event (it only happened to me once) but it is a nice new touch. And there are also the new research events (crash breakthroughs and setbacks) that I already mentioned above.
A word on the new victory conditions system
Till now Distant Worlds provided only the traditional dominance, conquest, time types of victory conditions. You reach a certain percentage of population, or number of colonies and you win. Although not a complete innovation in these types of games Legends introduces a new and more elegant victory conditions concept: races have their own victory conditions. These are specific goals that each race has to obtain to achieve victory. If you play with the humans you must achieve more mutual defense pacts, earn more income from tourism and trade than other races, for example. If you're an Ackdarian you must possess the biggest capital ship of the galaxy and possess at least 50% of all ocean planets (Ackdarians are amphibians). And so on. Then there are many other interesting goals like the need to destroy most enemy troops (of the Boskara), enslave 25% of other races present in your colonies (of the Dahyut), build the Universal Hive Wonder (of the Gizurean) or start the fewest wars in the galaxy (of the peacekeeping Ketarov).
There's really plenty of different flavors and variety on these goals, and that's why I thought this new victory conditions system would deserve a section of its own in this review. The way victory progress is calculated and measured it's also very interesting as you can see below.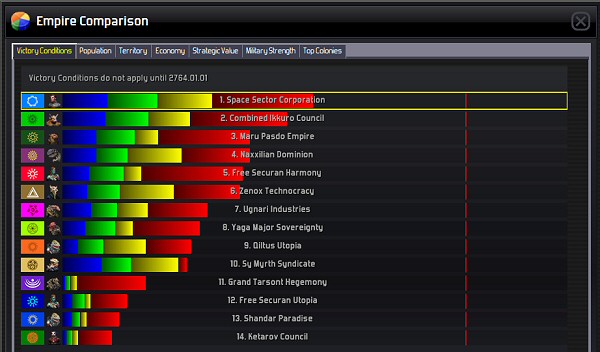 Depending on your victory conditions setup at game start you will see victory progress which includes both the traditional and the race specific victory conditions. In red you can see the percentage of victory progression with respect to the Humans specific victory conditions. In blue it's the economies' %, in green the population and in yellow the territory %. This is all merged into a global victory progress bar which makes it very easy to grasp who's in the lead. The first race to achieve the red line boundary on the right wins. You can set the weight of the victory conditions boundary now also. Default is 80% but you can be stricter or looser on your approach to victory. You can disable race victory conditions if you want and go only with the traditional population, territory, time or economy goals.
User Interface improvements
The User Interface has always been Distant World's Achilles heel, its major weakness. The original game's UI was inappropriate to play a game of this magnitude. The game's potential was there already but without a good UI, sadly, we couldn't experience enough pleasure playing the title. And unfortunately players can't play potential alone yet. Return of the Shakturi solved most of the UI problems by introducing quick action buttons and the empire navigation tool which were surely most welcome.
Legends improves the UI even further, to the point where finally I have no major complaints about it anymore. For instance, now you're (finally!) able to track where your ships are going by clicking on them or by turning on the ship vectors overlay, which will show you where all your civilian private ships or your state controlled ships are headed. Previously you could only guess where most ships were headed (particularly civilian ships). You would need to check the ships coordinates to know the ships' direction. Clearly this was insufficient to say the least. This is now fixed and the ship overlays and vectors shown when you click ships are extremely useful features to have and another big plus for Legends.
Another interesting new UI feature is the ability to track colonies, scenic locations and research locations directly on the main map through overlays highlighting. Previously you could already see those special locations if you accessed the Empire Navigation Tool (a menu in the left side of the screen) but now you can switch on/off map overlays that show you where those places are with a circle around them all together. This is a very interesting and damn important feature to have during expansion planning since we can now zoom-out the map and look into the exploration's big picture. Instead of going one by one we can now see everything glowing in the map which eases exploration and expansion by a significant order of magnitude.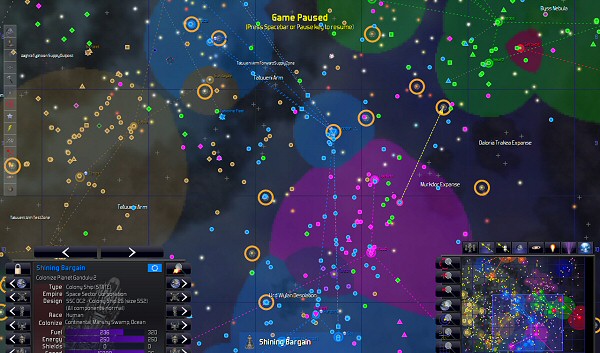 Another simple, but very, very important new feature is the ability to track who declared war to whom in the main screen without having to go check that in the diplomacy screen every 5 turns or so. The devs were listening, as always. Simple thing to do, big plus.
The first Legends' patch solved many fixes and improved the game's balancing, judging from the patch notes, but it also added a very nice little tweak to the design screen interface. It's now possible to easily distinguish your custom designs from the default and AI made ones. A simple new addition, but all helps.
Last but not the least fleet management is also significantly improved. There are now fleet postures. These are orders you can give to your fleets for them to act autonomously. You can order your fleets to attack or defend and you can set the range to which they will defend your territory independently from your actions (system, nearby systems or a whole sector away from the home base you set). This is also a VERY important new feature, specially against pirate raids or space monsters that appear out of nowhere (or other alien races as well). Many times you would have a fleet stationed in a planet and a marauding pirate would assault your mining stations nearby and the fleet would just seat there. Now you can set these fleet postures and not worry about minor skirmishes. Another big plus!
AI and automation
I don't know if the AI is competent enough, I probably would need to play Distant Worlds Legends in full automation for a month straight to know that for sure but what I can tell you is that after dozens of hours of play (through DW original, RotS and now Legends) the AI feels competent. Diplomacy interactions are a good example of this. Negotiations feel appropriate, there are no WTF moments whatsoever. Overall diplomacy feels "authentic" and appropriate.
An important aspect about Distant Worlds automation is that if you like to play a higher-level strategy game style you can! Just turn many of the game's aspects automated (for example ship design, colonization, diplomacy or espionage) and concentrate on other areas you enjoy more. The beauty of Distant Worlds is that it allows you to play in many different ways so you end up with many kinds of experiences and play styles.
The game is immensely complex so for many of you folks just starting now it is recommended that you leave automation on for some aspects of the game while you concentrate on others. I suggest you do this at least at the beginning, then you can slowly start switching off automation options one by one and start getting your hands dirty. I play fully manual now with some occasional suggestions left on and I can guarantee you that it is more than possible to control everything and have lots of fun with that at the same time. Even for an RTS. You just need to pause a lot to review your planning carefully from time to time and you'll be fine.
Migration is 100% controlled by the AI and it works great. You can see your private sector moving people from planet to planet (from less desirable to higher desirable places) and also from other race's planets to your own and vice versa. This feels realistic and it is at least fun to watch (since you can't control anything that's part of the private sector).
Your freighters are also 100% controlled by the AI. Freighters are the economic backbone of the game. They move all kinds of resources, luxuries to where they're needed for construction, planet development or trade. There were some issues with freighters running out of fuel constantly in the past, going to the other side of the galaxy or moving around pointlessly in the game, but now, after the first Legends patch, that sort of things seems to have been finally resolved.
The bad, the not so good, and some suggestions
Let's start with the worse thing about Legends, and Distant Worlds in general. Font sizes, blurriness and color contrast are a serious issue. It's not just me, many people are complaining that some text in the game is very small and blurry/unfocused to read in places (tech tree and diplomacy screen in particular). Sometimes we can't even distinguish a '+' from a '-'. This is somewhat serious. Click on the image below to see an example of this (tech tree description text is very small and blurry).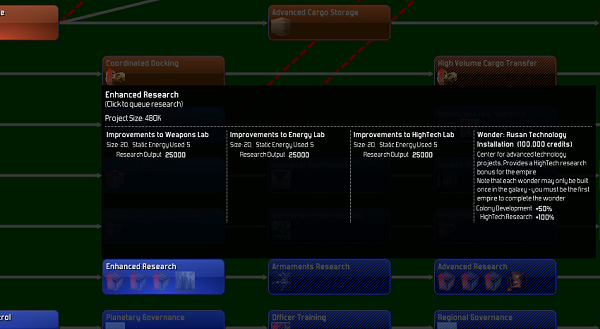 This font size issue is not really game breaking or anything like that, but unlucky folks running this game on higher resolutions displays than the standard resolutions can get in trouble. Sometimes I have to lean on and put my glasses on in order to read stuff. Many people are complaining (myself included), others seem to be fine with it. I don't know what's causing this or how it can be fixed, so consider yourself warned. This is a serious minus.
Also, something that is really still a bit of a downer is that, although there are plenty of game setup customizations for you to choose from and many races to pick from you can't yet customize your own race from scratch in Legends. This is surely one of the things that the devs should focus on providing next since it should not be too difficult to implement from what they have already. This is a slight minus.
When we give mining rights to a race the AI should acknowledge that. Currently they don't say anything like "thank you" etc like with other gifts or treaties. It's a small thing however. And we can't request mining or refueling rights either, races are only allowed to offer them. In my opinion this is a slight minus also. The refueling and mining rights concept seems to be a bit rough on the edges still.
Another important thing to point out is that a couple more portraits for the characters of each race would surely be a nice thing to have. At least to have a small degree of variety. This is really not a serious issue but more character portraits would help with immersion.
Now some suggestions
When designing a ship it should be possible to increase or decrease the number of modules (or scrap them completely) in a faster way. Right now you have to click constantly to increase or decrease the number of components added/removed. It should be possible to edit the number of components directly if required.
Ships and facilities (the little icons on space ports and planets) could show build progress (as with a fill color that gets filled up as ships get built). This would be a very nice feature to have for colony ships and space ports construction in particular since they take A LOT of time to build. Instead of going through screens and menus we could just check build progress in real-time. That would be a great new feature since I lose a lot of time with building progress checking.
Another suggestion would be to show how many resources we have of a particular resource when we click on one in a planet. This would enhance exploration smoothness. That way we could know the number of resources we have in a nutshell without the need to go to the expansion planner. This would avoid breaking the flow of thinking also when we are carefully reviewing which systems and planets to colonize next.
You could have a way to store map snapshots. There are many levels of zooming and sometimes I find the need to capture a map (zoom and position) to restore later by pressing some hot key. I keep centering my maps on particular places all the time after being "distracted" by some event. This feature would surely be nice to have.
Further scattered thoughts
Another very interesting aspect about Legends is that you can actually, and surely be able to, win games peacefully if you want. This is not so common in 4X games but Distant Worlds manages to accomplish that for you if you want.
There's a couple of new great music soundtracks (to add to the existing ones which were already very good).
You can now set the game's difficulty from very easy to very hard. This will affect the amount of income generated by your colonies. Play very easy and you'll earn more income than the other races, play very hard and it'll be the other way around.
There is no multiplayer in Legends. Distant Worlds' games are currently single-player only.
To play Legends you will need to own both the original Distant Worlds game and the Return of the Shakturi expansion. So, the all set, for the ones that don't own the previous installments, will cost you around $63 (if you exclude VAT or other taxes required in some countries). It may seem a bit pricy but when comparing with some of the so called AAA games (that are "supposed" to be very good) that cost you from $50 to $70 for a single installment it doesn't seem so much. Legends is to 4X space strategy fans as Skyrim is to RPG lovers, so the price doesn't really shocks me.
Why wouldn't Distant Worlds Legends be worth that much? Some will argue that Distant Worlds is a niche players-only game and that the price doesn't really matter. I disagree. Legends is good enough to be appreciated by many more people other than the genre fans and, in my opinion, is totally worth the price.
Bottom Line
A very long review for an expansion pack wouldn't you say? Yes, Distant Worlds Legends has it all. Powerful enough automation options for people who don't like to micromanage and plenty of detail and depth for the micromanagers to be entertained for many months. What you can't say is that there's nothing to do in Legends. Boredom is to be found elsewhere.
The new character RPG system re-emerged Master of Orion 2′ leaders concept. DW Legends devs were wise to take the best of it and perfected it. Really, Distant Worlds Legends is what Master of Orion 3 should have been.
For people who never played these kind of games, that is to say: 4X, grand-scale, highly complex, space empire building games then Distant Worlds Legends is the perfect game for you to make your entrance. Don't be afraid if at first you feel overwhelmed, I'm sure many of you will. Just go through the tutorials, the manual, start automated and then progressively turn-off automation and slowly you'll get the taste of what it is to be in control of a space faring civilization. The Distant Worlds forum community is also a very helpful one so they will help you move around if you have doubts or need advice, for sure.
For the hardcore 4X space fans (that didn't know much about Legends yet and didn't play it yet) I don't have much to say to them really. Buy it NOW! Most of you have it already anyway.
In my Distant Worlds Legends preview I stated the following: "In my opinion Distant Worlds Legends shows enough potential to be running for the best 4X space strategy game ever made (Space Sector: Adam Solo)". I'm not disappointed. After playing Legends for a while now it really is what I thought it would be and much more.
I consider myself fairly unbiased about the game. Yes, I'm a fan of these types of games but the ones who know me know that I value honesty and sincerity. Take into account that I gave a 5.0 score out of 10 to the original Distant Worlds when it first came out. Also, if you need further proof of sincerity just check my Sword of the Stars 2 first impressions article. So, take that into account when you make your judgement.
I finish with this. If Master of Orion 2 was the 4X space strategy gaming reference of the nineties, then Distant Worlds Legends is the 4X space strategy gaming reference of the early XXI century. What are you waiting for? Buy it now!
| | |
| --- | --- |
| | excellent |
The Good:
– Huge universe full of things going on (alive universe)
– Good automation options let the player decide where to focus on
– Very rich diplomacy options. Negotiations feel right
– Immense depth provided
– Good game immersion. Not "just-one-more-turn" feeling but "just one-more-hour"
– Music is extraordinary
– Character system is very good providing cool new RPG elements to the game
– Appropriate User Interface allows the player to have full control
The Bad:
– Font sizes are inappropriately small and blurry in places
– Can't customize races from scratch
– The refueling and mining rights concept seems to be a bit rough on the edges still
– A couple more portraits for the characters would be nice
Subscribe RSS
132 Comments
Related Articles:
Post category:
Game Reviews