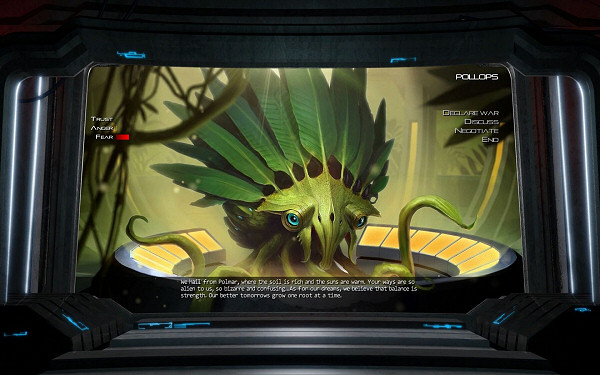 It was not that long ago that I was gazing longingly at the "List of Sci-fi/Space Games You Can't Miss In 2012″ and wondering how I was going to find the time to play so many amazing 4X games this year. Now, as the summer starts to wane and we rapidly approach the 4th quarter, I have to let out a sigh of disappointment at what the year has become. A year that was once filled with promise for me has become a year that I personally would probably rather forget about.
It is with the mindset of a jaded, pessimistic, disappointed, and bored strategy gamer that I have approached one of the last titles remaining on SpaceSector's 2012 list. It's a game from a brand new studio, and it's being created by a brand new developer who hasn't ever completed a game before. All of the signs, on the surface, would indicate that it is doomed to be a failure. Stop! I say to you, my fellow disgruntled strategy fans, and do not dismiss StarDrive as just another 4X game. What we have here is perhaps not only the savior of sci-fi strategy in 2012, but also the makings of what will be a classic for years to come. Read on to dive into our lengthy beta preview…
A "4X Action Strategy" game that even turn-based players can enjoy
StarDrive, a PC game being developed by Zero Sum Games, is described on its official site as a 4X action strategy game. It's an appropriate title, but I want to make it clear based on hands on experience that this is not a game turn-based players need to fear keeping up with.
Yes, StarDrive is a real-time 4X game with action elements, but it is also a game that can be played the way you want to play it. If you want to pause the game constantly, get your affairs in order, and then unpause and watch it play out for a bit, you are able to do so. Perhaps instead you like a faster pace and want to keep the game going constantly, pausing for perhaps very few things like designing ships. That's not a problem here. What they've done here is created a great way to play a real-time game because, unless you choose to allow it to, it never feels too fast paced to keep up with even for a traditionally turn-based MoO II fan like myself.
Don't like to micromanage? That's not as big a problem here either. StarDrive also has several automation options, from colony governors who can manage the food/industry/research sliders and buildings, to more abstract functions like auto exploration, auto colonization, auto projector creation (creates starlanes for you), and Automatic Freighters (builds transports and shuttles food, people, and industry around). While not quite to the Distant Worlds standard of automation options at this point, StarDrive is certainly offering a lot of ways to help reduce the constant maintenance of running a growing empire.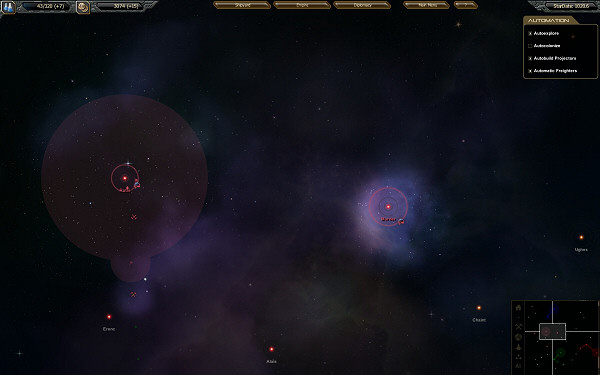 Some of you might recall hearing in some of the very first footage of the game that "at all times, you have direct arcade-like control over your flagship." I want you to understand that while this game can be played in an action-oriented manner, it is again by no means required at all based on my experiences. If you want to lead a fleet of your ships into combat personally, and fight a particular battle, or perhaps all battles, as the admiral and pilot of a ship you designed in action-oriented, yet tactical combat, you certainly can.
You can manage your ship's facing, it's firing arcs, and yes firing arcs play a big part here, and it's energy/ammo usage as you fly it around arcade style using WASD and your mouse. You can even pause the game at any time to reassess the situation if you need to. If, however, you are terrible at action games and would only end up dying a horrible death with manual control over your newly minted ship, as I have done more often than I wish to speak about, you may by all means allow the AI to control your ships in combat by simply not choosing to take control of one of them. I'll speak more about combat in a bit though.
Making a list, and checking it twice
As 4X gamers, we tend to look for specific features in a game right off the bat. Though we don't, or at least I don't, literally keep a checklist of features on hand to compare against, we all in some way after hearing about a game do a mental comparison of the game against our wants and needs. I'm going to quickly run down the list of things StarDrive includes as of now. I will preface this by saying that in this beta stage some of these elements still need some love and care by Zer0sum games, but they are already in-game and usable.
Who you are and where you live
Race creation and customization is here and is reminiscent of MoO II. Choose one of the 4 races currently in the game (8 are planned by release) and then customize all of the abilities as you choose using a positive/negative points system. You can make a savage race of militaristic imbeciles, a smart race with a huge homeworld who don't like ground combat, or even a timid bunch of lazy gluttons if you're looking for a challenge. You can rename the race and its homeworld as well. In essence, everything is unique to your design except your race's portrait and its hull designs based on what I've seen. Speaking of race portraits, the race portraits, which are really animated videos as well, are the best I've ever seen in a sci-fi 4X game. I don't care too much about artwork or graphics in a strategy game, but I have to comment that the artist behind StarDrive is absolutely fantastic.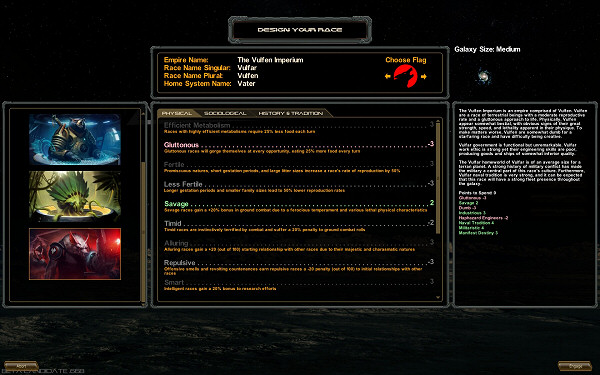 StarDrive has tile-based construction and colony management. Whatever you build, you hand place into one of up to 35 (7×5) habitable squares. Depending on the quality of the planet, you may need to first place biospheres to make uninhabitable squares usable and to increase you planet's maximum population. In addition, you will also build and place troops on these squares in preparation for ground invasions. I'll discuss more about that a bit later. All in all, it does what it needs to do, although I've not come anywhere near filling all of a planet's squares up with buildings yet. I'm not sure there are enough building choices to even fill that many squares based on what I've seen. There are some weapons to help against ground invasion, so I suspect filling remaining squares up with those may be a good idea in the long run.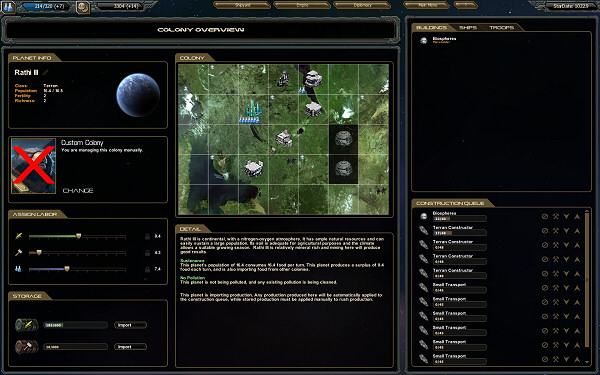 Regarding colonies, I want to add that finite resource management has been discussed a few times on the forums, and a mineral value is present on the planets currently. I haven't noticed an impact yet, but I believe the eventual goal is to allow for the strip mining of planets to the point that they become devoid of resources. There are also plans to make this a toggle-able setting.
Sailing through space with your own custom rides
I know a lot of people are not fans of star/space lanes, and you need to know that StarDrive does not use pre-made star lanes. Ships have no restrictions on flight in open space beyond their fuel capacity, and even then, they still fly, but they go horrendously slowly. You can, however, create your own space-lanes by either hand placing, or checking the box in the Projector automation option I mentioned earlier. A subspace projector creates a sphere of influence around it and provides for faster travel and fuel-less travel within its sphere if you choose to create them.
In StarDrive, it's important to note that you won't just have warships flying around. You'll be transporting colonists and goods from colony to colony quite often with freighters and colony ships, and with the right technologies, you'll even be rewarded handsomely for doing so. It is therefore quite advantageous to build these travel lanes between your systems. Thankfully, if you check the box of the aforementioned automation option, one of your existing colonies will automatically queue up the creation of these space lane generators between your colonies and any newly colonized planets. At least, that's how it usually works. The game had some issues during my time with it where sometimes it just didn't work as advertised. This is particularly noticeable when you load a saved game after taking a break or suffering from a crash to desktop.
Ship Design is an integral part of StarDrive. If you know anything about StarDrive coming into this preview, it's likely something to do with its ship design system. I've included a screenshot to show you a few of the frigate designs currently in-game.

As you can see, they are all shaped differently and have different amounts and placements of the letters E, I, O, and IO. This is very important because each module can only be placed in particular locations on the ship, and each module has a particular shape, size, and firing arc as well. Some weapons for instance are 2×2, fit in an I or IO slot, and can have their arc of fire rotated to any angle you choose. Others might be 3×2 and have an unchangeable forward facing arc. Still others might be 3×1, only go in O slots, and contain guidance equipment that tracks targets automatically.
Some ships and races are likely going to be better doing frontal assaults with their ships, while others may have enough arcs of fire and mount points in their design to use broadside attacks or even to defend their rear from attack. The best part about this is that beyond your chosen race's hull shape/configuration, you are the architect of your war machines, and you designate where your ships strengths and weaknesses will be. I've included a screenshot of a fully armed "capital" class ship (3rd largest in size), showing all of its arcs of fire, should you want to see an example of how customizable things are. Every one of those yellow arcs can be pulled to face a different direction if desired. I've seen this thing in combat, and man, its fun to watch!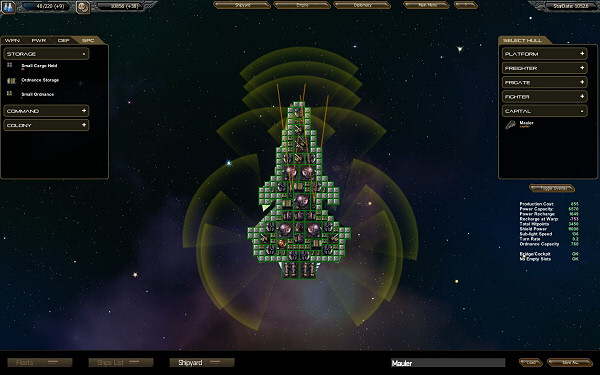 Beyond weapons in ship design, you also have to keep in mind all the little things that matter. Like a cockpit or bridge for your captain and crew, for instance. You'll need an engine to actually make it mobile. These go in the E slots. You'll also need a reactor to power your engines, energy weapons, and perhaps even shielding. Don't forget about fuel, you'll also want some of that. Using weapons with physical projectiles? You'll want to pack on some ordinance (ammo) as well or else you'll be in for a surprise when you get into combat. You can avoid ordinance if you instead want to use energy weapons, but you'd better make sure your reactors can keep up with them. Let's not forget missile launchers, fighter bays, assault shuttles, marine barracks, cargo modules, colonist transport modules, and a whole host of other modules either.
In addition to ship design, you can also design defense platforms. I've not spent a lot of time with these yet, but they do exist. I'm not sure how large they can get though, as the ones I have seen are quite small and limited in size.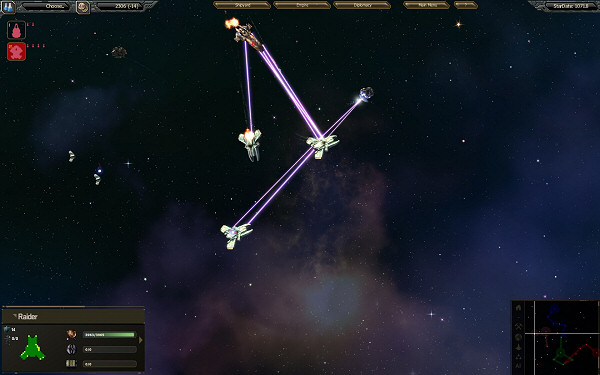 War in your backyard and coming in your front door
Ground combat invasions, bombardments, and ship boarding are all in the game. Ship boarding at this point is quite straightforward and consists primary of telling a troop transport ship to "attack" an enemy ship. It will attempt to intercept the ship and take it over. Should that ship not have any defenders present, it will convert to your side pretty easily. I've not experienced any lengthy ship boarding battles as of yet as generally I see it intercept the enemy and then the enemy ship instantly becomes mine. If the enemy were to place marine barracks on their ships, it should make this a more difficult task in theory.
Ground combat really frustrated me for awhile. Not because the combat itself was frustrating, but because I couldn't figure out how to initiate it. After bringing a large fleet of ships and troop shuttles near an enemy planet, and spending awhile trying, I ended up deciding to ask how to do it. Once I found out, I sort of understood based on how some other mechanics work in-game, but in general some UI or tutorial work is going to be necessary so new players don't end up wondering like I did.
Ground combat takes place on the same 7×5 grid as colony construction. In fact, the same buildings and ground troops you may have trained at the colony appear on this grid. In order to take a colony from you, the attacking troops must lower your colony's headquarters to 0 health. The HQ itself can defend itself decently, but any decent size force is going to take it and your colony if you don't reinforce it by training and placing some defensive troops of your own on the planet. The plan is for ground combat is to include animated troops for each race fighting it out, but at this time the animations and unique racial models are not in place yet.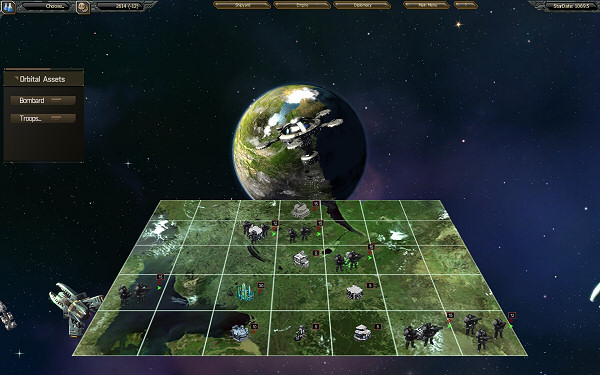 I did manage to bombard a planet a bit, using a ship I designed that contained numerous bomb modules, but I did not know at first what this was doing for me or even had some trouble figuring out how to get the ship to consistently bomb the world. Once I figured out how to get into ground combat, it made a bit more sense. The bombs from space actually seem to hit the individual 7×5 grid squares. I assume the plan is for these to destroy buildings, lower the defense of the HQ, and possibly destroy some defending troops as well. By the time I attacked, I'd bombed so much that only the HQ remained anyway. So if you want to take the planet with all buildings intact, avoiding a scorched earth policy and going full on with troops is likely the better choice.
I should also make mention of the fleets system as well. Fleets are sets of ships flying in a formation you determine and following a set of orders you decide. You can change their pursue distance, their flight pattern (attack from the front, try to keep the enemy always to your left, maintain formation at all cost, etc.), and even set their attack priorities based on enemy ship size, damage, defensive systems, or other factors. You also can leave these at their default and end up with a pretty good fleet as well. Again, tons of customization here.
Their are jobs for smart guys too
Research is in the game and works much like you'd imagine. It's not mind boggling deep or all that aesthetically pleasing to look at, but it does give you the sense that each new technology you receive is really important. Quality over quantity in this area is always better in my opinion. Whether you want to focus on production improvements, revenue, ship sizes, weapons, travel speed, or freighters, all of the bases are covered here. The current pace of research is considered a bit fast by most of the testers, so I'd expect to see it slowed down a bit by default upon release. It will also hopefully be toggle-able for those who prefer a faster or slower paced game.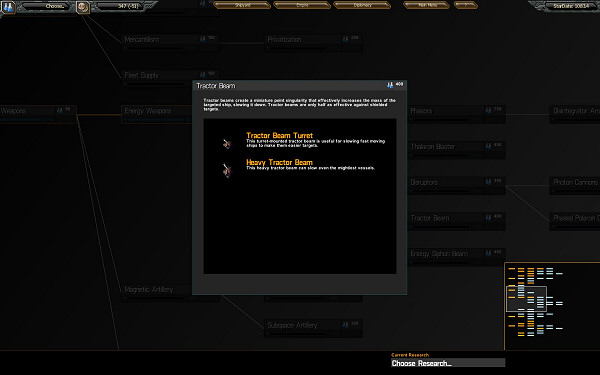 Diplomacy and espionage are in, and though relatively new additions, they look like they are going to be a lot of fun to play with. Daniel DiCicco (StarDrive's lead developer) is doing some innovative things here. In diplomacy, you can approach other races and ask them what they think of you and why. You can also ask them about other races you both may know, though this particular function is not currently implemented.
You can also of course participate in treaties, but in an interesting twist you can ask for them in either a neutral, threatening, or pleading tone. Depending on their sense of superiority, or fear of inadequacy, you may decide to change how you deal with the race. For instance, I saw that the Pollops (plant people) were fearful of me, so I decided to take a more aggressive tone with them when making my demands. Time will tell how this turns out in the long run. Once again, the racial animations on this screen are excellent and really make you feel as though you are dealing with an actual space-faring entity.
Espionage is a feature often omitted or pushed to the backburner, but it is not looking like that is going to be the case here at all. StarDrive offers the option to spend money on a new type of currency in the game called Penetration Points. These penetration points are a currency you gain separately per race and are built up over time. As you accumulate them, you will learn a lot about a particular race such as how powerful its military is, what they are currently researching, how much they are spending in counter-intelligence (you can also invest in counter-intelligence), how much they are spending on espionage specifically against you (hmm, interesting), and what their personality type is.
You can also spend these points to do things like plant moles (not the animal, the other kind guys) in their colonies, which can give you lots of info about the specific colony you plant them into. In addition to this, you can also use penetration points to attempt to steal technologies, damage a race's relations with another race, sabotage one of their ships, or even multiple ships, and also to uncover moles hidden within your own empire. While I'm not entirely sure everything is currently working as described in this area, and I haven't really seen the AI making use of this stuff themselves yet, the fact that this stuff is going to be included is very, very, cool.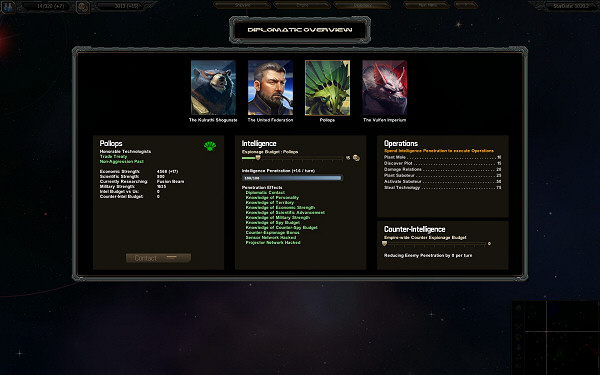 A few quick feature related notes worth mentioning:
The only options available when starting a new game currently consist of selecting your race related settings and the galaxy size. There is currently no settings related to number of AI opponents, AI difficulty, research pacing, good vs bad planets, finite resource management, hotkey management, or even sound or music volume. This is a beta though, so hopefully these types of things will be added in the coming months.
Pirates are already in the game and are offering "protection" for a fee. They aren't fully implemented yet, but they will become more of a nuisance in the future I am told.
There is a battle mode/campaign apparently going in with one playable scenario thus far for those who might want a fast action fix without the rest of the 4X gameplay.
Dan has stated a few times that they StarDrive is going to support modding pretty heavily.
Turning a dream into reality can take some time
Before I cause people to enter a panicky rage over the fact that they don't have StarDrive yet, I want to mention that the game is still in need of a bit of streamlining and quite a bit of bug fixing and polish. I've mentioned some of these problem areas as I've gone along, but there is more to talk about in this area. StarDrive does crash at times, sometimes for no apparent reason. Dan has been quick to locate the cause of these crashes when provided with the crash output and save games though. StarDrive also has some elements that are either not working properly or are beyond my current level of understanding. Espionage still seems a bit wonky to me.
Ground combat is without its troop animations, is cumbersome to get into as the attacker, and as a defender the enemy seemed to land on my planet out of nowhere (I never saw their troop ships in my area, but may have overlooked them during some pirate fighting). 4 of the 8 races are not currently in the game. The AI needs a bit of work, but did manage to take a colony I established far away with their ground troops. AI is obviously an area I hope to see get a lot of work in the coming months.
Some other elements that people enjoy in 4X may not make it in the initial release at all. I don't think some elements like "heroes" or rebellions are in the game or perhaps even on the drawing board for the original release. Currently there aren't any victory conditions in the game. Dan did state that victory conditions would be in the game and would "be what you would expect." on the forums.
I've said all these things not to dissuade you from buying it, but I want to make sure everyone knows that this game, while fun to play, is not release ready yet. I also kind of want to make you feel less anguish over the fact that you don't have it yet.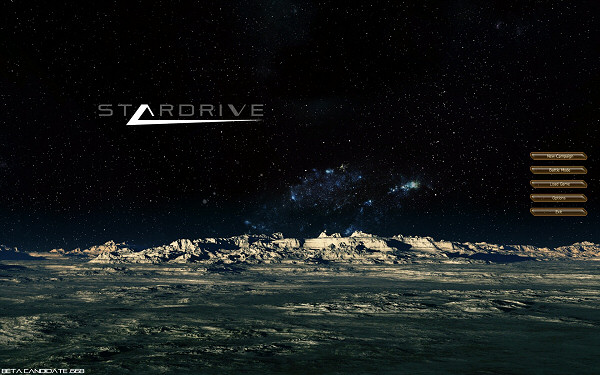 I've personally spent quite a few hours doing my own version of QA testing. I've been making notes and taking screenshots every time I play regarding anything and everything I see that either doesn't make sense or doesn't seem to work right. I'm posting them for Dan to hopefully fix or enhance. I'm following up on the ones he fixed and keeping track of those he hasn't fixed yet, as well as adding more to my list every time I play. I want this game to be great for all of us, and I am doing my best to assist in that effort. I have every reason to believe that it will based on what I'm seeing put into the game thus far.
I also love the fact that Dan mentioned continuing to expand the game beyond release with more polish and expansion races and features for perhaps years to come. Far too often I see games producing sequels on new engines so they look prettier when in reality they would be better served by adding more content expansions instead. I think it's great that he plans to build off this base game for years to come.
Above all else, if you take nothing else from this preview, I want you to know that my impression is that this game is a true labor of its creator's passion, and therefore, it will dream big and succeed wildly because of it.
As always, SpaceSector encourages you to make your purchasing decisions based on all available information. I can't know what I don't know, and what I don't know is how the game is going to end up by the time it hits the finishing line. We will certainly have more articles and information out about the game in the future if you're on the fence, including a full review upon release, so please hang in there if you're budget is tight and you don't want to take a risk.
I hope this preview has proven to be length and meaty enough to answer most of your most burning questions, but please feel free to fire away in the comments and I'll do my best to respond. Who knows, Dan may even show up to respond himself. For more info or additional screenshots of StarDrive, visit their site. As of now the game is not currently available for public pre-order. There's also not a firm release date set yet but Iceberg Interactive's last word (StarDrive's publisher) pointed to a Q4 2012 release.
More Screenshots
Keith Turner, also known as aReclusiveMind here on SpaceSector, has been an avid gamer ever since he first laid his hands on a Commodore 128 in the mid 1980s. He enjoys multiple computer game genres, but his primary interests are in deep strategy games, 4x games, rpgs, and action rpgs. He enjoys writing and hopes to contribute with additional reviews, previews, and informative AARs to the community. See all Keith's posts here.
Subscribe RSS
64 Comments
Related Articles:
Post category:
Game Previews