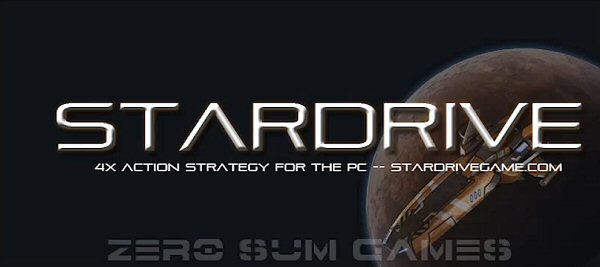 Today I discovered a new 4X space strategy title on the making named StarDrive. StarDrive is, in its single developer's own words, a 4X Action-Strategy game. It's partly action partly strategy because although you select fleets and manage your empire in the traditional strategy way (real-time in this case) you are also allowed to control your flag ship manually in a traditional WASD fashion with your keyboard.
Dan, the main developer behind StarDrive and single worker of Zero Sum Games, is asking for support to help fund the remaining parts of his game, namely art and multiplayer. For this he has set up a kickstarter crowdfunding project where we pledges for a sum of $7.500. Dan explains that the money will almost entirely be used to pay another guy involved in the project, the artist. As usual in this type of funding projects you will get rewards depending on the sum you pledge.
Dan explains that the primary inspirations for StarDrive are Masters of Orion 2 and Escape Velocity and adds that ultimately he plans to make other games inside the same StarDrive universe. So, it seems that Dan is really commited on finishing off his game and possibly even create more in the future. All he needs is a little push.
In the presentation video Dan justifies the need for the extra funds to create unique palettes for the alien races spaceships and to help kick-off multiplayer. With a successful funding Dan expects to reach closed-beta by March 2011 and a full release by Summer 2011.
So, what are you waiting for to help this guy finish his 4X space title in style? :) The game looks very good already, with the extra funding  it will surely be a great title. So, let's help him out. Support Dan's indie 4X space game project at StarDrive's Kickstarter website. I already did.
Key Game Features
Customize your Race by selecting from a large list of physical traits, socioeconomic traits, and traits relating to your history and tradition.
Deep, module-based ship design as described above.
Lead your forces into battle with your own flagship that you control like an arcade shooter; command your fleets like you would in a real time strategy game with simple mouse commands.
Tactical ground combat to take over enemy planets.
A deep research tree with many dozens of technologies.
Alien Artifacts to find and collect, which give bonuses to your empire.
Rich diplomacy options, allowing you to make and break treaties with alien races; trade technologies and artifacts, sell ships, declare wars, and design joint operations with your allies.
Finally, multiplayer.  Do this all with your friends online.
Presentation Trailer
Subscribe RSS
25 Comments
Related Articles:
Post category:
Games Under Development
,
News & Announcements