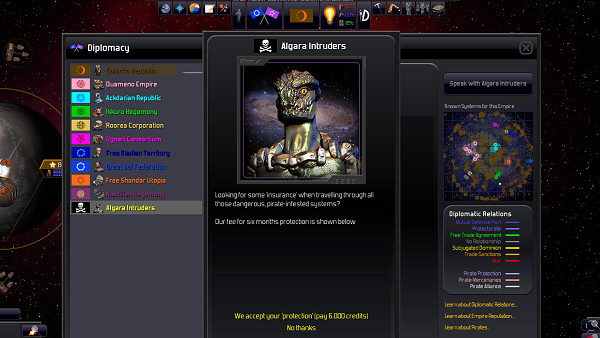 Matrix Games have just announced some details on their upcoming new expansion for Distant Worlds, called Distant Worlds: Shadows.
They didn't advance a firm release date yet, however their target is still the same as when this new expansion was first announced back in April of this year, which is end of 2012.
With Shadows, the devs plan to offer new technologies, planetary buildings, ship abilities and what seems to be a somewhat major evolution to the ground combat system. But, perhaps what better defines this new expansion is this sentence:
What were previously "pirates" are now independent space-based factions that can pursue a variety of playstyles, ranging from trade, war and espionage to pure chaos and plunder. ~Matrix Games
The timing where this expansion takes place is called the Age of Shadows (therefore the name of the expansion). It is a time between the Age of Darkness, a time immediately after a great galactic war, and the Distant Worlds Universe timeline as we know it, with all the different empires you can play with.
Matrix said that you can decide to play in the normal Distant Worlds timeline or on the new pre-hyperspace era, the "Age of Shadows".
Here is the preliminary set of features and highlights for this 3rd expansion:
– Play as an independent space-based faction, a very different play experience from the existing "Empire" gameplay.
— Choose from several playstyles, including Smuggler, Pirate and Mercenary.
— Compete in victory conditions against other space-based factions.
— New Pirate Leader and Pirate Captain characters
– Choose to play in the existing Distant Worlds timeline or the pre-hyperspace "Age of Shadows"
– Assault pods and ship to ship or base boarding actions, including ship and base capture
– Gravitic Weapons and Tractor Beams
– New expanded Ground Combat with new troop types and an animated ground battle resolution screen
— Infantry, Armor/Mech, Special Forces, Planetary Defense Units (multi-layered)
— Resolution of the multiple stages of a planetary assault
— Expanded troop experience
— New Ground Combat technology tree
– Expanded and improved Area Weapons
– New planetary facilities
– Improved AI and new comprehensive difficulty settings
So, if you're feeling a bit tired from playing the Emperor role, and you're on the mood to try something else, like playing as a Master Trader, Warlord or Pirate, then this is what Distant Worlds: Shadows seems to be all about. But, apart from the new playstyles and new factions, this new expansion also brings with it new goodies, as Matrix and CodeForce already used us to. There will be, at least: new techs, planetary buildings, ship abilities and an improved ground combat system.
I'll keep you informed as more information on Distant Worlds: Shadows becomes available. Expect a release still for this year, but, as Matrix said, their priority is to "make sure it's as good as we all want it to be", so there's no guaranteed that it will indeed release this year. Stay tuned!
And, if you're new to the brilliant Distant Worlds Universe have a look at my Distant Worlds: Legends review, the second and previous expansion for Distant Worlds, to find out the best space 4X gaming experience of the recent years.
Read Matrix Games' full announcement here.
Subscribe RSS
30 Comments
Related Articles:
Post category:
News & Announcements