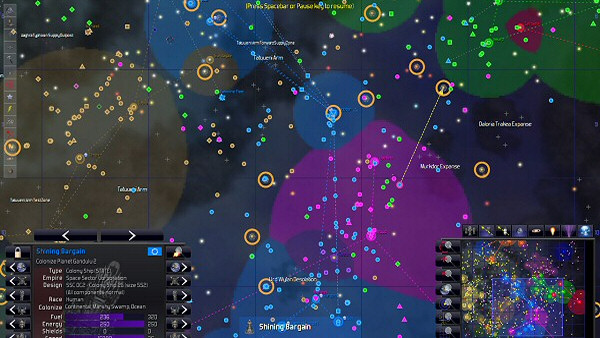 There had been no further word on Distant Worlds: Shadows (Distant worlds' third expansion) since Matrix Games has announced the first details about it, in the beginning of November. But, in the last couple of days Matrix has opened the flood gates and has clarified some of the community questions about Shadows, that I'm sure many of you share.
So, first of all, it's confirmed that the Shadows expansion will NOT be released this year. "Unfortunately we will miss the pre-Christmas release. We all decided it was better to put in the extra time and get things right than to rush it out for the holidays. Many of the new features involved some fundamental changes to Distant Worlds and we need more time to finish testing, balancing and tweaking them to get everything working together the way we want. I do expect the beta test to start this year though, but we're now looking at a Q1 2013 release." ~Erik Rutins (Matrix Games Designer/Programmer)
About previous expansions requirements, Matrix confirmed that Shadows will require ownership of both previous expansions: Return of the Shakturi and Legends. But added that they realize the list is getting pretty long and so they "expect within the next year to consolidate that a bit as well, but for now it's sequential". So, this opens the door for a Distant Worlds bundle in the future, but, as it seems, not when Shadows gets released.
About the price, they expect the same price range for Shadows as for Return of the Shakturi and Legends. Which should be around $20/€15 to $25/€20 depending on if you buy on sale or regular price for the download version.
Their "holiday sale", they added, "will start very soon and all existing Distant Worlds releases will be included. That means about 33% off until mid-January". I'll let you guys know when this happens.
Regarding new features and improvements
Concerning modding, Matrix announced that a modder-focused expansion is planned after Shadows. Unfortunately, no details whatsoever were given on this one.
Still on modding, Matrix confirmed that all Legends mods should work with Shadows without any changes " To the best of my knowledge right now, all Legends mods should work with Shadows without any changes.". They also confirmed that AI code will not be open up to allow the community to mod it. At least not at this time.
On performance (an old issue for many), Matrix promised "significant performance improvement for everyone. So far, in my testing, much less graphical lag and higher fps on low and mid-range systems".
About the AI (also an old issue the community always requested improvement upon), Matrix explains that they've improved the way the private sector works (the automated part of your empire that you don't control). They also promise AI improvements for that exploration and expansion parts, on how certain threats are responded, and also further improvement on "refueling". In addition, they said that they have "pretty much completely rewritten the Pirate factions AI, to make it smarter than they were". About the AI, they finalized with "I don't know yet all the improvements for the final release or how much better the AI will be at that point. We just want to make sure it's significantly improved".
Regarding other features, Matrix announced a new "garrison feature" that lets you specify a desired minimum troop loadout at the ship and fleet level so that you don't suffer from troop depletion when you have these features automated.
On the tech tree there are also changes. There's a new Ground Combat tech tree and the new Gravitic Weapons tech tree, "as well as some modifications to others" they said.
Concerning resources, and how these are handled, in Shadows it shall now be possible to request resources from independent traders/smugglers. "You pay, they deliver and planets now consume resources for their own growth needs whether they are building something or not.".
There are no plans for artificial planets (Dyson spheres, ring worlds, …). And no plans to add unique character art either. I'm disappointed about this one, although they said that they "may add some if time allows or in a future release". We know how that usually goes :)
And, no mechanical races or random tech trees.
You can know all the details on the Matrix Games forums.
Well, no Distant Worlds: Shadows in the holiday season. Matrix expects a Q1 2013 release. The good news is that their sales should start any time soon, so that's a chance for you to grab Distant Worlds: Legends at lower price, since after all, you will require it in the end to play Shadows (as the bundle possibility seems to have been put aside, at least for the Shadows release).
If you don't own Legends have a look at our review for details about what I consider to be the best space 4X game of recent times.
Subscribe RSS
23 Comments
Related Articles:
Post category:
News & Announcements