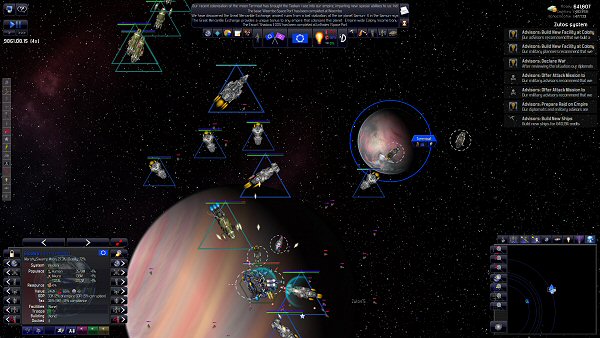 Slitherine and Matrix Games have just announced that Distant Worlds: Universe, the 4th and possibly last expansion pack to Distant Worlds, will be released not in March as previously assumed, but in May of this year. Or at least that's the official date for now.
We already knew that the focus of this 4th expansion was extending the game's modding capabilities, the fact that it's a standalone product (a "wrap up" release of the entire Distant Worlds series), and that it will offer a new storyline and new technologies to go along with it.
What we didn't know yet was the scope of said modding extensions, which is now revealed.
New in Universe:
The entire Distant Worlds series in one package! Universe includes the Original Distant Worlds, Return of the Shakturi, Legends, Shadows and the new Universe expansion!
Comprehensive Modding and Customization Support: Allows adding/removing/changing most items: resources (including new colony-manufactured resources), ship components, planetary facilities and wonders, fighter designs, alien races and race families, diplomatic dialog, empire policy, custom characters, ship and base design templates, governments, plagues, research tech trees and more

Can customize most of the images used in the game: ships and bases, fighters, alien races, planetary facilities and wonders, characters, troops, components, resources, ancient ruins, planets, stars, asteroids, animated in-game effects and more
Use a previously saved and editor-customized game as a map for a new game (instead of generating a new galaxy)
Powerful new event system accessible from a considerably-upgraded Game Editor. Set up your own storyline in a custom map with triggered events and custom victory conditions
Add story triggers on specific in-game objects or events, executing one or more actions on other in-game objects (either immediately or delayed)
Can replace most of the user interface icons and sound effects
Add your own custom help files to the in-game Galactopedia
Switch between different customization sets with a couple of mouse clicks from the main game menu
Comprehensive 99-page Modding Guide that outlines how to make Mods and explains all of the settings in detail

A new official storyline built using the new modding capabilities, covering the first war between the Freedom Alliance and the Shaktur Axis, in which you have access to the tech required to build your own planet destroyers, establish the Ancient Guardians and research and deploy the Xaraktor virus.
There's no price set yet but it's expectable that this all-in-one package will be significantly cheaper than buying the base game and the three previous expansions all together. Matrix also said that there will be an "upgrade path for existing customers".
To know more about this real-time space 4X strategy game, have a look at our reviews (base game and following three expansions): Distant Worlds, Distant Worlds: Return of the Shakturi, Distant Worlds: Legends and Distant Worlds: Shadows. Note that the game reached a great level only with the first expansion pack, Return of the Shakturi, at least in my view.
Subscribe RSS
28 Comments
Related Articles:
Post category:
News & Announcements