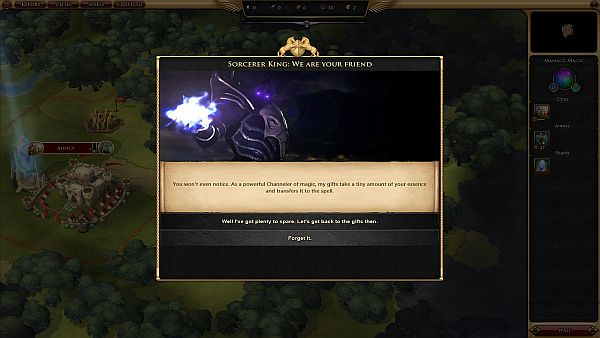 Stardock Entertainment is well on their way to becoming the most prolific developer of fantasy strategy games. It's quite surprising, as back in 2010, Stardock was known only as a space 4X developer. Despite a rocky start with their first release in 2010, they've gone on to produce two games I've quite enjoyed, Fallen Enchantress in 2012, and Fallen Enchantress: Legendary Heroes in 2013. With Legendary Heroes still receiving support via DLC and patches, and Galactic Civilizations III in development, one might reasonably assume that their plate was full. It appears they aren't done experimenting with fantasy strategy or the Elemental universe just yet though. Their latest entry, Sorcerer King is now in Early Access. It's another fantasy strategy game with many familiar aspects to their prior games, but this apple falls a little farther from the tree than you might expect.
Sorcerer King is what Stardock is calling a "new direction for 4X game design". This is certainly an appropriate definition as the Sorcerer King feels a bit more like a strategy RPG than a traditional 4X game. The key difference is that you aren't competing against other factions. There is also no diplomacy or a traditional tech tree. Instead the player is tasked with leading his faction against only one rival faction, that of the foul Sorcerer King. The Sorcerer King is a powerful leader who commands his own faction from his dark citadel and leads his forces in pursuit of his own goals.
In a way, it is a similar tale to Warlock II's campaign mode. They ask that we imagine the first 4X game was already played, and the Sorcerer King was the victor. He has since forgotten about your pathetic existence and moved on with his own goals, leaving you and the remaining minor factions to rot with your last remaining cities. Now it is up to you to make him take notice. You must stop him, and his two lieutenants, before he achieves his unique goals. He needs only to destroy the last of the remaining crystal mana shards, or wipe your empire off the map, to win the game. Worse yet, there is also a doomsday meter that builds up over the game. How fast it builds can be the result of quest choices you've made, shards you've failed to save, and time you've wasted wandering around. As the meter builds up, harsh penalties begin to apply. Even your own citizens may start to worship the Sorcerer instead of you. Should this meter reach its maximum value, the Sorcerer King will achieve victory automatically.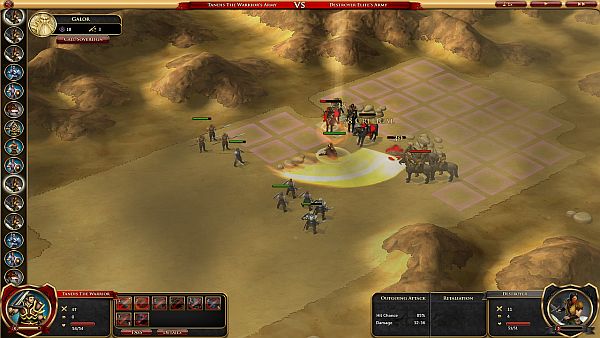 You might be thinking this game sounds quite different, and may even be wondering if it is still a 4X game. Many of the classic turn-based 4X aspects are still present in the game. Exploring the map, founding cities, constructing buildings, researching (spells rather than tech), casting spells, completing quests, leveling up, and participating in tactical battles are all present. In fact, many of the systems currently present owe a lot to Stardock's prior 4X fantasy games, especially the tactical combat, which feels almost exactly the same. Also, as in Stardock's prior fantasy titles, new cities can only be founded in suitable areas as indicated on the map. While many of these concepts are borrowed from their prior titles, where this game differs is in its focus. Many elements have been streamlined and adjusted in a way that emphasizes skill tree decisions, tactical combat, questing, and crafting, as opposed to traditional empire building.
Before I get into my first impressions, here is what you should know. Sorcerer King is currently in Beta 2. Beta 3 is planned for release prior to their Christmas holiday, and Beta 4 is currently scheduled to be the final beta version. Final release is scheduled for Q1 2015. As such, the game is quite far along, but I still expect it will change a fair bit before release.
First Impressions
I didn't quite know what to expect when I first dove in, but after completing a game on normal difficulty over the course of 5 hours, I now have a pretty good idea. It is clear that Sorcerer King is not meant to replace Fallen Enchantress: Legendary Heroes, but rather to offer a different flavor. The art style, the atmosphere, the increase in writing that leans heavily toward the comedic side, all of these are things that differentiate it in my mind before I even start considering its gameplay. It feels like a lighter experience, at least at medium difficulty against the unfinished "Game Master" AI.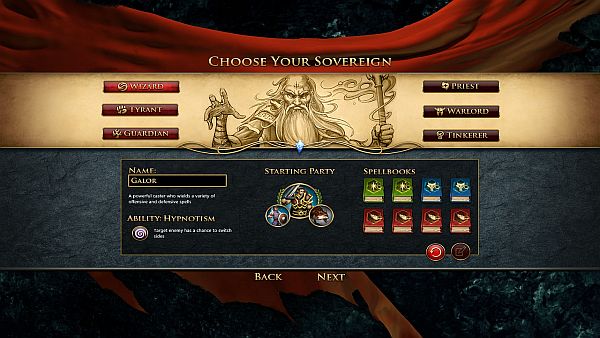 At the start of a new game, you're given the option of choosing a pre-generated sovereign. Beta 2 offers 3 sovereigns, each with their own starter hero, a selection of spell books, and their own skill tree. After selecting the sovereign, you select a map, a difficulty, and a magic level. At this point, that's it. It's a far cry from the numerous world and faction generation options I'm used to. This is beta though, and random map generation is coming as are 3 additional sovereign options and sovereign customization. Whether or not world customization options are on the horizon with that generator though remains to be seen.
It didn't take long to start noticing some of the streamlining. Right from the start, I noticed that 5 resources are shown at the top of the screen. None of these are gold or gildar. That's because in this game there is no money, and there are no upkeep costs to pay that aren't mana based. The 5 resources are crystal, metal, horses, magic, and a new resource concept I'll talk about later called logistics. Entering my starting city, I saw that every building is listed and ready for construction as long as their pre-requisite buildings are built first. There's no research system to unlock them. Training units is simplified too. The option to customize or design new units from prior games is gone. In this game you just click train and then wait some number of turns for them to finish. Pioneers can also be built from the start and don't cost the city any population. Even rushing works differently, as both units and buildings are summoned using mana, rather than rushed using a more traditional currency.
Sovereigns, Research, City Development
While Sorcerer King lacks many of the complexities we've been accustomed to, it contains a lot of new ideas and in some ways feels more immersive. Starting with your sovereign, you should know that he or she is an omnipresent entity. You won't be fighting, or dying, directly on the battlefield. You will however still have the opportunity to level up and have access to a uniquely customized skill tree that is tailored to your sovereign's personality and preferences. There are still quite a few incremental type skills that lack excitement that I hope are replaced with more interesting choices by release.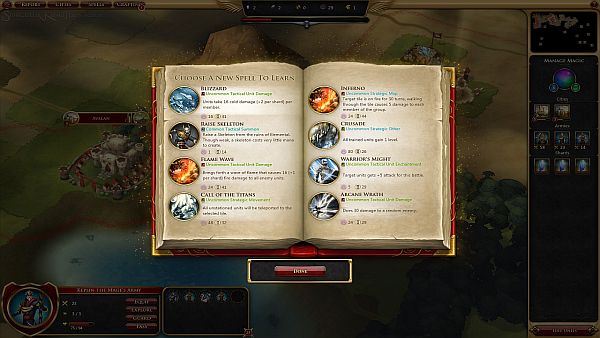 Leveling up the sovereign skill tree is one way to get new spells and abilities. Throughout the game, you'll also be researching new spells. Spell research essentially replaces tech tree research. You have the ability to cast spells anywhere on the map, not just in areas within your zones of control. This allows you to rain down destruction on enemies before you attack them or even before they approach your nearby cities. You can cast spells in tactical combat should your forces need a helping hand winning a tough fight, but here your power is somewhat limited. On the world map, your power is limited only by your mana reserves and your imagination. You can cast as many spells, instantly, as you desire. You're more than just a brute after all, and enchanting cities and units, summoning creatures, and casting powerful earth altering spells is well within your means. Let me tell you, there is no better feeling than warping all of your scattered armies across the map into one place for a great confrontation with the cast of a single spell. In this game, your power as ruler feels almost limitless in the very best way.
While resources are simplified, their implementation is restricting in a way that creates interesting situations. To secure resources, you must first place them into a zone of control either by growing your city towards them or by building an outpost nearby with a pioneer. Securing resources is quite important, as your options to trade are nullified due to the lack of other major factions. Once in your zone of control, construction of the building is instant. Unlike in most other games, securing a crystal mine doesn't provide +x crystal per turn. It instead provides you the ability to build X crystal worth of stuff. Building a mage for instance uses one of these crystals, permanently. As you can see, hording resources isn't really possible because they don't accumulate. This is true of all of the resources except for mana. This seems easy to solve, simply start plopping down outposts near all the mines and build your free instant resource building. Yes, it seems overpowered, until you realize the true cost. Logistics, the golden helm icon, is here to ruin your day. Every unit and every resource building costs you 1 or more logistics. Logistics, just like other resources, doesn't accumulate, so increasing it is essential. This requires constructing buildings in town, buildings which hurt town growth by stealing food. So now you are balancing when to increase logistics, what to spend your logistics on be it pioneers, military units, or new resource buildings. It suddenly becomes harder to manage, at least until you have several cities capable of increasing your logistics.
Crafting is a key part of the game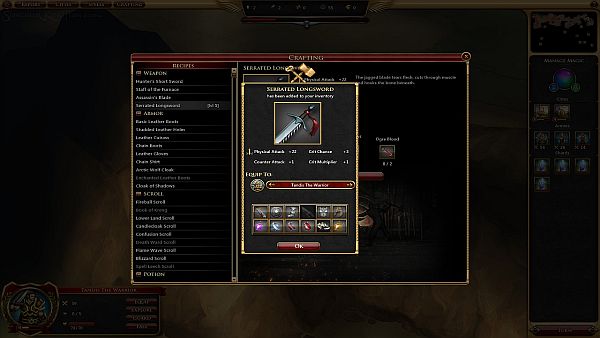 I mentioned unit design and customization were gone, but more importantly crafting is in. All of your units can now take advantage of a benefit usually reserved only for hero units. They can be equipped with armor and accessories which can be found on the map or created using the extensive yet easy to use crafting system. Heroes still hold the exclusive rights to the cool weapons and shields, but beyond that your units can be equipped with whatever you have on hand. This includes helmets, chest plates, gloves, boots, and a few accessories like amulets and rings.
The crafting system is very easy to use and less restrictive than in many other games. As you adventure, you'll discover new recipes and many, many, many ingredients. Once you've collected what you need, you access the crafting system and it shows you all the recipes you have highlighting those you have the materials to build. You click to it, which happens instantly, and assign it to whichever unit you'd like. They will automatically equip it and any unequipped items will be placed in a community pool available to any of your units. It's not as realistic as the time intensive crafting followed by the time intensive transportation of the item to the appropriate individual, but it appears to work well given the focus of this game. Using the items and ingredients I collected, I was able to create all manner of helpful equipment, scrolls, and potions. It's a fun aspect to the game that allows you to customize your units at any time after creation in an interesting way. Those who enjoy RPG elements will appreciate this feature the most.
Heroes and Magic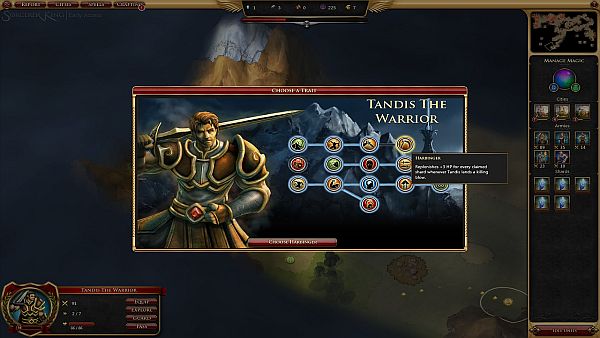 Heroes, much like sovereigns, have been given an overhaul with new skills that are unique to them. Heroes can also be very powerful. My max level, fully equipped and enchanted, warrior was able to almost take down the Sorcerer King by himself. As a testament to their power, Stardock isn't handing them out quite as readily as in their past games. Other than your starting hero, there seem to be few opportunities to acquire others. I have found both a mage and a dragon riding warrior, both of which required I complete a quest to gain their favor. They appear to be famous heroes from the Elemental factions that existed before the Sorcerer King took over. These are well worth the effort as thus far I've been impressed with their diversified skill set. The warrior I started with, the mage and dragon rider, all had unique abilities and spells that I haven't otherwise seen present in the game.
Magic is a balancing act. In a similar fashion to Master of Magic's mana allocation system, which seems to be getting some appreciation from multiple developers these days, you have to allocate magic between three different areas. One is your skill gain per turn, which is how your sovereign levels up to unlock new abilities. One is mana, which you use for all those spells I talked about and for rushing building and unit completion. The last option is lore, which is how you research new spells. Here again is where some of the depth that is missing from other areas starts to come back into the game. I can see this filling the role of some of the tougher tech tree decisions you'd typically have to make.
Getting noticed
At the start of the game, the Sorcerer King doesn't care about you. In fact, he's even willing to offer you some nice rewards in exchange for the chance to give you some doomsday points. He wants you to come around and join him. At least, that's what he does with the remains of the other minor factions. After all, he's just a guy destroying some crystals and eventually the world.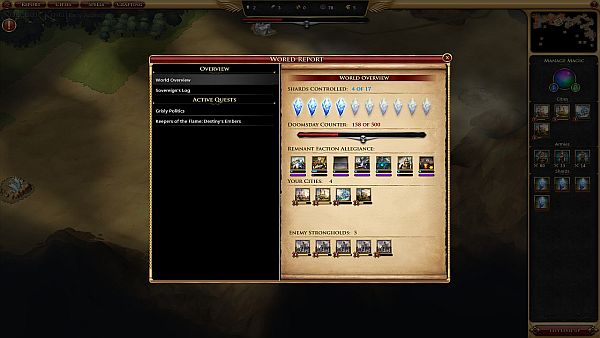 As you grow in power, tell him off, capture shards, convert minor factions to your side, and start destroying his citadels, he starts to get pretty annoyed with you. He tells you he's going to eradicate you. Unfortunately, I found the game falters a bit in this regard. The Sorcerer King's role just felt a bit disconnected. Throughout the game you will receive notice that he is attacking shards, maybe even shattering some of them, but in a medium map where 17 shards exist, the loss of a couple hardly seems concerning. His forces consist of only 4 or 5 unit types, and I was fighting A LOT of armies of these same repetitive configurations.
The game desperately needs more unit variety. The Sorcerer King's cities were very lightly guarded and easily destroyed. It wasn't until my final confrontation with him that I started to see a little more unit variety and spell casting from him, and this was a bit disappointing. I would love to see him start messing with me a bit earlier, perhaps with strategic map spells, at least at higher difficulties. The doomsday meter was no more of a threat. It never reached even half way in a 5 hour romp through the medium map I played. I did however rush to finish him after killing his lieutenants since I knew my hero was powerful enough and the thought of fighting more waves of his identical armies was unfathomable.
I could go on, but I think I've covered the majority of how the game works. My thoughts may lean a bit negative, but this is still a beta. Things like unit variety and interaction can certainly be improved. I've enjoyed the game during the few hours I've played, but aside from exploring some of the sovereign and hero skill trees, I feel my desire to play is satiated for now.
Sorcerer King does introduce some interesting restrictions and a bit of resource management, and with further polish could become a solid experience for me. What it needs to overcome is the fact that we are now in an era of fantasy strategy excellence unlike anything I've seen in recent years. As a product priced the same as, or more than, other quality completed titles, Sorcerer King has got its work cut out if it wants to stand out and grab my attention.
Subscribe RSS
28 Comments
Related Articles:
Post category:
Game First Impressions