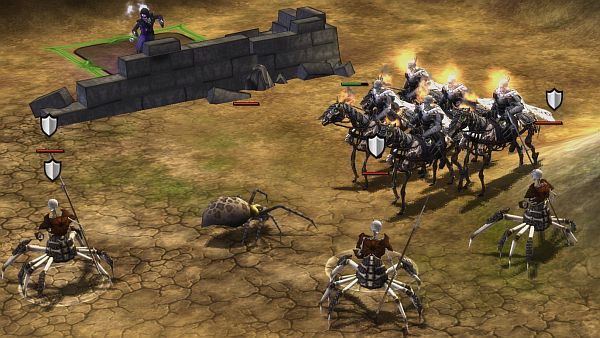 Just in time for Halloween, Stardock has announced the release of "The Dead World", their latest DLC for Fallen Enchantress: Legendary Heroes. The timing seems to be no coincidence on this one, as this DLC appears to be all about expanding the role of the undead within the game. I think it's very important to note that it appears we're not looking at a simple item or map pack this time around either. The price is set at $4.99, which you may recall is the same price as the Loot Pack, Map Pack, and Quest Pack.
So, what exactly are we looking at here then? Well, from my perspective, it looks like a fair bit more than we've seen thus far in other packs.
Here's the feature list:
A brand new faction: the Empire of the Dead, led by the nefarious sorcerer Morrigan the Risen. Undead ignore food, growing their population by building cemeteries and mausoleums and by reanimating slain foes
New spells for undead casters – summon a powerful but temporary army, feed on the lifeforce of friendly units in battle, and more
New undead empire fully implemented in faction/army creators – design your own skeletal and spectral troops
New custom map: The Dead World
New Hellknight monsters – powerful mounted undead knights with enchanted gear
New Risen Brood monsters – skeletal undead half-spider monstrosities
To be honest, I don't own any of the DLC for Fallen Enchantress: Legendary Heroes right now. As much as I loved my time with this game, and despite the fact that I consider it the best fantasy 4X game on the market currently, I am not typically a big fan of DLC content for any game. Especially DLC that doesn't add what I feel is significant value to my experience.
This DLC though, now this looks more like a feature list I'd feel better about spending my $4.99 on. So we have a brand new faction with new mechanics, new necromantic oriented spells, new units, and new map with new "secrets to discover". I enjoyed the necromancy additions they made with Legendary Heroes, and I suspect these new additions are going to make this much more enjoyable. Fair warning/disclaimer, I've not actually played this DLC yet, so my thoughts are based purely off the feature list and screenshots right now.
The DLC is available from GamersGate, Stardock or Steam for $4,99.
Subscribe RSS
24 Comments
Related Articles:
Post category:
News & Announcements