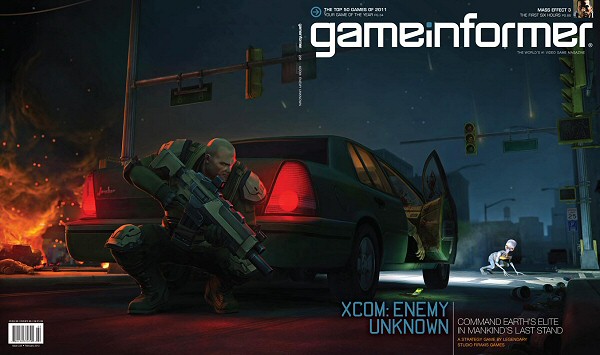 No, it's not a post from 19 years ago :), XCOM: Enemy Unknown (yes, a new true X-COM installment with the same name as the original title) was announced today by Firaxis and 2K Games.
So, Firaxis Games and 2K revealed that our dear sci-fi strategy series is back. That's right, this fall (hopefully) we'll have a new good old X-COM game to dive-in and lose ourselves doing your best to stop another alien invasion. Will lobster navigators return? Perhaps the flying flowers-of-doom are back? Or the tiny insectoid-like creatures hidden in someone's backyard doing gods-know what kind of experiences on we poor humans.
Now, this was the sort of news that I was needing to lighten up my day. Boy, I'm so excited about this. The X-COM games are among my favorite games of all time! And it couldn't get better, I guess. A new (true) sequel to X-COM that is currently being developed by Firaxis Games, which is undoubtably one of the best strategy producers out there, and we don't need to wait years for having it! It's ironic that this gets announced now when XCOM, a tactical shooter (not to be confused with the real-time and turn-based strategy title we are talking about here), is coming out this spring, curiously brought also by the same publisher (2K).
Steve Martin, Firaxis Games president, said "It's been a dream of ours to recreate X-COM with our unique creative vision. We're huge fans of the original game and it's a once in a lifetime opportunity to re-envision a game that is as beloved as X-COM,". Steve added "We were careful to keep XCOM: Enemy Unknown true to the elements that made X-COM such a revered game while delivering an entirely new story and gameplay experience for both die-hard X-COM fans and newcomers to the franchise."
From left to right: X-COM: UFO Defense (aka UFO: Enemy Unknown) from 1993 , X-COM: Terror From the Deep (1995), X-COM: Apocalypse (1997). Credits for the images for Gamespot.com.
The original X-COM series offers a mix between a real-time strategic view where events unfold (new UFOs sighted, intercepted and crashed) and turn-based combat, where all the alien hunt fun began. Let's hope both views are kept from the original installments, now (hopefully) with better graphics, improved gameplay and more surprises.
XCOM: Enemy Unknown will come out for the PC, PlayStation 3 and Xbox 360 this fall. Keep tuned-in for more information on this as it comes out. Thanks, Game Informer.
Subscribe RSS
12 Comments
Related Articles:
Post category:
News & Announcements