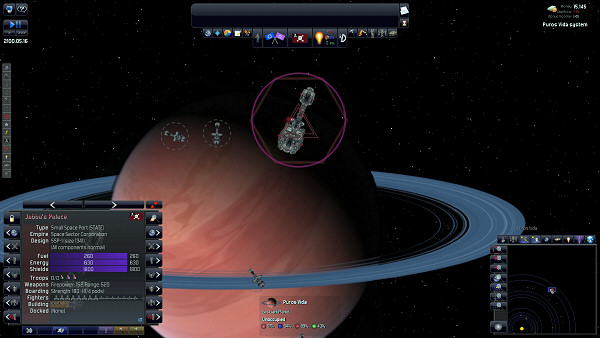 A short intro first, as this is a game's third expansion pack. Distant Worlds is a real-time space 4X strategy game by CodeForce, Matrix Games and Slitherine. The original game was released in March 2010. But, to be honest, it was quite a lackluster release. Nine months after, the first expansion, Return of the Shakturi, fixed the game and turned it into an enjoyable experience. Perhaps how it should have been released in the first place. Legends, the second expansion, came out in late 2011 and elevated the game to excellence. Distant Worlds: Legends is now one of the best, if not the best, space 4X experience money can buy at the moment.
So, I've been playing around with a Distant Worlds: Shadows beta preview build for the last few days, and I feel that I have already a good idea of what CodeForce and Matrix Games have been cooking for us with their third and latest Distant Worlds expansion.
Distant Worlds: Shadows is about offering players a new experience when playing Distant Worlds. A pirate life experience. More precisely, on the Shadows era, which, apparently, precedes the events of the "normal" Distant Worlds era. This is the big thing offered by this third expansion. Before, pirates were not playable, and the player only played with what this new expansion calls: "normal empires". But now, you can play as a (revamped) pirate faction and exploit the old empires which in the new setting are still in their early stages of development. However, you can still play on the normal Distant Worlds timeline, if you wish.
The other not so big, but still quite major changes and additions include an expanded ground combat mechanic, new weapons, a new extreme difficulty setting, better performance and promised improved AI. Matrix Games also announced that modding support has been kept to be inline with the new improvements.
The Life of a Pirate
"Take what you can, give nothing back." -Pirates of the Caribbean
I think this quote summarizes pretty well how it feels to play as a pirate faction in the Distant Worlds: Shadows universe. I confess that the idea of leading and controlling a pirate nation didn't feel too appealing to me at first. After all, we're used to run big empires in 4X games, with lots of colonies and billions of people to manage. But, I must say that I'm finding this pirating experience quite a fun one so far. And, it surely is a 4X experience, only a slightly different one.
These new pirate factions expand their influence and wealth very differently from traditional empires. While the empires economy is based mostly on taxing the population, and from revenue obtained from trading and tourism, pirates gain their wealth by very different means. And, Shadows lets you play three distinct types of pirating experiences.
You can decide to be a Raider leader and expand your wealth and influence as a looter and as a terrorizer and controller of worlds. And to do that, you take advantage of Shadows' new raid system which lets you attack, sack and plunder bases and planets for loot. But, when you play as a Raider you not only go after easy prey but also try to establish control of planets by having war ships nearby, and fiercely compete with other pirate factions for control of such planets. The more you control a planet, and the more developed it is, the more wealth you can extract from it. To extend your control further you can build pirate bases and pirate fortresses on planets. Ultimately, you can even deploy a very special facility that will allow you to have full control of a planet like normal empires do. If you end up controlling a notable amount of colonies, you eliminate the most rival pirate factions and conduct the most successful raids in the galaxy, you win as a Raider pirate. Sounds fun to you?
But, if you find the need to control independent, or other empires' colonies boring, and the business of other pirate factions, or anybody else for that matter, don't interest you that much, you can decide to go full rogue and go all guns for hire. You're a Mercenary pirate, and your business is to take advantage of the new pirate attack and defense mission mechanics, which are missions requested by other factions for a price. But, while you find the Raider's need to control others people's lives boring, you still find a lot of fun on raising havoc and plundering those poor innocents who just want to run an honest life. Bah, where's the fun on that anyway? :)
So, if you play as a Mercenary pirate, you will want to not only complete the most pirate attack and defense missions, but also undertake the most raids in the galaxy. In between, and as stealing can be much easier and more fun than building stuff, you will want to capture what you don't destroy, and so, you should try your best to use Shadows new boarding and capture mechanics to achieve just that.
Alternatively, if you find all that aggression unnecessary and just an inefficient use of resources, you can always decide to take a more reserved and low-profile pirate posture and act as the Galaxy's supplier and protector. The kind of people who can get you anything and whom you can "trust". Are you in need of a particular supply of resources? Don't despair. We are here all day to help you out in your needs and ventures, but not without asking you for an outrageous lump of money for the trouble. After all, these fresh supplies, which were exactly what you needed, were very hard to come by, and so, all we ask is a "small" compensation for our efforts.
This is the life of a smuggler pirate, and when you choose to be a smuggler lord, that means you're an information trafficker and you're also extremely resourceful. You prefer to avoid conflict if possible, but not without a price. So, you'll want to establish as many pirate fees, I mean, protection arrangements with other empires as possible, and you'll want to expand your influence by carrying out the most intelligence missions as well. Of course, knowledge is power, so you should also do your best to accomplish the most research in the galaxy.
But, Shadows offers you a fourth pirate style option: a balanced approach. So, if you don't want to specialize and just want to experience a bit of everything the new pirate gameplay has to offer, you can decide to go with a "balanced" pirate style which combines all the other three pirate-style's victory conditions into a balanced mix.
As you can see, I let myself carry away pretty easily while describing the different types of Shadows pirate experiences, and the new mechanics that come along with them. And, I think that's proof that, while I'm still scratching the surface here, I think CodeForce has a done a great job on designing the different pirate gameplay styles. Time will tell how balanced and fun playing as the pirates really is, but in the period of time I played this beta preview build I did enjoy these different experiences. And, I don't usually fancy pirate stuff that much.
But, what if Pirating is really not your thing?
Ok, you find all that pirate thing quite fascinating, but you're really not into playing as a pirate but more as a control-seeking and ever expanding empire. The classical empire-building experience. So, what's in it for you in Shadows?
Even if you don't play as a pirate, but go with a "normal" empire like you always did up until now, you still have the new boarding and capturing mechanics to look forward for. But, you can't raid, that's reserved for pirates only. But, you can also use the new smuggling and pirate defense and attack missions as well, but, naturally, you use them the other way around. You are the one requesting the pirate attack and defense missions, and the smuggling missions, from the new Shadows' pirates around you.
But, if you're really not into the pirate thing, nor particularly interested on its associated new mechanics, you could look at the expanded ground combat mechanic, as the new major change that Shadows has to offer. Pirates can also use this new ground combat mechanic by the way, during raids, but there the goal is not to secure planets, as pirates usually don't do that, but to sack and plunder.
Previously, there was only one type of ground trooper available. You landed your troops on your rivals' planets to try and invade their colonies and all you had to do next was to wait for the battle to end. The resolution was completely abstracted to you. You eventually got a warning saying whether the invasion was successful or not. In Shadows, there's an entirely new tech tree devoted just for ground combat, offering different ground units, not only infantry now but also armored units and planetary defenses.
But, hold your horses if you think this is a Total War ground combat in space experience. It's not. It's animated ground combat, a resolution screen that can be opened and enlarged, and where you can see the progress of your invasion. There's also a series of modifiers depending on your generals' experience, if you have ships in orbit and other factors. Invasions are also done into two steps now. You first drop your assault pods, which carry your troops, but they can be shot at depending on your opponents ground tech level. Then, the battle takes place with the remaining troops. There's also different types of facilities that you can build to influence ground combat, like bunkers and others which provide combat modifiers.
So, while you don't have any direct control over ground combat whatsoever, you can still influence how that combat unfolds depending on the strategic decisions you make before the combat takes place. Still on the ground combat topic, there's also a new garrison feature now, which allows you to set a number of fixed troops that will not be picked up by troop transports, so that you avoid leaving planets depleted of troops in case you have some automation options on.
Besides the expanded ground combat, Shadows also comes with new weapons: gravitic weapons, which bypass both shields and armor; and tractor beams that could prove useful to ease boarding and capturing of ships, or to push foes away.
AI improvements were also promised, but it's too early to judge on that. One thing I can already confirm is that the also promised graphical engine improvement is indeed very noticeable. Previously, your system could easily start lagging when playing with larger galaxies, and in particular in late game. Now, the experience is much smoother, and you do notice it quite easily. So, the somewhat late game sluggishness was definitely improved. I didn't notice any significant improvements on the font issue front though, small and blurry at places in the previous expansions. \Edit: You can enlarge the ground combat and the "bottom left box" windows now, for more readability \endEdit, but, I'll reserve more on that for the review after the official release.
I almost forgot, but this is quite important also. You can also play in a "prewarp" era now, where hyperspace and colonization of other planets are still not possible. It's an interesting new gameplay possibility when you play as an empire (you can't play prewarp while playing with pirates though, they wouldn't have any real advantage over the other empires). So, you start only with your homeworld, and no ships or space ports nor other bases of any kind. A really clean and humble start. You start by building a spaceport and then go from there. You explore your star system almost as you would explore the galaxy around you in the usual postwarp era. Eventually, you unlock hyperspace and can then venture into the stars. When you breakthrough the colonization tech you can start to expand. So, it's the true hardcore 4X experience, and one I'm particularly looking forward to trying next.
There's also a new difficulty setting: extreme. And, two new tutorials. One to explain how to play with pirates and another one on how to play in the prewarp era. There's also a new "destroyed pirates do not re-spawn" option, and a "difficulty scales as player nears victory" option, although I don't know yet for sure how this last one works.
Release date, pricing details and conclusion
Distant Worlds: Shadows requires ownership of the Distant Worlds base game and both the Return of the Shakturi and Legends expansions. It's a Windows PC game with a more or less firm release date set by Slitherine for May 21st. So, we should be less than a couple of weeks away from official release.
The price for this third expansion should be the same as for the previous two, around $20-$25, however I couldn't confirm this with Slitherine. But, Slitherine did confirm that there will be a sales going for all the installments (base game and expansions) of some sort (\Edit: reason for editing: Slitherine only confirmed that there will be a "launch promotion for Distant Worlds Shadows", details on if that includes the base game and the other expansions is still unknown\endEdit) when Shadows gets out. So, if you're new to the series you should have a somewhat smoother entry price. Matrix sales are typically around 35%.
Now, the big questions are: are Shadows' new features enough to satisfy the expectations of veteran Distant Worlds gamers? Is there really enough new content provided for people who may be twisting their noses on the new pirating mechanics, which represent the bulk of this expansion? Should you just buy or keep playing up until the Legends expansion? Or, is the jump to Shadows really worth it? Find out the answers to these questions in our Distant Worlds: Shadows review to come out after the official release :)
\Edit (May 23, 2013): Distant Worlds: Shadows is out now.
Subscribe RSS
55 Comments
Related Articles:
Post category:
Game Previews