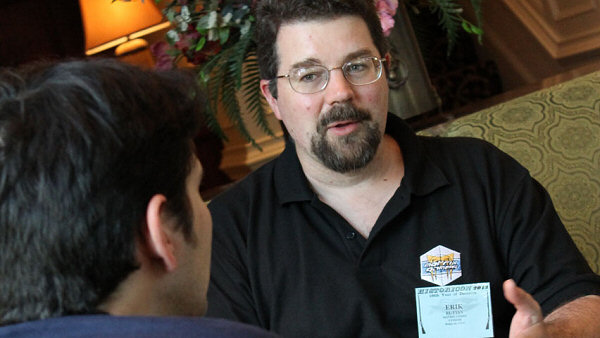 During my stay at Fredericksburg, for Slitherine's annual press conference, I had the chance to talk with Erik Rutins (Matrix Games Product Development Director) about Distant Worlds. This is the second part of our interview. In Part I we talked a great deal about how the real-time space 4X game came to be, the publisher-developer relationship, the greatest design challenges and Erik's personal favorite aspects about the game. In this second and last part we cover the future of Distant Worlds. Erik talks about some aspects he would like to improve further. He also talks about the immediate future – with a new expansion on the works – further expansion possibilities, and Distant Worlds 2!
SS: So, what current aspects of Distant Worlds do you think should be improved further?
Erik: The thing that we're going to be working on improving as our next priority, outside of continued post-release support for Shadows, is modding. But, for Shadows we've got a lot of feedback from the community that we still haven't addressed yet. I mean, we're putting out patches reasonably quickly. And, we've been getting a lot of things balanced and tweaked, but there's still more we want to do. So, it's more post-release improvements for Shadows coming.
We'd like to revisit diplomacy some more. It's already pretty good but there's more that we could do there, especially in terms of bringing out some new more complex arrangements that could be made between the races. There's a lot of third-party stuff that doesn't exist right now, it's a one-to-one thing, now. We could make more complex relationships. So, diplomacy is definitely one area that could be improved further.
I think the private sector could get more detail, because right now the private sector, while it's a great thing, it's still a somewhat abstract concept because it means different things for different races, and for different government types. And expanding on that, such that, you know, your private sector if you're a hive mind, or a corporate nationalism or a military dictatorship could be different from a private sector for a republic or a technocracy. And, the different elements of the private sector would be represented in more discrete form than one monolithic private sector.
So, you might have different interests or groups within the private sector. We tinkered with this a little bit with corporate nationalism, where we folded the private sector into the state a bit. But, that was intended to be a more temporary government form, or one that if you kept long-term, the negatives outweighed the benefits. But, it was the beginning of sort of tinkering around in that area. The private sector isn't always the same for all situations, and you can expand that to the point where you could have say, a standard Human republic or something, where you can have the private sector actually be multiple different large corporate interests, for example. They might each have different goals and different interests in terms of the resources they favor, the worlds that they're most active in, where their ships are… You could even allow the private sector to have some of its own limited defense and exploration capabilities, to be able to lay claims to systems, and to independently colonize. You could do things like that. It's a whole other layer. When you say where we could put more, well, that's one area.
I'm not saying that all of this is planned. I'm saying these are the things we've discussed. And, I can't tell you when it will be in, if on an expansion, on Distant Worlds 2 or never. But, it's definitely something we could do.
SS: And, improvements to combat maybe?
Erik: For sure. You could definitely do more with fleet activities. You could do more with how fleets engage. In terms of the interactions between the weapons, the technologies and combat, I'm reasonably happy with that. I think Distant Worlds 2 would probably be the next time to revisit that. But, in terms of tactics and fleet formations, and things like that, I think there's definitely some fertile ground there. The fleet side though is something that we've put a lot of work into and has also been pretty challenging, because it's a combination between player control and automation.
And fleets are such key strategic resources when you're dealing with faster-than-light warfare, and the ability to jump in a system, and, can you respond in time? Do you have enough nearby? The AI also has to be quite good on how it handles it. And we've had a lot of work put into that in both Legends and Shadows. Each of those we've put quite a bit of time into improving how fleets behave, how fleets are formed, when they're disbanded, when they're repaired, how they refuel, all this type of stuff. But, we didn't put a lot of changes into how they fight, once the tactical combat begins. And that's something where I do think we can do more.
SS: When you launched the third expansion, Shadows, you announced a forth new expansion more focused on modding. Can you talk about some of the details on this new modding expansion? 
Erik: Absolutely. I can't give you the features list of the modders expansion yet, because Elliot and I are still working on that, among ourselves. But, I can say that we're trying to go big on it. I mean, we're trying to make as much modding possible as we can. Distant Worlds was designed from the beginning with modding in mind, it's just that you've put it out there with what we thought at the time was pretty good mod support. And then we realized: "Wow, people want to do so much more than we realized!".
So, it was in the original Distant Worlds' release that we had several discussions where we've said: "We really need to make ongoing support for modding more of a priority". And so, from that point on, every time we had a design discussion, part of that was: "And, how do we make sure the modders can do something with this?" And so, our minimum goal going forward was when we added new things to the game, whenever possible we wanted to make those also accessible to the modders. And, we did a pretty big push on this also in Legends, you know, to expand even more the modding community.
But, our thought always was that: "At some point we have to sort of go back, and take another look at some of the fundamental decisions we made in the original Distant Worlds before we shifted more support towards modding, and revisit those and see what we can open up that hadn't been available". And so, we're talking about big things, like externalizing things like the technologies and the tech tree, the resources, components and government types.
We haven't yet got it through the full, shall we say, reality check-mode on each one though. So, I can't say for sure what's in and what's not yet, but we want to do as much as possible to make the total conversion mods that we know that a lot of people in the community are capable of doing and really want to do. To enable us to be awesome. To just be able to take the game and change it into exactly the game which suits to this particular modded universe. This particular, you know, idea or vision the modder has. So, we want to make it possible, I mean if you want a game that doesn't have this type of technology at all, or modifies this other type of technology. Or maybe you don't like our current government types, you should be able to find new government types, new types of things. Basically, there's no area in the game that exists right now that has not been up for discussion for the modder-focused expansion.
The main question is going to be: "How much can we do with the time we have?". But, we want it to be something that when the modders read the list, they will hopefully faint and enjoy. That's always our goal, to really get people to look at the next expansion and go: "Holy cow! This is what I've been waiting for, I really want this!". And this is hopefully what we'll do for modders. We obviously don't want to do stuff just for modders, we'd like to also put in some stuff for the rest of the community.
But, our thought is: "If we go modder-heavy, the entire community will benefit". Because, in my experience in other games, as well as in Distant Worlds, the modders themselves may be few in numbers compared with the overall community, but their work is enjoyed by many, many people on the community. From small mods to the big mods, like, you know, the Distant Worlds Extended Mod. But, there are many others that had a tremendous amount of effort put into them, and I've seen a huge amount of feedback going towards modders. And I've seen also on Let's Play videos of various kinds, you know, I can watch those and say: "Well, ok, there's that mod and that mod" . So, I think we want to just do as much of that as we can.
The second thing about this is that it also puts Distant Worlds in the community's hands more. There are a lot of people in the community who really love Distant Worlds, and by doing this we allow them to also make exactly the game they want it to be. And that's also a good place to be, we'd be very happy if the community accepted it that way.
And then eventually, Distant Worlds 2. We want to do a sequel, we want to revisit a lot of the decisions that were made before we and Elliot came together in terms of mainly the technology. I mean, there's a lot that can be done in terms of the underline engine of Distant Worlds. And we made some of these changes as part of the Shadows' improvements. So, a lot of people reported how much better Shadows performs. And we put a lot of time actually into improving the graphical engine in Shadows. But that was like the tip of the Iceberg of where we want to go with Distant Worlds.
SS: Are you happy with sales and playerbase size? What do you think should be done to boost sales and increase the Distant Worlds playerbase even more?
Erik: Well, we don't discuss exact sales numbers, but we're happy with sales. And the truest test of sales, I guess, it's when Elliot is happy as well. And, we've been working together for several years now. I think that's the best testament to that. We also know however that we can get Distant Worlds out to a much larger community, but part of the work we've been doing on Distant Worlds and these expansions, is in preparation to that. The original Distant Worlds' release, our feeling was that it wasn't quite ready for that yet. We're taking Distant Worlds there, eventually.
We think there's a lot more people around the world who both need to know about Distant Worlds and who'd welcome it when they know about it. But, there's also some more work we need do, I think, before it will give the best possible impression to them and realize the best potential for all of us. And we intend to do that. We intend Distant Worlds to get out there in a much bigger way.
SS: You say, "to get out there in a much bigger way". You mean with Distant Worlds 2, or still with Distant Worlds 1?
Erik: Either or both. There's several things about Distant Worlds that we regularly get feedback on. One is the pricing. And the price points are not, per game, in any way astronomical. You have $30 for the original game, $20 for the expansions. If you start the way the original players started, the buying cost is not harsh. A lot of people started with the original Distant Worlds and then worked their way through the expansions.
But, the fact of the matter is, and I think this is the same for all gamers, you want to jump in and get them all. If you're going to jump in, you want to grab all the latest stuff and there's where the price becomes an issue. We want to address that. We want to fix that. We want at some point to do sort of a wrapped up release , that will combine all those together, and make both price and some other aspects of the game, like performance and other UI improvements, more accessible to the main stream audience, rather than the more hardcore strategy game audience. And that's, I think, a place where Distant Worlds can go. But we're taking that one step of the time. We're taking it there when it makes sense to take it there.
This is a business. The best job we do based on our data to maximize Distant Worlds' profits, means that Elliot and we can work on it for longer, we can do more releases, and the future of Distant Worlds opens up. So, our strategy has been aimed at that. We wanted to make sure we secure the future of Distant Worlds and do the best job we can to make it into a huge success for Elliot and ourselves. Strategically for the future as well as for now.
SS: So, your plan is to do this more accessible wrap up release, when you're happy, at some point in time.
Erik: That's the plan. And that plan has been coming closer and closer with these expansions.
SS: So, you released Shadows in May of this year. You talked about a new modder-focused expansion and the intention to eventually proceed to Distant Worlds 2 from there. So, the question now is, when can we expect to see all this new stuff?
Erik: Right now we're in Shadows post-release support. And we're also starting our work on the modder-focused expansion. Our hope is that the modder-focused expansion will release by the end of the year. That's our hope. Obviously, with the expansions previous to Shadows we've hit our release target for both of them, but Shadows was complex enough and really bigger as a job than the other expansions, because it changed some of the gameplay radically enough that we ended up needing more time for that one. Pirate gameplay and pre-warp gameplay turned a lot of other gameplay systems on its head, so it really just took more time.
With the modder-focused expansion I think it's less risky than some of the other stuff that we did in Shadows. But, it's a lot of work because a lot of the systems that we're looking to externalize were not originally present, even though the game in general was prepared for modding, these systems we're not planned to be externalized. So, there's going to be a lot of work involved with that, but it's more predictable work in some ways. So, I think the core part of the modding expansion is likely to be more in target than Shadows was. I'm fairly optimistic about having that modder-focused expansion before Christmas.
At that point, really before that point, Elliot and I will have a discussion and we'll see where he wants to go, and see where we want to go. I can tell you already that we've already had discussions about Distant Worlds 2, but we don't know yet when it will be. We've been tossing around ideas really going back to Legends' development of what we'd do with Distant Worlds 2. And, how would it differ both technically and gameplay-wise? Where do we all want to go with it? The all intention of all that is to take Distant Worlds and just make it better.
It's not just make another game, is to make a better game. What Distant Worlds would have been if development only started today, instead of years ago. And obviously, you know, making Distant Worlds better is not an easy task (laughs). But, that's what we're aiming with that. But, we don't have a date where the development of Distant Worlds 2 will start and when it will end yet. So, I would say for Distant Worlds 2, you know, you're still looking a ways away. So, I can't tell you any specific dates on that yet, and I can't tell any specific features. I can just say that Elliot and I would very much like to do Distant Worlds 2.
SS: So, chronologically, and theoretically, Distant Worlds 2 development would come right next to the modder-focused expansion. Is that right? 
Erik: We don't know for sure yet.
SS: Does that mean there could be still another expansion after the modder-focused expansion, before Distant Worlds 2?
Erik: There could be. You see, the thing is, when we finish Shadows' post-release support, and see how all that went, and see how long the modder expansion takes, and see how that goes over with the community, then all that stuff, you know, it's a dynamic decision process. All that stuff will feed into, and we'll look at how the Distant Worlds community is at that point. We have to sort of think further ahead, but we have to judge the point of when is the time for us to really go to that next level with Distant Worlds 2. Or, does it really make more sense to still improve Distant Worlds 1? And, when is the time to wrap up Distant Worlds 1, and make those final improvements into that final package to then create that wrap up version that is like Distant Worlds 1 complete? When do we call it complete? We don't know yet.
SS: But do you feel that the Distant Worlds 1 engine may be holding you back from doing what you want to do? Or, do you feel that you can do more, in light of your recent engine performance optimizations for Shadows?
Erik: I think any game where you develop for this long, on one engine and with this many expansions, it becomes harder to do things. And, we did hit some of that during both Legends and Shadows. But, as to when it's time to call it complete, we haven't made that decision yet. But I think what's going to happen also is that it's very likely that at some point before Distant Worlds 1 is considered complete, development of Distant Worlds 2 will already be under way. I will just say this, that everything we're doing is always also taking with Distant Worlds 2 in mind.
We're making decisions and making changes to Distant Worlds 1 partially based on our thoughts where we're heading with Distant Worlds 2. It's like I was saying with Shadows, some of the benefits to Shadows performance-wise came from early planning and research and development that were aimed at eventually being part of Distant Worlds 2, but this allowed us to also improve Shadows. So, it's always a thought, it's always, you know, there's a research project. But, right now we are still developing Distant Worlds 1. That's where the active development is.
I guess the main thing I would say for people who are reading this is that, there's definitely a bright future for Distant Worlds. Our plan is really to take it to the next level. You know, there are a lot people who play Distant Worlds now and say: "It's the best sci-fi game I've played". We'd like everyone to say that. We'd like everyone be willing to try it and we'd like everyone to basically you know, pick it up and say: "Yeah, I get this, I understand it and I'm really into it.". We want to make this into a huge, huge hit. When Distant Worlds 2 comes, we'll have the resources to make it happen.
SS: To conclude this interview, what advice do you have to game developers out there that may be thinking in developing their own game?
Erik: Without sounding too terribly cliche. See, the thing is, unfortunately, a lot of the cliches are true. It is harder than you think. It is always harder than you think. But, it is worth the hard work. If you are making a game, make the game you want to play, make the game you want to make. You'll be better going that way. Don't make someone else's game. Make your game. And, I'd say, do your research basically. Don't be shy about playing other people's games. Part of understanding games is having played a lot of games.
I would really say that there are many avenues available now, but it's a good idea to get a publisher partner. And there are many models for that now. I happen to prefer ours. But, there are a lot of things that the developer who is on his own has to handle that have nothing to do with making the game but they can take a huge amount of time from you, far more than you realize. And they can burn you out before the game is even finished.
So, personally, I think the publisher model has a lot to be said for in terms of allowing developers to focus on where they want to focus on. Whether you're a programmer and want to focus on the programming side, or the design side, just the creative side. You know, what have you. It allows you to focus in the core parts of the game that excite you. And the other thing I'll say is, sometimes it's easier to work with a team, where you get that extra support and those sounding words and things like that. I think a lot of developers, you know, whether it's a publisher, family or friends they have some kind of support system where they can bounce ideas. It's almost necessary. It's very difficult to just do everything in isolation.
The other advice I would give, to someone who is starting now, unless you're already experienced at it through other work, definitely consider using one of the readily available game engines out there. Developing your own game engine from scratch is a very interesting and education technical endeavour, but it's also very time-consuming. Being whiling to use what's out there gives you a huge head start. Especially in case of engines like Unity, and similar engines, you can get a lot of cross platform there too which will serve you well.
And the last thing is, research the community. So, if you want to make a game that you like to play, find the people who like to play it, figure out what they like and what they are looking for. Because, it's really not that hard to make a game that you're passionate about, that all sort of other people are also passionate about. But, if you're not paying attention to that community at all while you're making the game, it's also easy to just miss that target. You can even miss it just barely and your game will not be nearly as successful as if you'd hit it square on. And, really the best way is to just be aware of that community, immerse yourself, understand what their wishes are, what they hope for to see in a game in the future and then do it. It that's also the type of game you like, than generally speaking you're probably kick but.
Thanks for your time.
Time flied while I was talking with Erik. I could really tell how passionate he is about this project, and I really had a great time making this interview. To wrap up the interview's second part. So, Matrix Games' plan is to focus on Shadows' post release for now and then develop and release the modder-focused expansion (the 4th expansion) still this year. There could be a further expansion after that, or most probably a wrap up version to include everything and call it something like Distant Worlds Complete, sold at a cheaper price (nothing of this is confirmed yet, though). And then, if everything goes according to plan, Distant Worlds 2 development should begin at that point, if not sooner.
Distant Worlds is really a formidable game in many ways. It didn't start great though. In fact, I think the first DW release was really quite lackluster. But, with the expansions the game unleashed all its potential. And, especially after the Legends expansion, Distant Worlds really entered in a new level, one of excellence. So, I totally recommend the expanded Distant Worlds to anyone who likes empire-building games, 4X games, doesn't really need shiny graphics and loves to have lots of customization freedom and almost infinite replayability. Even if you don't fancy real-time, the game is pausable, and I guarantee that if you can look past that, you'll have a big chance to fall in love with this game, like I did.
Here's the first part of the interview, in case you missed it.
Subscribe RSS
28 Comments
Related Articles:
Post category:
Interviews